08 Aug, 2011
Posted by Raphael in Blog
Captain Action is back, with new Spider-Man and Captain America costumes, available in October. You can pre-order today and save 10%!  Each set boasts exciting packaging that fans will love (with art by Kirby, Romita and Jusko) and extra fan-tastic items, like the original shield of Captain America, and a Hawkeye "Assemble an Avenger" promotion.
Captain Action, the original super-hero action figure, debuted in 1966, during the Batmania craze that gripped that country and transformed a generation of kids.  The toy was a national hit!   The myriad of costume sets allowed fans to change their figure into heroes such as Batman, Spider-Man, Captain America or the Lone Ranger.
The Captain Action toy line grew with a sidekick, a super-villain, a super-car and even a girl's spin-off! And the Captain extended his reach with everything from Halloween costumes, to inflatable rafts to his own DC Comics series.
Even as the initial toy production ended, collector trading and buzz kept Captain Action top-of-mind for many fans.  However, after a brief revival in the early 90's, even the most die-hard fans thought that was the end of the ride.
Lady Action greets fans at Midtown Comics
But in 2007, Captain Action Enterprises, (created by two fans) knew there was untapped potential.  They brought Captain Action back with great new comics from Moonstone, a collectors' statue from Electric Tiki/Sideshow,  shirts courtesy of Graphitti and more.  But it's all been leading up to the triumphant return of Captain Action to the toy shelves.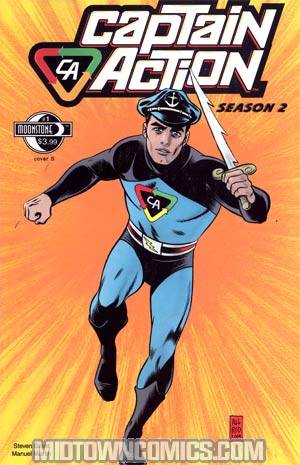 For the history of Captain Action, and to learn everything new that's happening, check out  www.CaptainAction.com or Facebook: www.tinyurl.com/CaptainActionFB!
Captain Action's back – "Let Justice Be Done!"