Midtown Comics  celebrates  Free Comic Book Day, on Saturday, May 4th, by offering free new comics including every title from every publisher participating in this event.  Some of the hottest titles from Marvel Comics, DC Comics, Dark Horse and Image Comics will be available with no purchase required, in-store and online while supplies last.  Over two million comic books for readers of all ages will be given away by participating stores, introducing as many people as possible to the excitement of comic books! Check out all the details for what we think is the best day of the year! Please note: some titles will be in very limited quantities and are not expected to last all day, and we recommend that you arrive or order online early. Titles will be posted online at approximately 11:00AM EST on Saturday, May 04th.
What's special only at Midtown:  This year we are thrilled to present our very own versions of the Free Comic Book Day book INFINITY from Marvel Comics, SUPERMAN: THE LAST SON OF KRYPTON from DC Comics and the HARBINGER WARS SPECIAL from Valiant Entertainment! All three feature the Midtown Comics logo and are ONLY available through Midtown Comics! INFINITY features an all-new story by the creative team of Jonathan Hickman and Jim Cheung, witness the opening shots of the war that will kick off Marvel's biggest event story of the summer! Plus, relive Thanos' first solo story which has never been reprinted till now! SUPERMAN: THE LAST SON OF KRYPTON contains a preview of Scott Snyder and Jim Lee's  upcoming series Superman Unchained. In addition, this title reprints the first chapter of the comic book series by director Richard Donner and Geoff Johns and drawn by Andy Kubert, which features General Zod and the villains of the Phantom Zone. The HARBINGER WARS SPECIAL spotlights the blistering conflict between Bloodshot and Harbinger that will crack the Valiant Universe in half and reveal the true cost of power. Plus – find out how X-O Manowar, Archer & Armstrong and Shadowman fit in! Harbinger Wars Special is written by Joshua D. M. Dysart, art by Clayton Henry, cover by Clayton Crain.
Free Comic Book Day signings at Midtown Comics Downtown
Fan favorites, Jim Lee and Scott Snyder will be at Midtown Comics Downtown for Free Comic Book Day signing Superman: The Last Son of Krypton from 7:00pm-9:00pm. This will be a very popular event, and we recommend early arrival.

The creators of the hit Archaia graphic novel, Cow Boy Nate Cosby and Chris Eliopoulos, will be signing the Free Comic Book Day Archaia sampler featuring an all new Cow Boy story at Midtown Comics Downtown on Free Comic Book Day 1:00pm-2:00pm!
Archie writer Alex Simmons and artist Jamal Peppers (Sonic/Mega Man) will be signing this year's Archie FCBD books, the World of Archie Digest and Sonic/Mega Man flipbook from 3:00-4:00PM!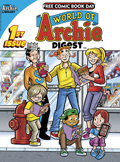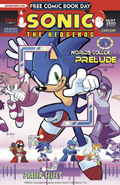 Click through for more exciting details!
Store hours on Free Comic Book Day-
Times Square: 8:00AM to 12Midnight
Grand Central: 11:00AM to 9:00PM
Downtown: 11:00AM to 9:00PM
Free Comic Book Day online at midtowncomics.com-
All titles will be posted on midtowncomics.com Saturday, May 4th at approximately 11:00AM EST, and will be available only while supplies last.
Take a look at all the fun from Free Comic Book Day 2012 at Midtown Comics!
Check out all the amazing book available for Free Comic Book Day this year!
2013 Gold Books