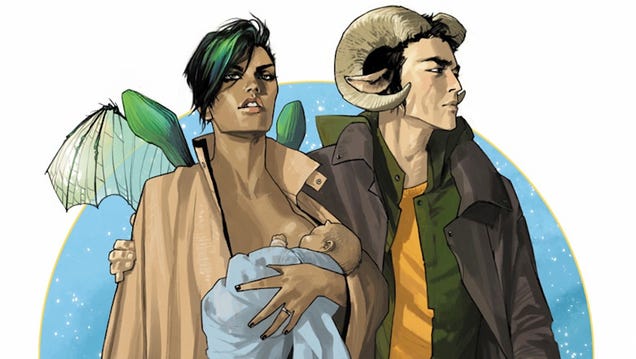 By Jess Goodwin – @thejessgoodwin
Issue #19 of Brian K. Vaughan and Fiona Staples' Saga is out today, and after leaving Alana, Marko, and (now toddler) Hazel as outlaws once again in Issue #18, we can't help but wonder — how long before TV and movie studios come sniffing around to do a live-action adaptation of the comics?
Given the popularity of both Vaughan and Staples, it's no surprise Saga has become as huge as it is — or that Issue #1 sold out before its initial printing. At this point, it's a matter of when rather than if the series will be adapted into a film or TV show. The real question is, which will it be?
It's hard to say for sure, but we can, for the time being, delve into which it should be. There are pros and cons for each medium — let's take a look at a few of them.
TV
One of the nice things about a television adaptation of Saga is it could go on forever — which Vaughan would probably be fine with. He did tell i09 he hopes Saga "lasts longer than Y: The Last Man and Ex Machina combined." Plus, the length of the average issue of Saga could translate nicely into a half hour series, with special hour-long episodes for the double issues.
The main downside of a TV series would most likely be the budget. Staples has created a lush, visually exhilarating world filled with bizarre-looking and beautiful people and creatures — like the uber-leggy prostitutes in Volume 1, Issue #4. The spidery, alabaster Stalk all on her own would need a huge chunk of change set aside for her.
Film
Comic book movie franchises of the scale and chronology Vaughan has described for Saga don't even exist yet. There are 60 issues of Y: The Last Man and 50 of Ex Machina — you do the math. Turning over 110 issues into any kind of film serial would be completely bonkers. There's a reason film adaptations for both those comics have been in development for years — there's too much awesome material to condense into a film, or even several.
Then again, each volume of Saga does seem to be begging to be made into a movie… And in contrast to the stricter budget a TV adaptation would have to deal with, something as popular as Saga would probably get a huge budget.
What do you guys think? Would you rather see Saga as a TV series or film franchise? Do you even want to see it adapted for live-action?
The views expressed herein are solely those of the writer, and not Midtown Comics.  Additionally, Midtown Comics makes no representations as to the accuracy of any of the information expressed herein.