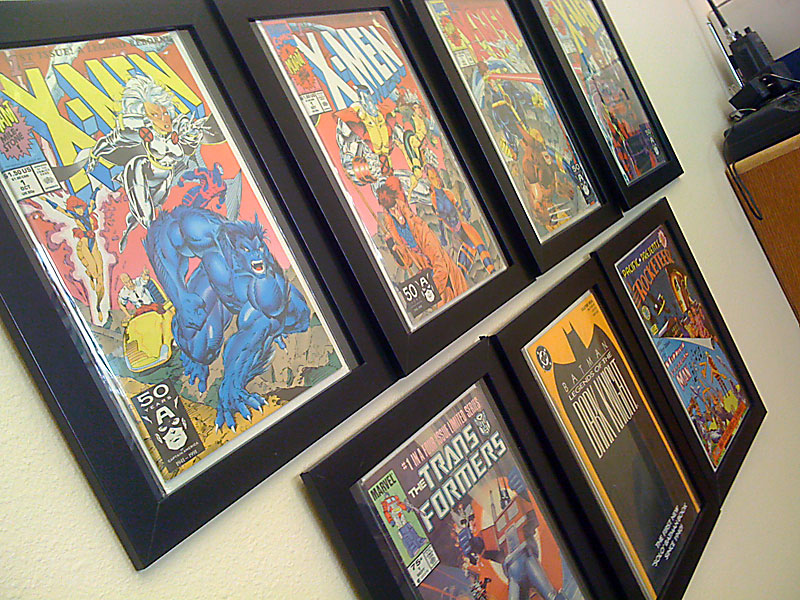 By Michael Kim
Would you consider framing your comic book…..FOR MURDER?!?!?!?!?!?!
Hello Midtowners, this is Michael from the back issues department for another blog entry on protecting your collection.  On the last entry we talked about how bag and boards could protect your book as well as damage it by causing spine roll.  However, using larger bag and boards could prevent this.  Replacing your bag and boards is a case-by-case situation — both could go through wear and tear depending on how much you read the book.  Look for signs of acid burn, tears, wrinkles, etc.  Focusing on the key or money books might be a good start. If possible, keep your collection in a cool (temperature) room.  "Chemistry is the study of transformation" — thank you Walter White/Heisnberg!  Inside that bag and boarded comic book is a series of chemical reactions.  At high temperatures and humidity, chemical reactions accelerate, which affects the book, board, and bag.
A bag and board is the basic way of protecting/preserving your comic book.  What would be the best way?  You could get your book CGC'd by sending it to the Certified Guaranty Company.  You've probably seen them before with a hard case, grade label, and the amenities of preservation.  What are other options?  There are Arklite bags that are made out of crystal clear Mylar D, hard shell cases or mill cases, and clamshell boxes.  Clamshell boxes are commonly found in rare book & special collection libraries as well as antiquarian book store.  They are built specifically for your book, either to exact size, or extra room for padding.  They're custom made, provide excellent protection, and could be made with a decorative design that would be complimentary to the book itself.
For your consideration, how about framing your comic book?  Let's talk about P.P.D.  No no no no no…not what you think!  I'm talking about Preservation, Presentation, and Decoration.  Back in 2000, artist Alex Ross was making an in-store appearance at Midtown, promoting the Earth X series with Jim Krueger, Jean Paul Leon, and Bill Reinhold.  At the time, I was a loyal customer and I made the trek down from Albany to meet the Earth X team.  Ross was the reason why I got back into comic books.  I think we could all relate: I stopped collecting during high school and jumped back into later in life.  Ross' artwork was a magnet.  From Astro City, Kingdom Come, and Marvels, Ross was a good reason to start collecting again.
The event was great, resulting in a handful of comic books signed by Ross, including Earth X #0 signed by the entire creative team.  Years go by and I come across that same book.  It's too nice to be filed away in a box.  The book has no monetary value, but it does have sentimental value to me.  It deserves to be displayed, it deserves an audience.  I said no to double-sided tape on the bag, thumb tacks or an easel.  I wanted to present it professionally, so I took it to my local frame shop.  Picture framing isn't solely for photographs or oil paintings.  Walk into any frame shop and you might see sports memorabilia such as baseballs, footballs, and jerseys framed; so why not a comic book?
The materials used in framing are perfect for a comic book.  Everything from the frame to the glass has museum quality traits perfect for preservation.  How do you frame a comic book?  I opened up the piece to take a look inside.  The book is placed inside an acid free mat with an opening cut to the outside dimension of the comic book, like a cup holder.  A top mat is then placed on top with an opening smaller than the outside dimension so that the book doesn't fall out.  There's no tape or glue on the comic book.  The book and mats are place on a piece of acid free foam core for backing.  The frame is treated so you don't have to worry about it affecting the book or termites eating the frame and then your book.  A piece of glass is placed on top, fitted/staples into the frame, wired, and paperwork such as certificate of authenticity (still in bag) is attached to the back.
There's a variety of glass to choose from, everything from regular to high end museum quality.  I opted for Tru Vue conservation grade 99 % UV protection.  Light has a negative effect on paper.  You might see it in some photographs: check for faded color.  If a store front window display isn't changed regularly, the items in the display will show significant color change.  Why do cave paintings from 30,000 years ago (for example) still exist today?  Caves tend to have a constant cool temperature, low humidity, and no exposure to sunlight.  The sun is a source of UV (ultraviolet) radiation.  Along with UV, infrared radiation and visible light could have a negative effect as well.  Archivists/preservationists recommend using UV filters on fluorescent lights.  You don't have to be concerned with light if you keep your comic books in a box, but it's something you will have to consider if you want to display them.
The finished product is ready to be hung.  There are different ways you could frame your comic book with a wide variety of frames, mats, and glass to choose from.  You don't have to ask for all acid free material.  If the room where the comic book is going to be displayed is in a perfect environment, you may not need the special glass.  However, it doesn't hurt to be on the safe side.  If you're wondering if Midtown has frames for your comic books, yes, and they're coming soon!
Along with your comic book, it wouldn't hurt to get a family photo framed as well.  Make sure you let them know that you love them as much as that Superman Unchained #6 blank cover that is signed to you with that sweet original drawing by Jim Lee…make room on the wall for both!
Thank you so much for reading this entry on protecting your collection!
The views expressed herein are solely those of the writer, and not Midtown Comics.  Additionally, Midtown Comics makes no representations as to the accuracy of any of the information expressed herein.