04 Sep, 2012
Posted by Raphael in Featured
Midtown Bloggerinos! Raph here, with some words about something special to me. For a while, the Midtown Comics Exclusives were comic covers (like Muppet Show #1, where the Muppets are all hanging outside of our Times Square store), which are definitely fun to have, but about 2 years ago, the store jumped into something I think is terrific: T-SHIRTS!
The shirt that started it all: Good 'Ol Steve!
Back around New York Comic-Con 2010, the Midtown Booth at Comic-Con offered a special shirt based on the Commander Rogers Uniform, which we called "Good 'Ol Steve". The shirt was a huge success, but personally, I thought that would be it. How many more shirts could we do, and would people want them?
The answer of course to both questions is "A LOT", which goes to show what I know! (D'OH!)
What followed Commander Rogers was Iron Fist, Future Foundation (based on the FF redesigned costumes), HYDRA, the Miles Morales Ultimate Spider-Man, Cyclops costume, the Amazing Spider-Man movie symbol, an Avengers symbol shirt (with ASSEMBLE! on the back), and the most recent one, The Phoenix.
Not that I'm complaining; our super-secret T-Shirt design team has knocked it out of the ballpark with each design, and the reason is because they didn't do the obvious: they did designs that aren't completely mainstream. I don't know about you, but I always prided myself in being a superfan (as Comic Store Hero Thor described in our show). I'm someone who flies his geek flag high and proud. And yes, I do like characters like Spider-Man and Thor (who are known to the movie going public), I also love obscure characters (Darkhawk anyone?), and I like being able to fly my flag by wearing an Iron Fist shirt or a Hydra shirt… these kinda things are only for us fans in the know, and they're only available at the Midtown stores (as well as on the website)! I've heard rumors of a certain Master of Kung-Fu shirt coming in the pipeline, and this superfan says YES, YES, YES to that!
Take a look at all of our Midtown Comics Exclusive shirts here!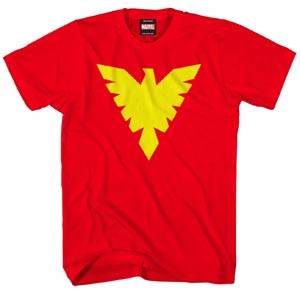 Our latest offering: The Phoenix!
That's all for this time guys, you can check out our exclusive shirts in our FOUR Manhattan locations (Times Square, Grand Central, Downtown and our FAO Schwartz Boutique), as well as on our website. That's all for now, until next time—
BE HEROIC, READ A COMIC!
–          Raph