Welcome back to another fabulous week of 3D covers!

We've got some good news for next week, and some bad news, and we're not going to sugarcoat it (much)! The good: DC's fabulous Futures End 3D lenticular covers begin! The bad: Wolverine bites the bullet — though we brighten things up with Midtown exclusive variant covers and a signing with Charles Soule! More good stuff: our exclusive Superman Red Son POP! vinyl figure is available now, and Grendel, the Shadow, and Alice Cooper are back!


Spotlight on savings:
One of our biggest deals of the year is back! 30% off select graphic novels with the super secret codeword NOVELART, and the sequential graphic wisdom of the ages will be yours for the asking — on the cheap! We're doing even more to fill your bookshelves at a great discount — and you can take up to 40% off all books: art books, how-to, fiction, non-fiction, audio books, and young readers!

Labor Day sale, Monday Sept 1st:
Midtown Comics is open, and our friends in NYC can save 20% off EVERYTHING in-store at all three Midtown Comics stores in NYC! Not valid at FAO/TRU. Details and store hours are here!


Superman Red Son figure arrives:
Ripped from the pages of Superman Red Son by Mark Millar and Dave Johnson, this Superman didn't grow up in Smallville — his rocket ship landed in Russia, and he's headed straight to your mantle or shelf! After much ado, the Midtown Comics Red Son Superman 3¾" POP! vinyl figure arrives this week! Don't forget our matching Red Son shirt and cap as well! Also, enter to win a free POP! with our exclusive giveaway contest here!


The New 52 Futures End 3D lenticular covers:
Starting next week, the New 52 will flash forward five years, offering a glimpse of what may be in store for the heroes of the DCU — and look out for a 3D lenticular cover available for every issue! Expect strange things in Futures End — with the Man of Steel missing, ordinary people around the world start to mysteriously exhibit his strengths and abilities in Action Comics Futures End #1, by Sholly Fisch and Pascal Alixe, with regular and 3D covers by Lee Weeks! Batman takes his war on crime to the next level, but he needs the help of his greatest ally — The Riddler — in Detective Comics Futures End #1, by Francis Manapul, Brian Buccellato, and Scott Hepburn, with regular and 3D covers by Jason Fabok! There's a lot more next week coming at you fast in 3D!

Batman Essentials Batman & Son special edition #1 — only $1.00:
Batman's 75th anniversary celebration continues with one of the Dark Knight's greatest tales! In Batman Essentials Batman & Son special edition #1, by Grant Morrison and Andy Kubert, Batman gets the shock of his life when he discovers that he has a son: Damian Wayne! At the special price of only $1.00, this is the perfect introduction to this great story!

The Death of Wolverine:
Thanks for the memories, bub, we hate to see ya go. The loss of Wolverine's healing factor in Three Months to Die has led to The Death of Wolverine #1, the start of a special four-part series by Charles Soule and Steve McNiven. Covers are by Joe Quesada, Alex Ross, Skottie Young, Leinil Francis Yu, and Steve McNiven, each of whom pays a tribute to Logan in his own inimitable style. We hate to sensationalize the death of the greatest X-Men hero ourselves, but we have four interconnecting Midtown exclusive covers by J. Scott Campbell, one for each issue. Join us for a signing event with Charles Soule on Wednesday, 9/03, at Midtown Comics Downtown!

Original Sin:
The final judgment arrives next week in Original Sin #8, when Jason Aaron, Mike Deodato, and Julian Totino Tedesco reveal what it's all been leading up to as they serve up the final issue! Xavier's greatest secret has been revealed in Original Sin tie-in Uncanny X-Men #25 by Brian Michael Bendis and Chris Bachalo!

Upcoming Midtown exclusive variants:
Collect all four Death of Wolverine interconnecting Midtown exclusive covers by J. Scott Campbell, one for each issue of this four-part series, with #1 due on September 3rd. The following week (September 10th), look for the team-up of two Legendary Dames of Darkness in Dawn Vampirella #1, with three Midtown exclusive covers by Joseph Michael Linsner! Bob's Burgers #1 is available now!


Death Of Wolverine #1 Midtown Exclusive J Scott Campbell Connecting Variant Covers (#1-#4)



Death Of Wolverine #2 Midtown Exclusive J Scott Campbell Connecting Variant Covers (#1-#4)

Classic heroes return:
Two pulp-noir icons go head-to-head in 1930s New York City in this three-issue prestige-format series written and drawn by legendary Grendel creator Matt Wagner, starting with Grendel Vs. Shadow #1, from Dark Horse! A troubled young outcast from Earth awakens on a distant desert planet that's gripped by gang war. Will the exiles of Scare City destroy each other or create something surprising, beautiful, and new? Concrete Park returns in Concrete Park R-E-S-P-E-C-T #1, by Tony Puryear!

Dynamite rocks:
Dynamite presents their latest creator-driven title in Ex-Con #1, a brilliant — and savage — crime drama by Duane Swierczynski and Keith Burns, with great covers by Tim Bradstreet! Alice Cooper is a rock'n roll legend to the waking world, but few know of his role as "The Lord of Nightmares" beyond it! Joe Harris and Eman Casallos present Alice Cooper #1, with rockin' covers by David Mack! Frank Tieri and Cezar Razek combine their inestimable talent on Red Sonja: The Black Tower #1, a mind-blowing tale that could spell the end for our favorite She-Devil with a Sword. The alluring, yet foreboding cover by Amanda Conner promises exciting jungle adventure within!

Exclusive Grimm Fairy Tales covers from Zenescope:
Midtown continues to offer exclusive covers from Zenescope featuring the ladies of the Grimm Fairy Tales universe! This week we've got 15 new selections from San Diego Comic-Con, Boston Comic-Con, and more! Check out past offerings here!

Subscribe with the Midtown Pull List:
Enjoy great savings with weekly, bi-weekly, and monthly shipping options. There are no fees for our Pull List, and payment is due only at time of shipping.

Limited edition Captain America life-size shields
Preorder now! Midtown Comics is importing a limited quantity of these life size Captain America shields, produced for the Asian market by King-Arts International. Add these deluxe shields to your Steve Rogers collection today!

A Keychain Fit for a Hero:
Whether exploring the darkest depths of the Batcave or searching for Wonder Woman's invisible jet, every hero needs something to help guide them. That's where our new Superhero light-up key chains and headbands can help! Featuring some of your favorite DC characters in Lego form, these LED Key Lights from Santoki are the perfect addition to your arsenal of super accessories!


Hero Initiative – Kirby4Heroes Event!
In honor of legendary comic book creator Jack Kirby's 97th birthday tomorrow, August 28th, the Hero Initiative will be holding a number of events with comic book writers, artists, retailers, and more to help raise money for this great cause! They're calling this event the Kirby4Heroes campaign, and you'll find coverage on our Facebook, Twitter, Newsletters, and more! Learn more about how you can donate and make a difference here!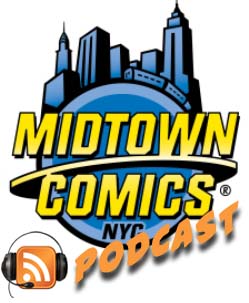 Midtown Comics Podcast Episode 5!
We're back with episode #5 of the new Midtown Comics Podcast – Version 2.0! This week, we get to interview Becky Cloonan on her new book, Gotham Academy! We play a fun trivia game about her high school experience, and ask her questions about her creator-owned work as well. Also, stay tuned to the end for a special ALS Ice Bucket Challenge!
If you would like to ask a question for the podcast, reach out on Facebook or Twitter, or email us at podcast@midtowncomics.com!

Believe it,
G-Man and Andrew!



eBay:
This week's featured eBay item is a lot of 90 Marvel/DC Books from the Gold, Silver, and Bronze Ages! Here's your chance to add these comics to your collection! Check out the rest of our auctions on our eBay page!


We buy comics, graphic novels, and collectibles! If you've got books you want to sell, e-mail me!
Stay mint,
Alex Rae!


· September 1
Labor Day sale at all three stores!
· UPDATE: September 3
Charles Soule Signing Death of Wolverine #1 at Midtown Comics Downtown

· September 20
Open Buying Day at our Downtown location

Midtown's New Release List:
Not everyone realizes it, but our new release list is the most accurate and complete in the industry, BAR NONE. Our list is posted every Wednesday afternoon, and includes ALL of the new releases for the following week, complete with links to purchase and reserve. Check it out!

Note: for TEXT-ONLY list, please go to the New Release List, and uncheck the "Show Images" button.
Click here for FREE IN-STORE PICKUP list!