The holiday countdown begins!
New releases arrive next week on Wednesday, December 24th, Christmas Eve! We'll be open late on Christmas Eve ('til Midnight in Times Square), and closed on Christmas Day! If you're holiday shopping online, it's not too late for Next Day, 2nd Day shipping, and Priority Mail! All holiday store hours and shipping schedule can be found here.

Welcome back to the hardest working hero in comics: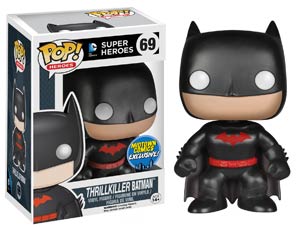 Crime doesn't take a break for holidays, but neither does the Batman family, who star in more than 7 titles next week, a battalion of action figures, statues, and our new Midtown exclusive Batman Thrillkiller POP vinyl figure! There's other stuff happening next week! Look for the Avengers & X-Men AXIS finale, an epic Green Lantern crossover finale, and a new tale of crime, horror, romance, and vampires from Image Comics in Graveyard Shift #1 and more!

Spotlight on savings:
Save BIG on great graphic novels! Build a super library of classic and contemporary books, and save 30% off select graphic novels and trade paperbacks with the super-secret codeword AXIS! Also, aficionados of artfully articulated action figures are advised to act now and take up to 40% off  all action figures, final week!
Avengers and X-Men AXIS — the final issue:
Who will live? Who will die? Who will remain inverted? Look for the shocking climax in Avengers and X-Men Axis #9 by Rick Remender, with art and cover by Jim Cheung, with variant covers by Adam Hughes and Paul Renaud! Look for AXIS tie-ins Captain America and Mighty Avengers #3, guest-starring Spider-Man, by Al Ewing, with art and cover by Luke Ross, variant cover by Afua Richardson! The Merc with a Mouth has gone Zen and sworn off violence! Deadpool #39 is an AXIS tie-in by Gerry Duggan and Brian Posehn, with art by Mike Hawthorne, cover by Mark Brooks. There's more AXIS coming your way next week!
Because we're all about the Bat …'bout the Bat …and Robin:
Batman's been to the hells of Apokolips and back to retrieve his son's body. But just what has he brought back with him, and who is the new Robin? It all ends here, in Robin Rises Alpha #1 by Peter J. Tomasi, with art and cover by Andy Kubert, variant cover by Cliff Chiang! The mysterious "Endgame" continues in Batman Annual #3 by James Tynion IV! Scott Snyder continues his weekly epic with Batman Eternal #38, with art by Andrea Mutti, cover by Tommy Lee Edwards. At last — the secret origin of Helena Bertinelli is revealed in Grayson Annual #1 by Tim Seely and Tom Kind, with art by Stephen Mooney, cover by Mikel Janin!
Win all 22 DC Comics Lego Variants!
Midtown Comics has created another fun contest for you to enter! This time, we're giving away all 22 DC Comics Lego Covers to one lucky winner! Complete your entire collection of these rare DC variants by entering our contest today!
Godhead — the conclusion:
The massive finale is here, with the New Gods on one side, and the combined might of the various Lantern Corps on the other! In the wings wait the unlikeliest of allies: Hal Jordan and Black Hand, in Green Lantern Annual #3, "Godhead," act 3, part 6, by Robert Venditti, with art by Billy Tan and Rob Hunter, cover by Ethan Van! Don't miss part 4 in Sinestro #8, by Cullen Bunn, with art by Dale Eaglesham, cover by Guillem March, and part 5 in Red Lanterns #37, by Charles Soule, with art by Jim Calafiore, cover by Scott Hepburn! Not up to speed? Check out all issues here! Need a light? Carry a red lantern!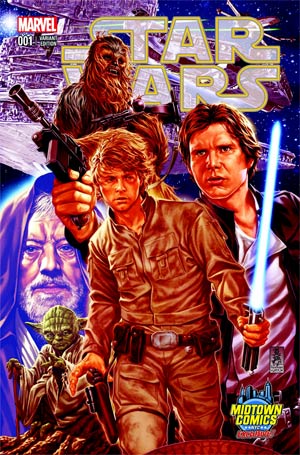 Midtown Exclusive Star Wars Connecting Variants
Midtown Comics is proud to present an exclusive 3 part vertical connecting variant cover set by Mark Brooks for Star Wars #1, Darth Vader #1, and Princess Leia #1, available in color and black & white. Preorder now! Jason Aaron and John Cassaday will be on hand at Midtown Comics Downtown signing Star Wars #1 on Friday, January 16th!

Midtown Exclusive Saga Deluxe Hardcover Vol 1 – With Signed Bookplate!
Midtown Comics is offering an exclusive signed and numbered bookplate edition of the Saga Deluxe Edition Vol 1 HC, signed by both Brian K. Vaughan and Fiona Staples (who also numbered each bookplate herself!). The bookplate features a brand new piece of art by Staples. Limited to 1000 signed editions, copies are available now while supplies last! Order here!
Sci-fi, horror, and crime, oh my:
Image Comics serves up a trio of terror! In Outcast #6, Robert Kirkman and Paul Azaceta present a startling conclusion to their first story arc, setting the stage for what is to come. Look for Outcast back issues and catch up with this great series before the TV launch! Gear up for Fright Night-style thrills and Castle-style crime-solving as a homicide detective and his girlfriend run afoul of a gang of vampires in Graveyard Shift #1 by Jay Faerber and Fran Bueno! There's no hope for the future, because young people think only of themselves, and they have abilities we can only dream of in They're Not Like Us #1 by Eric Stephenson and Simone Gane!

Is the Sunstone GN the new 50 Shades of Grey?
The hugely popular, erotic romantic comedy Sunstone is finally being released in graphic novel format next week! Join in on the fandom by picking up a copy of this book before it's sold out! Already one of our top pre-ordered items, the Sunstone GN is sure to be a hit this holiday season! Find it here!

Subscribe with the Midtown Pull List:
Enjoy great savings with weekly, bi-weekly, and monthly shipping options. There are no fees for our Pull List, and payment is due only at time of shipping.

IAmElemental Action Figures In Time For The Holidays!
We're sure you've heard about the popular line of IAmElemental action figures by now, and we're proud to announce that these items are now available online and in-store just in time for the holidays! These action figures prove that not all girls would like a Barbie doll this Christmas. Pick up one of these popular items instead!
Limited edition Captain America life-size shields
Preorder now! Midtown Comics is importing a limited quantity of these life size Captain America shields, produced for the Asian market by King-Arts International. Add these deluxe shields to your Steve Rogers collection today!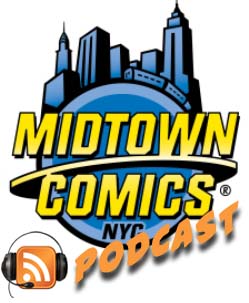 Midtown Comics Podcast Episode 21!
We're back with episode #21 of the Midtown Comics Podcast! We have the artist on Aspen's All New Soulfire, V Ken Marion and fellow Midtown Comics employee Ingrid Rios to talk about the current projects they're working on. We answer some questions from Andrew's mother, talk about CW's The Flash, and let you know what comics you should be binge reading. If you would like to ask a question for the podcast, reach out on Facebook or Twitter, or email us at podcast@midtowncomics.com!
X –>

Believe it,
G-Man and Andrew!



eBay:
This week's featured eBay item is a Sideshow Collectibles Chucky doll! Here's your chance to add this creepy doll to your collection of creepy dolls that creep people out! Check out the rest of our auctions on our eBay page!

We buy comics, graphic novels, and collectibles! If you've got books you want to sell, e-mail me!
Stay mint,
Alex Rae!


· December 18th
Saga Signing with Brian K. Vaughan at Midtown Comics Downtown
· January 11th
Amber Benson Signing Witches of Echo Park at Midtown Comics Downtown
· January 16th
Star Wars #1 Signing with Jason Aaron & John Cassaday at Midtown Comics Downtown
· January 24th
Open Buying Day at Midtown Comics Downtown

Midtown's New Release List:
Not everyone realizes it, but our new release list is the most accurate and complete in the industry, BAR NONE. Our list is posted every Wednesday afternoon, and includes ALL of the new releases for the following week, complete with links to purchase and reserve. Check it out!

Note: for TEXT-ONLY list, please go to the New Release List, and uncheck the "Show Images" button.
Click here for FREE IN-STORE PICKUP list!