Welcome back to strange new week in Gotham!
Strange doings are afoot in Gotham by Midnight, a chilling new Batman title by horror-meisters Ray Fawkes and Ben Templesmith! Scarlet Spiders weave their web into the Spider-Verse, the Flash is the fasting living Lego,  Iron Man still thinks he's Superior, and Wolverine is still, well, you know… kaput. There's lots more comic goodness next week, and look for a beautiful tribute to Ray Bradbury from IDW! 

Spotlight on savings:
Beef up your collection and save 25% off back issue incentive and Midtown exclusive covers with the super-secret codeword MIDTOWN2014! This includes all incentive covers, and the many magnificent Midtown variant covers from Marvel, Image, Dynamite, and more (new releases are not included). We believe that every library should be firmly centered around comics, and we're here to help with up to 40% off all books, including young readers, how-to & reference, art books, fiction, non-fiction, and more! Black Friday happens next week, and it's gonna be a doozy, whether you're shopping online or in-store!

Spider-Verse tie-ins next week:
Picking up where Amazing Spider-Man #10 ends, Miguel O'Hara finally makes it back to the future to 2099! Spider-Man 2099 #6 is by Peter David and Will Sliney, with an ominously spideriffic cover by Franceso Mattina! In the midst of all this Spider-Verse, Kaine, Ben Reilly, and Ultimate Jessica Drew must come together for a mission of vital importance in Scarlet Spiders #1, by Mike Costa and Paco Diaz, with a cover by David Nakayama, and a variant by Mark Bagley!
Superior Axis action:
Once, Luke Cage was a hero for everyone who needed help, but things have changed, and the only one he's helping is himself! Plus: Captain America declares war — on the Mighty Avengers, in Axis tie-in Captain America and the Mighty Avengers #2 by Al Ewing, with art and cover by Luke Ross, and a variant cover by Sanford Greene! Tony Stark has transformed San Francisco into the prototype for his New World concept, but Matt Murdock isn't down with Tony's new vision, in Superior Iron Man #2 by Tom Taylor, with art by Yildiray Cinar, cover by Mike Choi, and a variant by Phil Noto!
DC Lego landslide looms large:
Superman and Ulysses are an unstoppable team, thwarting the plot of one super-villain after another, but when Ulysses sees a larger menace threatening Earth, why does the Man of Steel refuse to help him? Superman #36 is by Geoff Johns, with art, covers, and Lego cover by John Romita Jr. and Klaus Janson, with an additional cover by Francis Manapul! The Flash is trapped in a bizarre, lost land terrorized by castaways from the past, present, and future in Flash #36, by Robert Venditti and Van Jensen, with art, cover, and Lego cover by  Brett Booth and Norm Rapmund! Lots more brick-bustin' blockbusters barrel your way next week — from DC Comics!

The Fastest Man Alive – New Flash Bust!
With the breakthrough of the hugely popular new Flash TV series, grab a piece of Barry Allen before he vanishes in this brand new DC Super Heroes Flash Bust. The Flash is captured mid-stride in the latest bust designed by legendary comic book artist Jim Lee. Measuring approximately 5.65″ tall, these limited edition busts are sure to sell out in a blink of an eye!
Great sci-fi, including a tribute to Ray Bradbury:
Acclaimed writers and artists join forces with Image Comics to pay tribute to the work of the one and only Ray Bradbury in a new Sci-Fi series that starts with Shadow Show #1, featuring a story by Joe Hill and Jason Ciaramella, with art and cover by Charles Paul Wilson and Gabriel Rodriguez. A gender-bent eye-popping psychedelic science fiction odyssey begins in ODYC #1 by Matt Fraction and Christian Ward, from IDW!

Subscribe with the Midtown Pull List:
Enjoy great savings with weekly, bi-weekly, and monthly shipping options. There are no fees for our Pull List, and payment is due only at time of shipping.
Limited edition Captain America life-size shields
Preorder now! Midtown Comics is importing a limited quantity of these life size Captain America shields, produced for the Asian market by King-Arts International. Add these deluxe shields to your Steve Rogers collection today!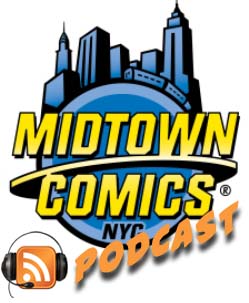 Midtown Comics Podcast Episode 17!
We're back with episode #17 of the Midtown Comics Podcast! This week, We're joined by legendary punk rocker and graphic novelist Marguerite Van Cook and James Romberger on their new book Late Child and Other Animals. We also discuss our top picks of the week and more! If you would like to ask a question for the podcast, reach out on Facebook or Twitter, or email us at podcast@midtowncomics.com!

Believe it,
G-Man and Andrew!



eBay:
This week's featured eBay item is a Shogun Warriors 1977 Toho Japan Godzilla Monster Dragun Robot Action Figures Set! Here's your chance to add these rare figures to your collection! Check out the rest of our auctions on our eBay page!

We buy comics, graphic novels, and collectibles! If you've got books you want to sell, e-mail me!
Stay mint,
Alex Rae!


· December 5th
Hellboy and the BPRD #1 Signing with Alex Maleev at Midtown Comics Downtown
· December 6th
Open Buying Day at Midtown Comics Downtown
· December 18th
Saga Signing with Brian K. Vaughan at Midtown Comics Downtown

Midtown's New Release List:
Not everyone realizes it, but our new release list is the most accurate and complete in the industry, BAR NONE. Our list is posted every Wednesday afternoon, and includes ALL of the new releases for the following week, complete with links to purchase and reserve. Check it out!

Note: for TEXT-ONLY list, please go to the New Release List, and uncheck the "Show Images" button.
Click here for FREE IN-STORE PICKUP list!