Welcome back to more Marvel-Midtown mania!

Next week will be most massive, so make ready for more Midtown-Marvel mania! Look for Amazing Spider-Man Renew Your Vows #1 and Secret Wars #3, both sporting magnificent Midtown exclusive covers! The Joker's wild, as DC celebrates the Clown Prince of Crime with Joker theme variant covers! Not enough for ya? How 'bout three new Star Wars issues, six new Marvel launches, and James Robinson attempts to revive another long-lost Golden Age Hero!
Spotlight on savings:
Save BIG on the most magnificent manga titles ever! Old or new, take 30% OFF all manga titles, softcover and hardcover, with the super-secret codeword TITAN! Also, save BIG on magazines of all kinds! From Cinefex, Doctor Who, Star Trek, Previews, and Mad, to Esquire, FHM, Maxim, and GQ, and more, take up to 40% off all magazines from ALL publishers! Both sales are online only.
Amazing Spider-Man Renew Your Vows #1:
In this new Marvel Universe, Peter Parker, Mary Jane Watson and their daughter have to scrape by to make ends meet, but they have each other, and they're gonna tie the knot again! It's all in Amazing Spider-Man Renew Your Vows #1, by Dan Slott, with art and cover by Adam Kubert! Variant covers are by Greg Land, John Tyler Christopher, Pasqual Ferry, J. Scott Campbell, Gabriele Dell'Otto, and Skottie Young! The Midtown exclusive cover is by Mark Brooks! Face it tiger, this is it!
Secret Wars #3:
There isn't much we can tell you about Secret Wars #3, 'cuz Marvel won't tell us! We do know that it's by Jonathan Hickman, with art by Esad Ribic, cover by Alex Ross, variant covers by Simone Bianchi, Nick Bradshaw, John Tyler Christopher, Tomm Coker, Bob McLeod, Marguerite Sauvage! The Midtown exclusive cover is by Dale Keown!
Limited edition Captain America life-size shields
NOW AVAILABLE! Midtown Comics has imported a limited quantity of these life size Captain America shields, produced for the Asian market by King-Arts International. Add these deluxe shields to your Steve Rogers collection today!
Variant covers are no joke:
The baddest guy in comics gets his own line of cover variants as The Joker's vile visage vies for top billing on several titles from DC Comics, including Action Comics #41, by Greg Pak and Aaron Kuder, art and cover by Kuder, Joker variant by Darwyn Cooke! Justice League #41 is by Geoff Johns, with art and cover by Jason Fabok, Joker variant by David Finch! Look for more titles featuring the Clown Prince of Crime next week!
DC Comics Cover Girls Harley Quinn statue:
The line of stunning statues inspired by the art of Stanley "Artgerm" Lau continues with this masterfully sculpted statue of the Cupid of Crime! This Harley Quinn statue is a limited edition of 5,200, and measures approximately 10.5" tall.
Return to the Golden Age:
Writer James Robinson rebooted a Golden Age hero some years ago, and yielded a critically-acclaimed, fan-favorite masterpiece in Starman. He's reluctant to try to repeat his success, until a Golden Age hero comes to life to set him straight in Airboy #1, with art by Greg Hinkle! An untold tale of the Bible that shifted the balance of power in history comes roaring to life in Covenant #1, by Rob Liefeld, with art by Matt Horak, cover by Liefeld! Both titles are from Image Comics!
Subscribe with the Midtown Pull List:
Enjoy great savings with weekly, bi-weekly, and monthly shipping options. There are no fees for our Pull List, and payment is due only at time of shipping.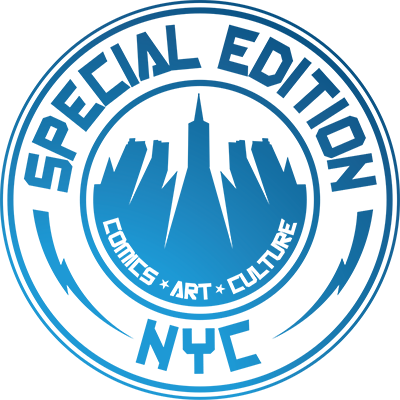 Special Edition: NYC is coming!
Don't miss Special Edition: NYC, June 6 & 7 at Pier 94 in NYC. Special Edition is organized by ReedPop, the folks who run NYCC, C2E2, PAX, Star Wars Celebration and more! We have tickets at all three NYC Midtown Comics locations — in-store only! We don't have tickets for NYCC, but follow us on social media for an announcement in late summer!
Believe it,
G-Man and Andrew!


eBay:
This week's featured eBay item is a set of Batmobile Hot Wheels Toys.. Here's your chance to add vintage Batmobiles to your collection! Check out the rest of our auctions on our eBay page.
We buy comics, graphic novels, and collectibles! If you've got books you want to sell, e-mail me!
Stay mint,
Alex Rae!

Midtown's New Release List:
Not everyone realizes it, but our new release list is the most accurate and complete in the industry, BAR NONE. Our list is posted every Wednesday afternoon, and includes ALL of the new releases for the following week, complete with links to purchase and reserve. Check it out!

Note: for TEXT-ONLY list, please go to the New Release List, and uncheck the "Show Images" button.
Click here for FREE IN-STORE PICKUP list!