Welcome back to a wonderful week in comics!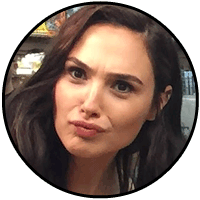 Gal Gadot hits the big screen as Wonder Woman this week, and did we mention that she joined us at Midtown Comics last week for an interview by Katie Couric?  She did, and pics and info are here! There may be just a wee bit more excitement happening next week, including Dark Knight III Master Race #9 by Frank Miller and Brian Azzarello, a new Wonder Woman first issue, and Batman #24! Marvel is strong with the Force, and unleashes Darth Vader #1, a new Secret Empire first issue, and a multitude of Mary Jane Variant covers! Also crawling, er, walking your way are new issues of Kirkman and Adlard's Walking Dead, and BKV's Paper Girls!
Spotlight on savings:

Here's your chance to fill holes in that ever-elusive T-Z range in your collection! Save BIG from Teen Titans, Thanos and Tarzan, to Wolverine, X-Men, Walking Dead, Wonder Woman, and Zatanna, and take 20% off ALL back issues T-Z, from ALL publishers! Aficionados of artfully articulated action figures are advised to act now and take up to 40% off all action figures, FINAL WEEK!
We met Gal Gadot and Katie Couric:
Katie Couric and Gal Gadot visited Midtown Comics Grand Central to record an interview for Yahoo News! While the Dynamic Duo were in the shop, Wonder Woman herself took a moment to sign a Funko POP of her iconic character, and Katie took some pictures with the staff! To read more about the wonderful visit from Gal Gadot and Katie Couric to Midtown Comics, click HERE! To check out the full interview from Midtown Comics Grand Central, click HERE!
DK3 finale:
It's time for the epic conclusion! Quar's Kryptonian Army has conquered the planet, but Batman and his allies don't believe the world is beyond saving. They'll rally once more against Quar and save the world or die trying. Dark Knight III Master Race #9 is by Frank Miller, Brian Azzarello, and Andy Kubert!
Lazarus Contract epilogue:
As Deathstroke picks up the pieces of his life following the traumatic events of last month's "The Lazarus Contract," a threat years in the making boils to the surface when an old friend becomes mortal foe! Deathstroke #20 is by Christopher Priest, Larry Hama, and Carlo Pagulayan, with a cover by Lee Weeks!
The Man of Steel and the Man who broke the Bat:
The Man of Steel faces the one foe he refuses to fight: his son. An emerging new ability for Superboy proves deadly to Superman as the promise of power appears to lead Jon Kent to betray his father. Superman #24 is by Peter J. Tomasi, Patrick Gleason, Doug Mahnke, and Jaime Mendoza, with a cover by Ryan Sook! Meanwhile, Bane's been captured by the charismatic cult leader Damocles, but just ask anyone from his childhood home of Peña Duro… trying to keep Bane in a prison rarely ends well! Bane Conquest #2 is by Chuck Dixon and Graham Nolan, with cover art by Nolan!
A super collection:
Superman is becoming desperate to regain his powers! The situation is dire, as he must rescue his fellow Justice Leaguers and save the lives of the soldiers facing Vandal Savage-the very force standing between him and the Fortress of Solitude. Superman Action Comics Vol 9 is by Greg Pak, Aaron Kuder, and more, with a cover by Kuder!
The X-Men's Iceman goes off on his own:
Bobby Drake, aka Iceman, realizes that the time is now or never to become a great hero, and sets out to build a life and legacy he can be proud of…and be the best Iceman he can be! Iceman #1 is by Sina Grace and Alessandro Vitti, with a cover by Kevin Wada!
A Secret Empire tie-in:
Steve Rogers, Captain America, Liberty's most dedicated defender is actually the Supreme Leader of Hydra. Faced with this adversity, the world's heroes have two choices: stand and fight or fall in line. See how Earth's protectors come to grips this earth-shattering revelation in an action packed first issue featuring Gwenpool, Giant-Man and Steve's oldest allies, the Invaders! Secret Empire Brave New World #1 is by Paul Allor, Brian Level, and more, with a cover by Chris Samnee!
Eddie Brock Venom is back:
Eddie Brock and the Venom symbiote have been reunited, and they're web-slinging their way around New York again. Marvel is returning to legacy numbering with the oversized Venom #150 is by writer Mike Costa, artists Tradd Moore and Gerardo Sandoval, and more, with a cover by Sandoval! Web-sling your way to Midtown Comics Downtown to meet artist Tradd Moore and get your comic signed!
The Friendly Neighborhood Hero and the Evil, Evil Assassin:
Osborn vs Spider-Man! No holds barred! The outcome of this battle will change both of these men. And that's nothing to say of Osborn's master plan that Spider-Man is powerless to save! Amazing Spider-Man #28 is by Dan Slott and Stuart Immonen, with a cover by Alex Ross! And it's the final issue of Bullseye's limited series! It's mass bloodshed at Teodor Zarco's compound, and S.H.I.E.L.D. is claiming jurisdiction! No one wants to see a vacation end…but if Bullseye doesn't find a way out of Colombia, this'll be his last job! Bullseye #5 is by Ed Brisson and Guillermo Sanna and Dave Johnson!
Incredible Image Comics issues:
Nothing is more damaging than misplaced trust. You won't want to miss the latest chapter of Image's intense and shocking series! Walking Dead #168 is by Robert Kirkman and Charlie Adlard! Meanwhile, Paper Girls' latest story arc reaches its explosive end!  It's the end of an era as KJ, Mac, Tiffany, and Erin must do the unthinkable to escape our prehistoric past. Paper Girls #15 is by Brian K. Vaughan, Cliff Chiang, and Matt Wilson!
Believe it,
G-Man and Gregg!


eBay:
This week's featured eBay item is a

2005 Custom Jason Shanaman Planet of the Apes Gorilla Enforcer Bust. Here's your chance to add this rare item to your collection! Also, remember to follow us on eBay to find even more rare comics, collectibles, and super hero savings! Check out the rest of our auctions today!

Midtown's New Release List:
Not everyone realizes it, but our new release list is the most accurate and complete in the industry, BAR NONE. Our list is posted every Wednesday afternoon, and includes ALL of the new releases for the following week, complete with links to purchase and reserve. Check it out!

Note: for TEXT-ONLY list, please go to the New Release List, and uncheck the "Show Images" button.
Click here for FREE IN-STORE PICKUP list!