Happy New Year from your friends at Midtown!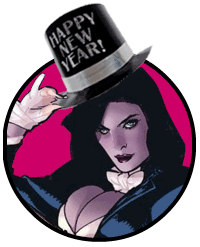 Celebrate a banner year with our Best of 2010, which highlights some mind-blowing Midtown milestone moments, from Olivia Munn to Mayor Bloomberg to Jim Lee! As we say goodbye to 2010, we look forward to 2011, and the outrageous new comic book epics and price reductions (yes, reductions) that are on the way. On New Year's Eve, we'll hoist a few while hangin' at Midtown Times Square, and watch the ball go down in person (well, almost…we'll be watching from our windows).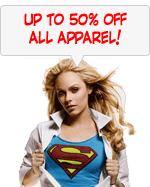 We're open on New Year's Day with a fab in-store sale for one day only!
To help ring in the New Year, take 20% Off Everything, in-store only, on New Year's Day only! Plus: save Up to 40% Off All back issues in-store and online before the sale ends on January 2nd! We're also offering 10% – 50% Off All Apparel, online till January 5th!
Shipping Update!
Because of the blizzard that hit NYC this weekend, shipping of internet orders has been slowed down. The streets are covered with snow and delivery trucks are having a hard time making it to our warehouse. We are trying our absolute best to ensure little to no delay in shipping on all internet orders. Thank you for your patience as we deal with Mother Nature!

Holiday store hours and new release schedule:
The Holidays are almost behind us! We can finally get back to work, school, and all the normal day-to-day stuff…NO!! New Year's is the last holiday we've got so let's make it a good one! Our New York stores will be open on Friday, 12/31 from 11:00AM to 6:00PM, and on Saturday, 01/01: 12 noon to 8:00PM, all stores!
ALL NEW RELEASES WILL ARRIVE ON WEDNESDAY AS USUAL INTO THE NEW YEAR!
Jim Lee enters The Action Room!
Our good friends Tony Wolf and Producer Mike were on hand for the recent Jim Lee signing and teamed up with Midtown Comics TV to bring you some highlights from the event and an interview with Jim Lee! We even got to talk to the two winners of the #CoffeeWithJimLee Twitter and Facebook contest. Check it out here!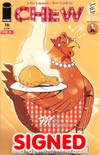 Signed copies of your favorites!
We still have some signed copies of Chew #16, Chew Vol. 1, 2, and 3 trades, and Image Firsts Chew #1 from our recent signing with John Layman. We've also got signed copies of the brand new Magus #1 signed by the creators,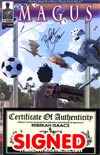 Rebekah Isaacs and Jon Price! Signed copies of Jim Lee's art book, ICONS: The DC and Wildstorm Art of Jim Lee are flying off the shelves in-store and online! Get yours quick!

DC heard you and they're drawing the line at $2.99!
You demanded it and DC supplied it! DC is taking its price back down to $2.99! This is the perfect way to ring in the New Year! In-fact, all fifteen standard 32-page comics coming out this week from DC are only $2.99! You can see all the $2.99 DC books for this week on our site here. We're thrilled to see such a bold and exciting move being made to keep readers happy!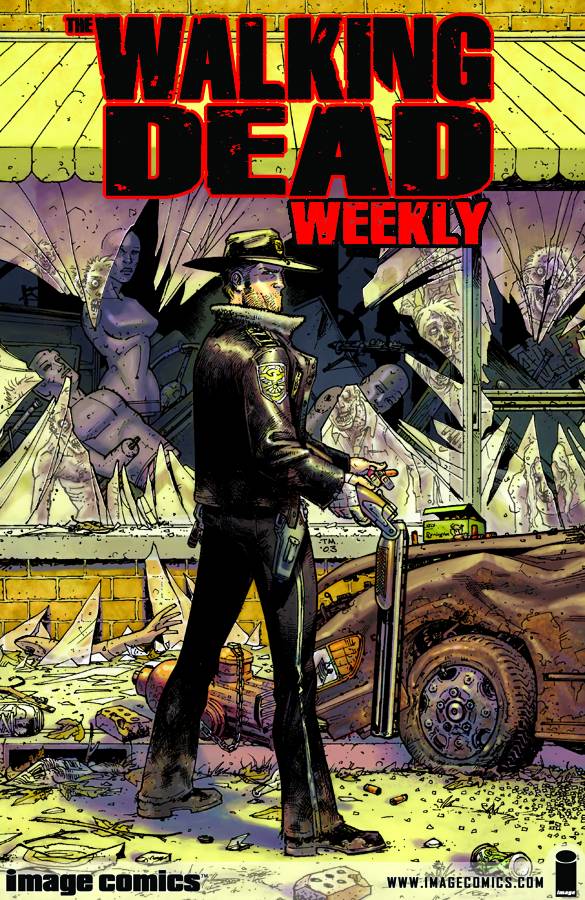 Walking Dead Weekly Starts!
Starting this week, Image Comics will be reprinting the single issues of the hit series The Walking Dead, shipping one issue per week all year long! It starts this week with The Walking Dead Weekly #1! In this issue, Rick Grimes wakes to a world he's not prepared for. This small town cop must now fight the forces of the undead while he searches for his missing wife and son. This is the issue that started it all! Come back every week for the next issue of The Walking Dead Weekly!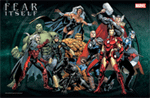 Follow us on Twitter & Facebook and win big!
We had our good friends Joe Quesada, Axel Alonso, and Tom Brevoort sign a few exclusive Marvel: Fear Itself lithographs while they were here for the Fear Itself press conference. We'll be giving them away to our followers and fans for free this week! So make sure you follow @MidtownComics on Twitter and become a fan on Facebook for a chance to win!


Spider-Man swings over to Broadway, NYC!
SPIDER-MAN TURN OFF THE DARK puts the spectacular stunts and high-flying action so close to your seat, you'll flinch. The spine-tingling combination of your favorite characters, ground-breaking visual design, amazing aerial stunt work, and a driving rock score by Bono and The Edge of U2 can only be experienced in person, on Broadway. Directed by Tony Award® winner Julie Taymor (The Lion King), with a book by Taymor and Glen Berger, TOTD draws on over 40 years of Marvel Comics continuity. Take advantage of this special Midtown Comics offer to purchase tickets at up to 40% off, now through February 27th. To redeem this offer, click the banner above or call 877-250-2929 and use code MC0927. You may also bring a printout of this offer to the box office at the FOXWOODS THEATRE, 213 West 42nd Street.

Restrictions: Cannot be combined with any other offers or discounts. Offer subject to availability and prior sale. Blackout dates: December 24, 2010 through January 2, 2011, January 11, 2011 (opening night). Not valid for Saturday evening performances. Other Blackout dates and locations may apply. Code expires 2/27/11. Offer may be revoked or changed at any time. Prices do not include $2.00 facility fee.

Everybody's a critic!
Now you can be too! Didja like Deadpool Corps #9 ? Maybe you didn't like it! Make your voice heard and review it, or any other book, as many as you like, on Midtowncomics.com! Give it a five star rating, or a thumbs down — it's your call!
Believe it,
Thor and Gerry G., aka G-Man


This week's featured eBay item is a lot of comics promo material! This lot includes giant trading cards, promo posters, holograms and more! You have to see it to believe it! We also have lots of great action figures, statues, collectibles, and more at huge discounts, all available from our eBay page!
THIS WEEK'S SALE! (Ends January 2nd.)

Up to 40% Off All back issues online and in-store!

ALSO ON SALE THIS WEEK, ONLINE ONLY:

10% – 50% Off All Apparel. (Ends January 5th)

Special In-Store Only Sale:
20% off Everything! In-store only, New Year's Day only!

I walked uphill barefoot in the snow to make sure we put in some great back issues this week. This week in our over 5,000 back issues upload we really focused on the books that keep selling out. Daredevil Vol. 1 and Vol. 2, Incredible Hercules, Incredible Hulk Vol. 1 and Vol. 2, Amazing Spider-Man Vol. 1, Batman Legends of the Dark Knight, Birds of Prey, Jonah Hex Vol. 1, Todd McFarlane's Spider-Man, and Green Lantern Vol. 3 and Vol. 4. I fear no snow! I am always buying! Even in 40 feet of snow! You can e-mail me here with the books you want to sell!
This just in! Our Times Square location just got in more toys made in the last 20 years including the Michel Keaton Batman movie figures still on card! Check them out before they're all gone!
Stay mint,
Alex Rae!


Midtown Comics Downtown is now open! Come check out our new store!
Midtown Comics Blog:
We here at Midtown Comics decided to take a look back at all the great stuff 2010 had to offer with this very special, "Midtown Comics: The best of 2010." Join us as we remember fondly some of our most favorite Midtown moments of the year. Check them out here!

Midtown Comics TV:
Midtown Comics TV and The Action Room teamed up to bring you great interviews and coverage of the Jim Lee signing we just had Downtown! Take a look here!

Midtown Comics Podcast:
This week Thor is away and Dimitrios rounds up a group of what he calls "Rowdy Folk" that consist of some new employees and some of his favorite customers to give the picks for the week. Have a listen to the madness that is "Rowdy Folk!" Check it out here! We'll be back next week in full force!

Midtown's New Release List:
Not everyone realizes it, but our new release list is the most accurate and complete in the industry, BAR NONE. Our list is posted every Thursday afternoon, and includes ALL of the new releases for the following week, complete with links to purchase and reserve. Check it out!

Note: for TEXT-ONLY list, please go to the New Release List, and uncheck the "Show Images" button.