The Holiday season is officially upon us!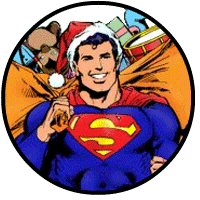 Now that we've had our fill of turkey for the rest of the year, it's time to move on to more pressing matters: Holiday gift giving! If you're like me, you love giving the perfect gift but sometimes need a few ideas. Never fear! Let Midtown take the guesswork out of your holiday shopping with tons of great gift ideas for that special comic fan on your list! Remember to check our Holiday Shipping Deadlines and order early so you don't leave anyone empty handed!


Downtown gets in the spirit!
Celebrate the holidays with the creators you love! Join us at our dapper new Downtown store on December 16th for a signing with Chew creator John Layman. John will be on hand to talk all about his favorite holiday meals! But that's not all! Since you've been so good this year, we thought we'd give you another great gift: Jim Lee! He'll be signing his new book Icons: The DC and Wildstorm Art of Jim Lee! The purchase of ICONS is required to attend the signing and will make a great gift…hint, hint!
Midtown laughs at Black Friday!
For us, Black Friday isn't just a day, it's a lifestyle, and we're always looking to bring you the best deals in comics each week! Black Friday may be officially over, but we'll stay in spirit this week with one of our most popular sales of the year: 50% Off incentive covers and Midtown exclusive comics! We also offer 10% – 50% Off All Action Figures, 25% Off All Drinkware, 35% Off DVDs, and 30% Off Comic Boxes! There isn't one thing on that sales list that wouldn't make the perfect gift this season!


Follow us on Twitter & Facebook to win!

This week we'll be giving away copies of the amazing book from DK Publishing, DC Comics Year By Year: A Visual Chronicle! It's a $50.00 book that we're giving away to our followers for free! We've already had two winners — Matt M. from Lakeland, FL, and Yamile Y. from NYC are now the proud owners of this awesome book! So make sure you follow @MidtownComics on Twitter and become a fan on Facebook for a chance to win!


New Midtown Exclusive: Stan Lee's Starborn #1
Stan's back again! Midtown Comics and BOOM! Studios have teamed up again for a limited edition variant cover for Stan Lee's Starborn #1! This time it's an homage to the classic Stan Lee book Thor #154 by artist Paul Rivoche. Don't forget we've also got limited Midtown variants for Vampirella #1 from Dynamite Entertainment, and Stan Lee's The Traveler #1, and Soldier Zero #1 from BOOM! Studios! Get 'em while you can!


Take 50% off many of February's top comics in the December Previews, like Silver Surfer #1! But don't wait till the last minute! December Previews orders are due by 12/27/10.
Subscribe online: Choose your method!
The Midtown method, which offers great savings, weekly, bi-weekly, and monthly shipping options, no fees, and payment due only at time of shipping.
The Previews method, which also offers great savings, while giving you access to EVERY single item offered by Diamond's Previews!
Believe it,
Thor and Gerry G., aka G-Man


This week's featured eBay item is a lot of mint toys for the movie Waterworld! Remember Kevin Costner's aquatic masterpiece? It was one of the best movies of the '90s! Now you can relive all of your favorite scenes with these awesome Waterworld toys! The lot includes Smoker Thunder Ski, Wave Ripper, Hydro Stinger Mariner, Bola Attack Mariner, Power Bow Mariner, Nord, Deacon, Atoll Enforcer, and Waterworld's boat: The Trimaran Attack Combat Ship! Dry land is not a myth! And neither is this great eBay lot! We also have lots of great action figures, statues, collectibles, and more at huge discounts, all available from our eBay page!
THIS WEEK'S CODEWORD SALE! (Ends December 8th.)

50% Off incentive covers and Midtown exclusive comics (excluding new releases)! Click here to activate this week's codeword EXCLUSIVE. Your discounts will automatically be activated in your cart. So just place the items you want into your basket and check out when you're finished!

40% Off ALL back issues at our new store Downtown ONLY.

ALSO ON SALE THIS WEEK, ONLINE ONLY:

10% – 50% Off All Action Figures.
25% off all Drinkware.
35% Off All DVDs.
30% off all Comic Boxes.

You say silver bells, I say Silver Age! We put in over 400 great low-to-high grade Silver Age Marvel back issues this week including Amazing Spider-Man, Avengers, Daredevil, Fantastic Four, and X-Men! Who says I'm not in the holiday spirit?! While I slave over a hot price guide to put in these great Silver Age comics, my team added over 4,000 more comics this week, including a lethal injection of Vertigo books such as Lucifer, 100 Bullets, Hellblazer, and Y the Last Man. We also added some Ultimate books like Ultimate Spider-Man, Ultimate X-Men, Ultimate Fantastic Four, and some minis to fill the holes in your collection.
Don't forget to check out all three of our NYC stores for vintage figures, with new stuff coming in regularly. You never know what you will find!!!
Remember you can e-mail me if you want to score some extra cash for the holidays by selling me your old comics!
Stay mint,
Alex Rae!


| | |
| --- | --- |
| | The Brooklyn Comics and Graphics Festival is December 4th at Our Lady of Mt. Carmel Church in Brooklyn. The festival is a one-day event celebrating cartoon and graphic art featuring artists and publishers displaying and selling their publications, and lectures and conversations on comics. |
| | John Layman, the writer behind the hit series Chew, will be signing at our new Downtown location on Thursday, December 16th! |
| | Jim Lee will be signing his new book Icons: The DC and Wildstorm Art of Jim Lee at our new Downtown location on Sunday, December 19th! Purchase of Icons is required to attend the event, and tickets are given out in all three of our NY locations, free with purchase. |
Midtown Comics Blog:
Get a first look at the trailer for the new All-Star Superman animated DVD from DC Comics based on the award winning series by Grant Morrison and Frank Quietly! Check it out here!

Midtown Comics TV:
The Holiday season has Midtown TV running around like a turkey with its head cut off! Why not use this time to check out some of our classic Midtown TV episodes! Take a look here!

Midtown Comics Podcast:
This week Thor and Dimitrios talk with artist Brad Walker about his work on the all new Heroes For Hire, teaming back up with his Guardians of the Galaxy writers Abnett and Lanning, and Luke Cage's tiara! Check it out here!

Midtown's New Release List:
Not everyone realizes it, but our new release list is the most accurate and complete in the industry, BAR NONE. Our list is posted every Thursday afternoon, and includes ALL of the new releases for the following week, complete with links to purchase and reserve. Check it out!

Note: for TEXT-ONLY list, please go to the New Release List, and uncheck the "Show Images" button.