Shadowland!
I can't even say anything clever about this book. It's just good. Plain and simple. And I'm excited to get my hands on Shadowland #2 this week. If you read the first issue you know what I'm talking about. If you haven't gotten to it yet, don't let this one pass you by. Andy Diggle is showing us just how important he is to the Marvel Universe with this amazing Daredevil event.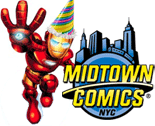 Midtown is Party Town!
Midtown is THE place to party! This past weekend we destroyed all that is Comic-Con with the Not at Comic Con Party that was sponsored by Dark Horse Comics and Red Bull. I'm still a little queasy from all the Red Bull chugging challenges I won. Many thanks go to Dark Horse Comics, Red Bull, and everyone that came out to make the party a success! Take a look at the pics and video from this awesome event!




Ron Marz Artifacts signing!
So you just picked up your copy of Artifacts #1. Now what? How about you come on down to Midtown Comics Times Square this Saturday from 3-5 P.M. and you get our good friend Ron Marz to sign it for you! I can't think of anything better. Oh wait…I just did, getting the Midtown Comics exclusive cover for Artifacts #1 signed by Ron Marz this Saturday. It's going to be a blast so be prepared to get blasted! Check out our events page for details on all our upcoming events!

Website specials this week:
I know you wish you could be one of our favored regulars at our NYC stores but some people just don't live in New York (I know, it's hard to believe!). For our favorite customers from beyond the Empire State, we give you these awesome website specials! This week it's 30% off all Marvel back issues letters T-Z along with all Adventures of Superman back issues with the codeword (below). Remember to check out our other super sales in our finance department below.
Believe it,
Thor



This week's featured eBay item is an uncanny lot of Uncanny X-Men! This lot features Giant Size X-Men #1, X-Men #94 and lots more. This is a great collection for any fan of those X-tremely cool mutants.We also have lots of great vintage magazines, action figures, statues, and more at huge discounts, all available from our eBay page!

THIS WEEK'S CODEWORD SALES! (Ends August 4th.)

30% off All Marvel back issues letters T-Z along with all Adventures of Superman back issues! Click here to activate this week's codeword WENDIGO. Your discounts will automatically be activated in your cart. So just place the items you want into your basket and check out when you're finished!

MORE ONLINE SALES THIS WEEK!
· 10 – 50% off All apparel.
· 30% off Bags and Boards.

Hello to all those at Comic-Con, and to all those who are not. Has everybody seen the Cap pics yet? I did and man did it make me patriotic! That's why when we put over 5,000 comics in today we made sure to put in good runs of Captain America, Sgt. Fury, Sgt. Rock, and Our Fighting Forces. But that didn't stop our resident Green Arrow fan from putting in good runs of Green Arrow Vol. 1, Vol. 2, Vol. 3 — and who can forget the last volume, Green Arrow and Black Canary? Not this guy. We also added great runs of Archer and Armstrong, Magnus Robot Fighter, and Solar Man of the Atom because of how valiant Chris Evans looks in his Cap costume…(cough) Well, bad joke aside, check out our back issue page for every comic we added in this week!
How do we get all of these great comics? WE BUY THEM! Don't forget you can contact me anytime if you have books to sell. We're also buying back trade paperbacks and hardcovers too! Maybe that last trade you got wasn't as good as it should have been (I hope not!) — sell it back to me! Send me an email here if you're looking to sell!
Are you ready for the Avengers movies? Well our Times Square store is! Did you know they have Avengers #1? And a Tales of Suspense #39, you know, the first appearance of Iron Man!? And our Grand Central store is ready for the Spider-Man reboot with a Fine Amazing Spider-Man #39 (the first Romita) and a Very Fine Amazing Spider-Man #50! Check it out!
Seeya in the bins,
Alex Rae!



Ron Marz will be signing the Midtown Comics exclusive cover to Artifacts #1 from Top Cow at our Times Square store on Saturday, July 31st, from 3-5 P.M.
Ivan Brandon will be signing Weird War Tales #1 from DC Comics at our Grand Central store on Thursday, September 9th, from 6:30-7:30 P.M.



Midtown Comics Podcast:
This week on the Midtown Comics Podcast, Thor and Dimitrios talk about some of the exciting news that's been rolling in from San Diego Comic-Con, including the Walking Dead trailer and the stabbing talked about 'round the world. And Tim Piotrowski stops by to talk about his book Kool-Aid Gets Fired. Listen here!
Midtown Comics TV:
Dark Horse Comics and Red Bull sponsored the Not at Comic-Con party this weekend at Midtown Times Square. We've got all the coverage from this awesome party here on Midtown TV! Take a look.


Note: for TEXT-ONLY list, please click the Printer Friendly link/icon at the top right of the Weekly Release list