Welcome back to the most unlikely team-ups EVER!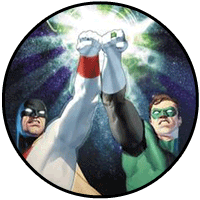 Space Ghost dons the Emerald Ring, Hal Jordan puts on the Power Bands, and Suicide Squad squares off against the Banana Splits! Things take a topsy-turvy turn when the heroes of the DCU collide with those of Hanna Barbera! Also, look for Dark Knight III The Master Race #8 arrives, sporting a Midtown exclusive cover by Greg Capullo, Jack Kirby's Kamandi Challenge #3, and more from DC! From our friends at Marvel, Resurrxion begins with X-Men Prime #1 and Inhumans Prime #1, new Venomized covers hit, and R.L. Stine's Man-Thing #2 slithers onto the shelves!
Spotlight on savings:

Save BIG on incentive covers and Midtown exclusive comics! Beef up your collection and save 25% off these great variant covers, no codeword needed! This includes all incentive covers, and the many magnificent Midtown variant covers from Marvel, Image, Dynamite, and more (new releases are not included).
Dark Knight III's penultimate issue:
It's the return of Frank Miller's Dark Knight! Baal's Kryptonian army has invaded Themyscira, and Wonder Woman and the Amazons will show them why that was a deadly mistake. Dark Knight III Master Race #8 is co-written by Frank Miller and Brian Azzarello, featuring artwork and a cover by Andy Kubert!
DC Rebirth annuals:
Batgirl and Supergirl must team up to break into Arkham Asylum and solve a mystery that leads them to the heart of the most insane insane asylum there is! Batgirl Annual #1 is written by Hope Larson, illustrated by Inaki Miranda, and has a cover by Bengal! When Dick, Wally, Donna and Garth awaken in an unfamiliar place, they find themselves face-to-face with their mentors: Batman, The Flash, Wonder Woman and Aquaman! The mentors and protégés must save the planet from an alien invasion! Titans Annual #1 is by writer Dan Abnett and artist Minkyu Jung, with a cover by Brett Booth and Norm Rapmund!
The Kamandi Challenge continues:
After the stunning cliffhanger of the last issue, a new creative team takes the wheel and steers us toward a wild new adventure. Now, Kamandi is embraced by the God Watchers as a holy messenger! Can he keep up this charade long enough to survive? Or will the truth lead to the end of the last boy on Earth? Kamandi Challenge #3 is by Jimmy Palmiotti and Amanda Conner, with a cover by Ben Caldwell!
The future of the X-Men starts here:
It's the beginning of ResurrXion! In the wake of their war with the Inhumans, the X-Men are at a crossroads. Where do they go from here? Luckily, one beloved X-Men has the answer to that question: Xavier's dream comes full circle as Kitty Pryde returns to the X-Men, ready to lead them in their mission to protect a world that hates and fears them. X-Men Prime #1 is written by Marc Guggenheim and features artwork by Ken Lashley, Leonard Kirk, and Ibraim Roberson, with a cover by Ardian Syaf!
A new direction for the Inhumans:
In the wake of the awesome events of IvX – what will become of the Inhumans? In this oversized special issue – the trial of Maximus! The coming of Marvel Boy! And what is the dark secret of Black Bolt? A special bridging issue between the past of the Inhumans and their future – on Earth and in the stars! Inhumans Prime #1 is by writer Al Ewing and artist Ryan Sook, with a cover by Jonboy Meyers!
This comic will give you goosebumps:
Back in his old swamp, Man-Thing is visited by an ally from his past, while struggling with his new status in life. But the swamp is less than welcoming, with every creature seemingly out to get him! Crocodiles, bats and mosquitoes – oh my! Man-Thing #2 is by writer R.L. Stine and artists German Peralta and Christopher Mitten, with a cover by Tyler Cook!
Image's future and Negan's past:
IMAGE+ is a monthly magazine featuring Image's upcoming releases, as well as bonus creator-owned comics content. Each issue features an original, four-page The Walking Dead story concerning Negan's origins, and created by New York Times bestselling team Robert Kirkman and Charlie Adlard, for a total of 48 pages of backstory! Also included are interviews, spotlight features, bonus never-before-seen preview pages, editorials from industry voices, and more in-depth, insightful, and provocative comics coverage! You won't want to miss Image Plus #12, comic fans.
Reading this comic is half the battle:
The hunt for Dawn Moreno continues, as Zartan chases after the newest student of the Arashikage clan. He intends to bring her back to Cobra… dead or alive! G.I. Joe A Real American Hero #238 is by writer Larry Hama and artist S.L. Gallant!
A New Kind of Comic Con is Coming to NYC:
Midtown Comics is proud to present the Five Points Festival, a designer toy and comic art convention debuting May 20-21 in Lower Manhattan! A showcase of artists, designers, publishers, and toy brands, Five Points is a place for comic fans, collectors, and anyone interested in independent art! Guests include Bryan Lee O'Malley, Greg Capullo, Sean Gordon Murphy, Simone Legno, and Ron English! Tickets are available online, and soon available in-store at all Midtown Comics locations.
Believe it,
G-Man and Gregg!


eBay:
This week's featured eBay item is a

Kotobukiya Danger Room Sessions Wolverine Yellow Suit Statue. Here's your chance to add this rare item to your collection! Also, remember to follow us on eBay to find even more rare comics, collectibles, and super hero savings! Check out the rest of our auctions today!

Midtown's New Release List:
Not everyone realizes it, but our new release list is the most accurate and complete in the industry, BAR NONE. Our list is posted every Wednesday afternoon, and includes ALL of the new releases for the following week, complete with links to purchase and reserve. Check it out!

Note: for TEXT-ONLY list, please go to the New Release List, and uncheck the "Show Images" button.
Click here for FREE IN-STORE PICKUP list!