Welcome back to another amazing week in comics!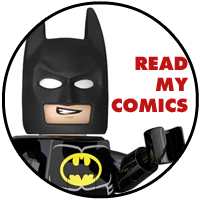 Make ready for a rollicking roller coaster ride of cool comic goodness coming next week, including Justice League of America #1, which brings a brand new band of baddies who believe they're…not bad! Also, look for the penultimate issue of IVX, Elektra #1, and Clone Conspiracy continues in Amazing Spider-Man #24! Space buddies Hal Jordan and Captain Kirk head toward planet Oa, and the Jack Kirby 100th birthday celebration continues with a new Kamandi Challenge! Oh, and Lego Batman is king of the box office, so keep the feeling alive with the many Bat titles coming next week! Last but definitely not least, Greg Rucka has a brand new Image Comics series, Old Guard!
Spotlight on savings:

Save BIG from Amazing Spider-Man to Gambit, and take 25% off all Marvel back issues A-G with the super-secret codeword GAMORA! If you collect other stuff, you can save up to 40% off all collectibles: POP! vinyl figures, drinkware, bobble heads, refrigerator magnets and more! These sales are online only, and some exceptions may apply. For our friends in NYC, save BIG on Presidents Day Weekend: 30% off books—graphic novels, books, hardcovers, and manga, in-store only!
X-Men vs. Inhumans:
It's Karnak vs. Fantomex as Medusa and her team attempt to liberate their secret weapon – Black Bolt. Meanwhile, storms are brewing as the X-Men make their move on the remaining Terrigen cloud!X-Men vs. Inhumans #5 is by co-writers Charles Soule and Jeff Lemire and artist Javi Garron – featuring a cover by Leinil Francis Yu!
Monster mayhem:
The Champions face their biggest challenge yet: giant monsters falling from the sky! Champions #1.MU – which is a Monsters Unleashed tie-in – is by writer Jeremy Whitley and artists Ted Brandt and Ro Stein, featuring a cover by Simone Bianchi!
Marvel's greatest assassin returns:
Running from her tumultuous past, Elektra attempts to lose herself in a vibrant sea of neon, noise and anonymity: Las Vegas. But how long can a former ninja assassin really hope to escape the vortex of violence that encompasses her life, especially when Arcade is in town? Elektra #1 is by writer Matt Owens and artist Juan Cabal, with a cover by Elizabeth Torque!
Conspiracy theory:
The Jackal has taken his best shot, but Spider-Man doesn't need to face him alone.  Discover who is joining Spider-Man in his battle! Amazing Spider-Man #24 is by writer Dan Slott and artist Giuseppe Camuncoli, with a cover by Alex Ross! The Prowler has been operating as Jackal's right-hand man, but now some of the villains Jackal's brought back to life will try to settle some old scores with Prowler! Prowler #5 is by writer Sean Ryan and artists Jamal Campbell, with a cover by Travel Foreman!
A new Justice League of America:
Batman's newly assembled JLA – which includes Black Canary, Lobo,  and more – must stop a group of extremist, self-proclaimed saviors from another Earth! Justice League of America #1 is by writer Steve Orlando and artist Ivan Reis, with a cover by Joe Prado!
The ultimate sci-fi crossover:
The race to the planet Oa continues! Will Captain Kirk and Hal Jordan be the first to find the legendary home of the Green Lanterns, or will Sinestro and the Klingons beat them to it? Star Trek Green Lantern Vol 2 #3 is by writer Mike Johnson and artist Angel Hernandez!
Cartoon crossover fun:
Not since the time of Mightor has planet Earth seen titans battle like this! The towering Frankenstein Jr. hurls megavoltage at the largest creature ever to stride the planet's surface! Race Bannon fights with power no Terran has ever possessed! The Herculoids arrive to join the fray! Future Quest #10 is by writer Jeff Parker and artists Evan "Doc" Shaner and Ron Randall!
Jack Kirby's classic creation:
Kamandi must save Tiger King Caesar and his people from impending doom! Will he be the hero they need or will he use the chaos of the situation to escape for good? And what cliffhanger will the next creative team need to run with? Kamandi Challenge #2 is by writer Peter J. Tomasi and artist Neal Adams, with a cover by Kenneth Rocafort!
Incredible Image issues:
Trapped in an immortality without explanation, Andromache of Scythia – "Andy" – and her comrades ply their trade for those who can find-and afford-their services. But in the 21st century, immortality is a hard secret to keep. Old Guard #1 is by writer Greg Rucka and artist Leandro Fernandez. New York City's beloved sorcerous protector (at least that's what he wants you to think) has done something terrible to the city. It was completely on purpose, and now he has to fix it before everything goes to hell. Curse Words #2 is by writer Charles Soule and artist Ryan Browne.
Believe it,
G-Man and Gregg!


eBay:
This week's featured eBay item is a

Diamond Select Spider-Man 3 Mini-Bust. Here's your chance to add this rare item to your collection! Also, remember to follow us on eBay to find even more rare comics, collectibles, and super hero savings! Check out the rest of our auctions today!

Midtown's New Release List:
Not everyone realizes it, but our new release list is the most accurate and complete in the industry, BAR NONE. Our list is posted every Wednesday afternoon, and includes ALL of the new releases for the following week, complete with links to purchase and reserve. Check it out!

Note: for TEXT-ONLY list, please go to the New Release List, and uncheck the "Show Images" button.
Click here for FREE IN-STORE PICKUP list!