22 Feb, 2011
Posted by Raphael in Reviews
So I decided to be frugal (cheap) and hunt for a website that sold Marvel vs. Capcom 3 (for PS3) for less than retail… so I don't have a review of the game available just yet. And rather than bore you with discussion of footage I saw online (which you can see for yourself, check out the thread on Superfandom.com), I thought I would kick the Twee out and do some good ol' earnest reviewing.

REVIEWS
SUPERGIRL #61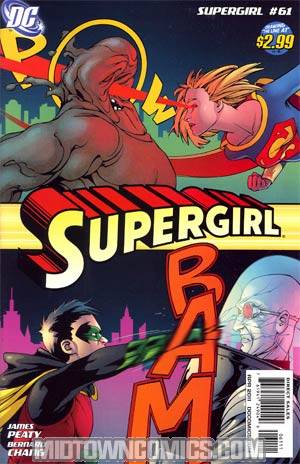 The second part of rising star Nick Spencer (Morning Glories) and Bernard Chang's (Wonder Woman) storyline, actually written this time by James Pate. An evil teenage genius named Alexander (Lex Luthor family vs. Superman family???) has created a "foursquare" type app where you log in if you see a certain superhero. It's actually being used by Alex to send villains after said heroes. All is not as it seems, however, and this issue not only spreads the scale of heroes being attacked, but raises questions as to the extent of Alex's evil genius.
It's a well thought out plot, and I enjoy the use of modern technology in comics, which has ranged from awesome (Invincible Iron Man's killer missile app) to iffy (Final Crisis: Dance's wrongly formatted tweets). I generally don't like reviewing in the middle of an arc, but I do like Nick Spencer, and want to focus on him for a little bit… and the fact that this guy is working on like 84 different comics right now. Seriously, between Infinite Vacation (mini from Image), Morning Glories (Image), Iron Man 2.0 (Marvel) and T.H.U.N.D.E.R. Agents (DC)… that's A LOT of titles, even if he is seemingly off Supergirl. Here's hoping the guy doesn't get burned out and that the hits keep on coming. I think Nick has a bright future, if his brain doesn't fry.
JENNIFER BLOOD #1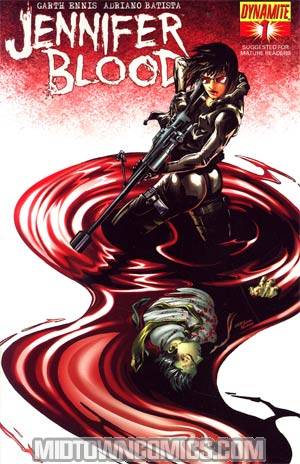 A new series by Garth Ennis, envelope pusher extraordinaire. The titular Jennifer Blood is your typical stay at home mom… during the day. At night? She's Mrs. Punisher. The series starts with her first mission actually. Garth doesn't write her like he did Frank Castle; a grizzled veteran of a long standing war on criminality. Jennifer is inexperienced and almost gets herself killed the first time out, and she's aware of this.
Jennifer's motivations aren't made apparent initially, there's no "my parents are dead" or "my family was killed in front of me" moment. She's just a housewife who happens to have a gun closet in her basement. There are social justice moments, like breaking the hand of a grabby mechanic who harasses his female employee as well as makes advances toward Jennifer. Overall, I'm interested to see what Jennifer really wants out of this; Garth may be a master of wanton violence, but there's always been an impetus for the blood shed.
AMAZING SPIDER-MAN #654.1
Another book from Marvel Comics' ".1 Initiative" (they sure like their Initiatives…), this one focuses on the identity of the new Venom, and how he interacts with Peter Parker/Spider-Man. Essentially, Venom has been weaponized by the US Government, more so than the previous Venom, Mac Gargan. The wearer only gets 20 missions with the suit, and it has to be kept in stasis in between missions. The issue has a really cool James Bond-type spy mission, and the man wielding the suit is at his best, charming the ladies and beating up the bad guys.
I like the new approach toward Venom, and look forward to the development of the character as well as the consequences of being bonded with the symbiote. The ".1" is really more for Venom than Spidey, however, as we get very little Peter Parker in the book. It's a great incentive to read more Venom, but not really designed to draw in readers for "Amazing Spider-Man".
That's all for this week. Hopefully next week, Marvel vs. Capcom will be MINE! MWAHAHAHAHAHAHA!