15 May, 2012
Posted by Raphael in Reviews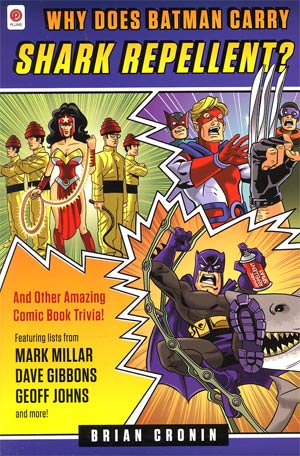 Midtown Bloggerinos! Raph here, with a review of the new book from Brian Cronin: Why Does Batman Carry Shark Repellent?
This book is full of something fanboys absolutely love: lists! From things like iconic covers, to obscure things like weirdest comic book commercials, this book covers well known comic history as well as obscure history (Did you know that Sadie Hawkins day comes from a Li'l Abner strip?). It's not just lists by the author either: there are some polls from the CBR forum for superlatives (Biggest fights, top 25 characters), which is very much a fan debate thing. The lists I'm sure will spark debate amongst you and people you know. There are also lists provided by industry luminaries like Dave Gibbons and Geoff Johns, who definitely know what they're talking about.
Who is Brian Cronin, you may ask, and why is he writing a book about comics? Mr. Cronin is the author of the Comics Should Be Good Blog at Comic Book Resources, one of the leading comic book websites in the world. Brian also has written a previous book, Was Superman A Spy? Clearly, Mr. Cronin is qualified.
So with all of that said, what is the final verdict? This is a nice book to have on the book shelf, with little tidbits to help jog your memory (like a list of Stan Lee's appearances in Marvel movies) or a clever tidbit to impress your friends at a party (Batman tried to lobotomize Joker early on!), this book is a great addition to your collection! Why Does Batman Carry Shark Repellent? is available May 30th… check it out at our website!
That's it for now, until next time–
STAY BLOGGY MY FRIENDS!
– Raph