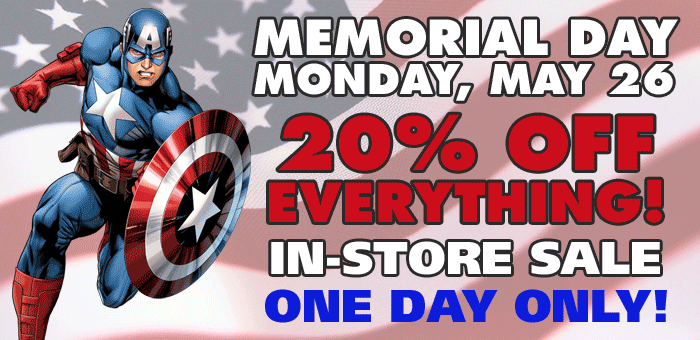 Midtown Comics is open on Memorial day!
Monday, May 26th, we invite you to join us for our annual Memorial Day sale, and save 20% off everything, all day long, in-store only! All three of our NYC stores will be open! Browse our wide selection of comic books, action figures, collectibles, and more! Get in the holiday spirit and pick up some Captain America comics! Also, check out some of the most patriotic comic book covers below! Hope you have a happy Memorial Day!
Store hours:
Times Square: 8:00AM to 12midnight
Grand Central: 11:00AM to 9:00PM
Downtown: 10:00AM to 8:00PM
*Disclaimer: All sales and special offers advertised herein are valid in-store only, Monday, May 26th only, and does not apply to convention tickets, gift cards, or advance orders, and cannot be combined with any other offer. NO COUPON REQUIRED. Not valid at our FAO location.