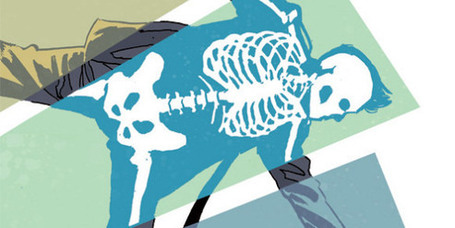 Bloggerinos! Raph here, this time with an interview with Ed Brisson, writer of my favorite new miniseries Comeback. Comeback is published by Image Comics and has a simple premise: in the recent future, there's a company that will save someone you love from death, for a steep price. What would you pay to save someone you loved? What are the consequences when the mission goes wrong? The series is answering those questions in an amazingly awesome way.

1)  According to your website, you've been self-publishing for a long time. How did you get through all that time? What made you insist on continuing with comics?
I've been self-publishing ever since I discovered how to use a photocopier. Made it through those years — all 18 of them — because of my love for comics. For me, it was never about a publishing deal or notoriety, it was, and is, just a straight up love for the medium and a need to tell the stories that I wanted to tell.
2)  Comeback is one of my favorite books in a long time: the concept is kind of like a reverse Looper: a company will go back in time to save someone's life, for a large fee. How did you come up with the concept? Is this something you had gestating in your mind for a while?
Thanks! I came up with the idea sometime in the summer or fall of 2011 when looking at Time Travel as a concept and trying to figure out a way that I could do something new with it — something that I'd be interested in as a reader. Generally the scope of time travel films is pretty large and I really wanted to focus it in, make it something that was real, but, in a way, underwhelming. You've got this fantastical thing made real, yet you're limited to 67 days of travel. How would people use this? Abuse it? How would it be regulated?
All this stuff got my creative juiced flowing and the story that eventually come out of it is what you see in Comeback.
3) What are your creative influences? What kind of material (comics or otherwise) inspire you and your work?

In comics, I'm a big fan of writers like Jason Aaron, Greg Rucka and Ed Brubaker. I'm also into a lot of more "alternative" creators (for lack of better term) such as Gipi, Jason, Daniel Clowes, Chester Brown and Dave Cooper. Beyond comics, I love reading anything by Elmore Leonard (a huge early influence to my work), Richard Stark, Jim Thompson, George V Higgins, Charles Willeford, Richard Price, Russell Banks, and on and on. In terms of film, I'm all over the place: I gobble up stuff by directors like Michael Haneke, Jim Jarmusch, Hal Hartley and Paul Thomas Anderson, but also love my trash movies 80s post-apoc and z-grade horror films; 60s and 70s Spaghetti Westerns and Eurocrime films; and so much Japanesecinema from the 90s through the mid 2000s by directors like Takashi Miike and Hideo Nakata and Ryûhei Kitamura. I like to think that I pull a bit of influence from all of these things.

4) Is there a dream project you have in your mind; a project you've always wanted to or a collaborator you've always wanted to work with?
I think that right now, Murder Book (http://www.murderbookcomic.com/) is the closest thing to a dream project I have. It's something I've been working on for the past couple of years and would like to continue for the foreseeable future. I have a laundry list of artists who I'd love to bring in for a story or two, but I'm keeping that close to the vest right now.
5) Finally, what other works are you working on bringing into fruition? If Comeback does well, can we expect to see more about RECONNECT and their team of time travelers?
I have another series that is HOPEFULLY coming out around mid-2013 and have a third project that I'm currently on an artist hunt for. In addition to that, I've got a few more Murder Book stories in the works and about a million pitch ideas seeing on my hard drive, begging for my attention.
Given the opportunity, Michael and I would love to do another Comeback 5 issue mini, but we're waiting to see how the first pans out. Fingers crossed — I've already started to outline the second arc, so would love to get the go ahead.
–
We here at Midtown certainly wish Ed the best, and hope to see more from him, particularly if that means I can get more of Comeback in my grubby paws! Until Next Time–
"I never got to thank you"
"And you'll never have to."
– Raph
PS: My sign offs for 2013 will all be superhero movie quotes, see if you can ID them!