By Dan Gladston
Love comic book TV shows and movies?  Yeah, we thought so.  For your binge watching convenience, we've gathered a list of some of the best comic book television series and films available to stream on Netflix.  Depending on what you're in the mood for, Netflix has you covered with some of the hottest new shows such as Marvel's Daredevil, Agents of S.H.I.E.L.D., and Arrow!  What's more, if you've been itching to re-watch some of your favorite comic book movie classics such as Star Trek II: The Wrath of Khan, Hellboy, and many others, you're in luck!
You can even re-visit our very own Comic Store Heroes!  We hope you enjoy the complete list that follows and please feel free to share your thoughts in the comments section below!
TV Shows to Stream on Netflix:
Marvel's Daredevil
Arguably Marvel's best television series to date, actor Charlie Cox does an exceptional job as Matt Murdock, also known as the masked superhero Daredevil.  The show brilliantly jumps right into the nitty gritty, dark aspects of Matt's life as a child and as the crimefighter of Hell's Kitchen.  The character's origin story is beautifully adapted to the small screen and is guaranteed to satisfy fans as it stays true to its comic book roots.  Additionally, the show's main antagonist, Wilson Fisk, a.k.a. the Kingpin, is terrifically menacing and will surely keep you on the edge of your seat, leaving you wanting more after the credits roll.  This is a must watch!
Arrow
Perhaps the greatest iteration of the hooded vigilante, the CW's Arrow hits the nail on the head with this crime-driven superhero series.  After billionaire playboy Oliver Queen is stranded at sea for five years, he returns home to Starling City with a new mission.  Queen vows to rid his city of crime that has been infecting its streets for years as the superhero called Green Arrow.  Since its debut in 2012, the series has introduced many interesting characters such as Queen's sister Thea, Black Canary, Felicity Smoak, John Diggle, Roy Harper, Ray Palmer, Deathstroke, and many others.  Currently on its fourth season, Arrow returns to the CW on October 7, 2015.  You still have time to catch up!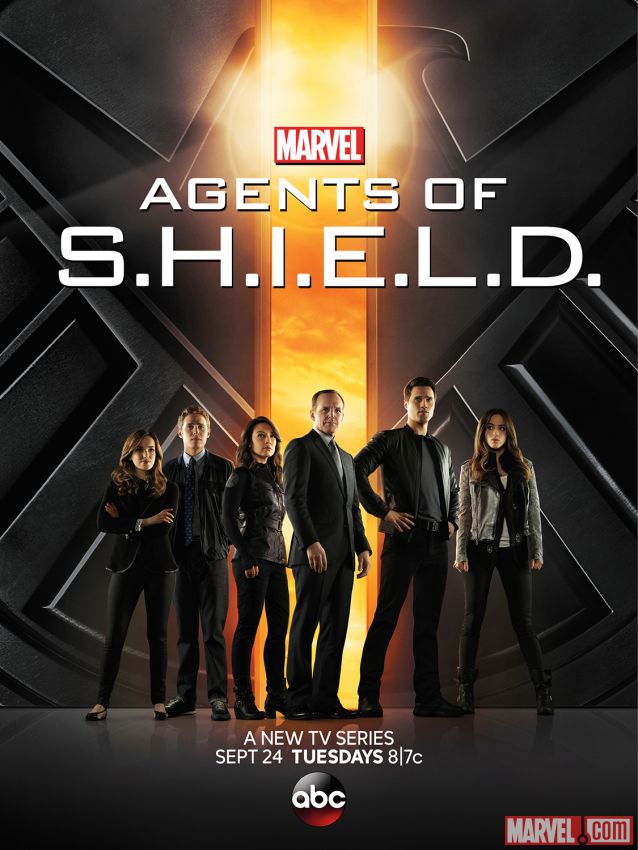 Marvel's Agents of S.H.I.E.L.D.
Agent Phil Coulson helms Marvel's small screen Avengers as he leads an elite team of agents from the global law-enforcement organization known as S.H.I.E.L.D.  Each agent possesses unique skills that contribute to the team and allow them to perform the extraordinary tasks required of them. Members of the team include: combat and infiltration expert Grant Ward, genius computer hacker Skye, martial arts specialist and pilot extraordinaire Melinda May, biochemist Jemma Simmons, and expert engineer Leo Fitz.  Under the leadership of Agent Coulson, the team investigates unusual happenings throughout the world.  Although the series did not have the best start, the action is now in full swing and that more than justifies taking the time to soak in the details of the first season.  Agents of Shield returns with its third season on September 29, 2015!
Heroes
Although this show is not based on a comic book, we thought it should make this list because of how incredible it was.  It's a terrible shame that the show was not renewed for a fifth season as its popularity was monumental.  The series' basic premise revolves around individuals with superhuman abilities, very similar to mutants, and the primary conflicts between Peter Petrelli, Claire Bennet, and Sylar.  Although the show as fans know it was cancelled in 2010, there is hope!  It was recently announced that a new series called Heroes Reborn will air sometime this year, however, the characters and plot have yet to be announced.  The new show certainly has potential and it is very much on our radar! 

The Incredible Hulk (1978-1982)
The Incredible Hulk television series was very popular during its original run, and is now considered a classic, despite mixed reviews.  This is the tale of scientist Bruce Banner, who was exposed to dangerous gamma rays during an experiment gone wrong, and cursed with the unstable ability to become a massive green monster.  Star Bill Bixby originally rejected the role, but was moved by Kenneth Johnson's pilot episode script. Bixby embraced the character and took it very seriously, and his performance conveyed the profound loneliness and tragedy of Dr. Banner while also bringing to the role an abundance of realistic character traits, and above all else, humanity.  It's worth mentioning that Joe Harnell's haunting theme music is fondly remembered by millions today.
Star Trek: The Next Generation
After launching in 1987, Star Trek: The Next Generation proved to be an instant hit with the public.  The new Star Trek series was modeled after the original series that debuted in 1966, but was updated to be modernized and gender neutral.  The Next Generation takes place one century after the events of its predecessor and stars Patrick Stewart as Captain Picard of the Starship Enterprise.  The series was massively popular and is regarded as a classic today.  If you're a true Star Trek fan, this show is a must watch!
Comic Store Heroes
Alright, we might be a little biased with this pick….Comic Store Heroes follows our Marketing Manager Thor, our Back Issue Buyer Alex, and our boss Gerry as they prepare Midtown Comics for New York Comic Con! Dive behind the scenes of the largest comic store in the country and learn how we operate in this special documentary originally featured on the National Geographic network. Who knows, you might want to apply to work at Midtown Comics after watching this show!
Films to Stream on Netflix:
Hellboy
2004's Hellboy proved to be popular among critics and fans alike, and if you have yet to see it, we definitely recommend it.  Director Guillermo del Toro based the film off of Hellboy creator Mike Mignola's graphic novel, Hellboy: Seed of Destruction, published by Dark Horse Comics.  Hellboy follows a demonic being who was found by the Allied forces during World War II and raised by a compassionate scientist to become a superhero.  Hellboy is not, however, the typical superhero, as he works for a top secret government agency with a team of extraordinary individuals called the "Bureau of Paranormal Research and Defense".  Their job is to protect Earth from paranormal threats and to keep humans blind to a dangerous supernatural underworld.
Star Trek II: The Wrath of Khan
Perhaps the greatest Star Trek film ever made, the famed sequel to Star Trek: The Motion Picture, is now a beloved classic.  The film sees the return of the genetically enhanced warlord known as Khan, who first appeared in an original Star Trek episode called "Space Seed," which aired in 1967.  Khan has returned to get revenge on Kirk, who had previously exiled him for 15 years.  The crew must stop Khan from obtaining a planetary terraforming device known as Genesis before it's too late.  The intense action and suspense in this film will surely keep your eyes glued to the screen from start to finish.
The Crow
The 1994 film is based on the comic book by James O'Barr and keeps the basic story of a musician who comes back from the grave to get revenge on the violent gang members who murdered him and his fiancee.  Tragically, lead actor Brandon Lee was accidentally killed during filming due to a faulty blank.  The film is dedicated to his memory and to his fiancee, Eliza.  The movie was a monster hit when it debuted 21 years ago and received much praise from critics and fans alike.  For the time period, the film's special effects were spectacular, the plot was both exciting and suspenseful, and it proved to be a wonderful tribute to the deceased star.  This is certainly a film worth watching.
Unbreakable
In this heart pounding science-fiction drama, M. Night Shyamalan tells the tale of a man named David Dunn (Bruce Willis), who slowly realizes that he has superhuman abilities.  The film's narrative is uniquely and brilliantly organized into a traditional comic book's three-part story structure, which fits in perfectly with the plot and complex characters.  Samuel L. Jackson also stars in the film and his character certainly adds a mind boggling twist that will leave you speechless.
Snowpiercer
Based on the French graphic novel by Jacques Lob and Jean-Marc Rochette, Snowpiercer is a South Korean science-fiction action film released in 2013.  Starring Marvel's Chris Evans, Snowpiercer is the name of a train that circles the globe holding what remains of humanity after an attempt to stop global warming went horribly wrong and created a new ice age.  Curtis Everett (Chris Evans), is a member of the lower-class section of the train and after rallying a team of other passengers, he leads a revolution against the elite members of the first class section.  The film was positively received by critics and viewers, getting special praise for its unique vision.
The Punisher
Based on the famed Marvel Comics character, 2004's The Punisher is primarily based on two distinct comic book stories, The Punisher: Year One and Welcome Back, Frank.  The film also stays true to the character's comic book origin of a vigilante named Frank Castle who wages war against the criminal underworld with the overarching goal of getting revenge on Howard Saint, who ordered the murder of Castle's family.  The Punisher is ultimately a movie about a classic antihero, and although it did not fare well with critics, it is still considered the best film adaptation of the Marvel character.
Batman (1989)
Directed by Tim Burton, this was Warner Bros.' first Batman film series and it is considered a beloved classic by many fans.  The film stars Michael Keaton and Jack Nicholson as Batman/Bruce Wayne and the Joker respectively.  The film was also the first iteration of Batman that truly took on the character's dark nature, which would inspire many films that came afterwards.
The views expressed herein are solely those of the writer, and not Midtown Comics. Additionally, Midtown Comics makes no representations as to the accuracy of any of the information expressed herein.
Tags:
Agents of SHIELD
,
Arrow
,
Brandon Lee
,
Bruce Willis
,
Charlie Cox
,
chris evans
,
Clark Gregg
,
Daredevil
,
Dark Horse Comics
,
DC Comics
,
Hellboy
,
Heroes
,
Leonard Nimoy
,
Marvel Comics
,
Patrick Stewart
,
Snowpiercer
,
Star Trek
,
Stephen Amell
,
The Crow
,
the incredible hulk
,
The Punisher
,
Unbreakable
,
William Shatner
,
Zachary Quinto