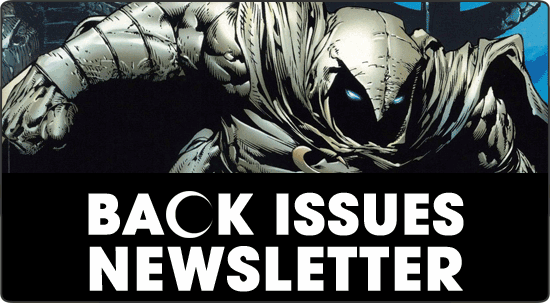 We're still sorting things out from the recently acquired New Rochelle collection! Here's what's new to stores this week:
·Times Square: Team –upapaloza! A World's Finest run that is super and..Batty?
·Grand Central: Lights, Camera, Action comics! A fantastic gold to silver run of Action comics!
·Downtown: got in a mysteriously good run of Gold to silver Detective comics.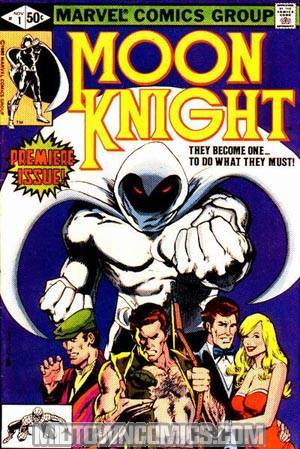 IT WAS A DARK AND STORMY KNIGHT…
Who is Moon Knight? Is he A.) mercenary Marc Spector, B.) entrepreneur Steven Grant, or C.) cabbie Jake Lockley? How about D.) All of the above- and then some. Originally introduced as an antagonist for the eponymous lycanthrope of Werewolf By Night, the silver-cloaked enigma proved popular enough to eventually get his own title. Moon Knight vol. 1revealed how mercenary Marc Spector died and was revived by an Egyptian god to serve as his agent of vengeance. In addition to donning a costume, Spector used the spoils of his past misdeeds to take on the identities of a millionaire playboy and a cab driver to aid in his new career path. But the burden of maintaining the different identities developed into a multiple personality disorder, and the ensuing instability would become a defining trait of the character. The short lived Moon Knight vol. 2 saw a minor reboot in which the Fist of Khonshu acquired new powers (super strength courtesy of the full moon) and new weapons, while a stint with the West Coast Avengers (vol.2) integrated him with the super-hero community as a team player for a time. Marc Spector Moon Knight ran for 60 issues that ended with the character's death, but for a guy who started his career by dying, it was no surprise that he was back for the Moon Knight vol. 3, vol. 4, and vol. 5, often in storylines that made his precariousness a liability. Vengeance of the Moon Knight, the Secret Avengers, and Shadowland kept him in the limelight until a vol. 6 re-launch cast his alternate personalities as manifestations of Spider-man, Captain America, and Wolverine, while the current iteration in vol. 7 has the hero juggling a mere two personas, Moon Knight, and Mr. Knight. The psychological baggage may keep the hero from ever becoming an A-lister, but it sure keeps him interesting…
DO YOU HAVE A LEAD TO A GREAT COLLECTION? PLEASE LET US KNOW!webuy@midtowncomics.com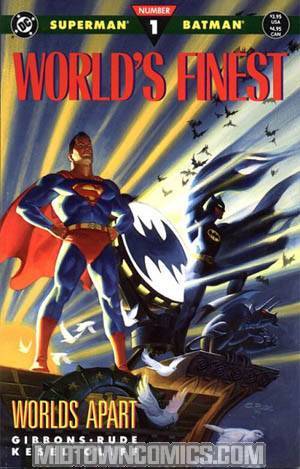 RUDE AWAKENING
Before there was Lebowski, Steve Rude was 'The Dude'. Back when Marvel and DC were starting to cede shelf space to the up-and-coming independents (Eclipse, Pacific Comics, Comico), you could count on the upstarts for a fix of 'something new and different', and nothing captured my attention like First Comic'sNexus (vol. 2). For a super-hero/sci-fi hybrid, the writing (by Mike Baron) was fine, but it was the art that kept me coming back for more. Rude's Jack Kirby influences was smoothed out by echoes of the aesthetics of illustrators like Alex Toth and Russ Manning for a clean, dynamic style that nobody else seemed to be using at the time. Nexus would see publication of over 100 issues (not all drawn by the Dude), and Rude would go on to lend his distinct style to established characters on titles that include: Spider-man Lifeline, Thor: Godstorm, Worlds Finest, and theSpace Ghost (One-Shot), as well as his own creation, The Moth for Dark Horse Comics. So abide to the true Dude, and check out his work in our back issue department.
-Brian Jay

We buy comics — and we'll travel anywhere!
We buy golden age comics, silver age comics, bronze age comics, modern age comics, and key issues of any age, andwe'll travel anywhere to find them! We also buy graphic novels, vintage action figures, toys, statues and more. We buy Star Trek, Star Wars, Buffy, superheroes, rock'n roll, political, and almost any kind of pop culture memorabilia you can think of. We're also looking to purchase excess stock from dealers and other shops as well! When you think "how can I sell my comics", think of Midtown.
Check out our insane "we buy comics" commercial, Starring our very own Alex Rae! Contact us at webuy@midtowncomics.com, or by phone at 646-452-8173. No gimmicks, just great prices!