With the end of the year comes several "Best Of" lists, and would we really be one of the largest comic book shops in the world without a "Best Comics of 2014" list? The clear answer is no, we wouldn't! Our staff has put together a list of our 30 favorite comics, graphic novels, one-shots, and more from 2014! With everything from Saga to Transformers, you're sure to find one of your favorites on this list! Or maybe a new favorite? Click through the links to find all of these books available on our website today! Thanks, and read our entire list of the 30 Best Comics of 2014 below!
Superior Foes of Spider-Man – Nick Spencer and Steve Lieber
"This book is one of the most unique and funny titles I''ve ever read. It''s the guide to the Marvel Universe through the eyes of loser D-List super villains, and it makes this work in the most hilarious and emotional way possible. I was upset when I heard this title was getting canceled, but it ended up wrapping up so perfectly that I honestly wouldn't have wanted it to go on any longer. I seriously can't stress it enough, but this has one of my favorite endings of any comic I''ve read in years."" – Tom Hairston
New Avengers – Jonathan Hickman and Kev Walker
"If every Marvel book but this title was  cancelled, we'd be ok. The biggest, egomaniac geniuses of the Marvel Universe are brought together to stop the greatest threat the Marvel Universe has ever seen; the incursion of alternate realities into this one at the risk of the Earth's destruction. Yes, Marvel is dealing with their own Crisis On Infinite Earths, but this time there's no Superman to punch the Anti Monitor out of existence. There's Black Bolt, Mr. Fantastic, Tony Stark, Beast, Dr Strange, Black Panther, Namor, and the dozens of Marvel artifacts they'll need to save trillions of lives. Unfortunately, they mostly hate each other's guts. Watch as they sink deeper and deeper into unheroic, nearly villainous territories until one of them pulls the trigger and kills a planet of six billion people. Where is this all leading to? 2015's Secret Wars, that's where." – Dimitrios Fragiskatos
The Wake – Scott Snyder and Sean Gordon Murphy
"In The Wake, Scott Snyder creates a truly intriguing and well-developed world in just 10 issues. With fascinating characters, a startling midpoint twist, and a satisfying conclusion, it's easily one of the year's best (and most terrifying) comics."  – Andrew Cohen
Bumf vol. 1: I Buggered the Kaiser – Joe Sacco
"This is the weirdest comic you'll read all year, with the most naked people in masks getting killed in the most bizarre ways. Part satire on the surveillance state, part commentary on a century of warfare, part cosmic science fiction epic—the cover alone manages to ridicule two presidents, 9/11, Moses, and…Abu Gharib? I'm not sure what some of these things represent. Anyway, it's got the ghost of Richard Nixon waking up inside Obama's body, and things get weirder and nakeder from there. This is Joe Sacco at his funniest and cruelest, but also his least accessible. A book not for the squeamish or the easily offended." – Hal Johnson
Cochlea & Eustachia – Hans Rickheit
"No, wait, THIS is the weirdest comic you'll read all year, with the most naked people in masks getting killed in the most bizarre ways. Sexy naked steampunk clones (?) skulk around a mad scientist's bizarre Victorian mansion populated by a mechacyclops and animals with orifices in the wrong places. Hans Rickert's clean line gives this book the look of a European album and a straightfaced realism that belies its surreal violence.
Seriously, Cochlea & Eustachia is twice is weird as Bumf, although, to be fair, Bumf has more naked people in masks, a statistic more objectively quantifiable." – Hal Johnson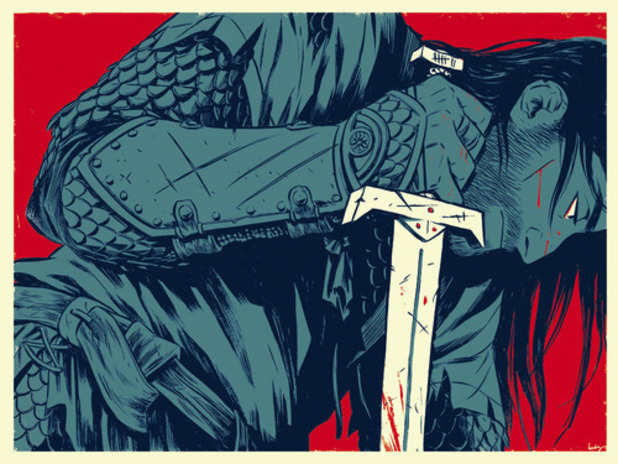 By Chance or Providence – Becky Cloonan
"This book is a collection of short stories set in a fantasy world. A Princess, a werewolf, and a lone hero in the first chapter alone. Cloonen's art really shines in this black and white book with splash color." – Matthew Perry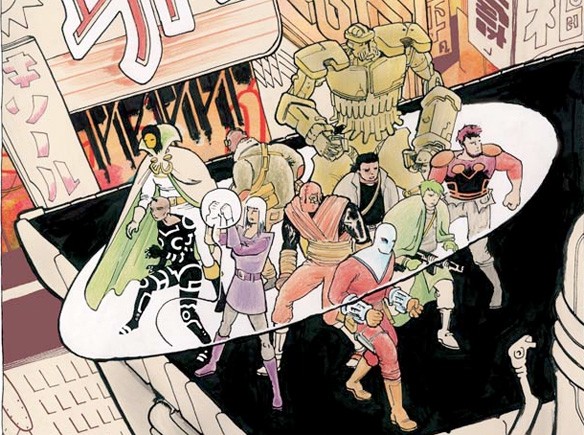 COPRA – Michael Fiffe
"Michel Fiffe's COPRA is simultaneously an homage to what made 80's and 90's comics great and one of the most innovative superhero comics of all time. With a crazy weird design aesthetic and characters who are both copies of Ostrander's Suicide Squad and completely original creations." – Raymond Salvador
The Delinquents – James Asmus, Fred Van, and Kano
""Archer and Armstrong and Quantum and Woody are probably the two best odd couple duos in recent comic book history. This year, Valiant had the brilliant idea to team them up in a four-issue mini series, and it was amazing! As much as I love both their individual titles, The Delinquents was flat out brilliant. The way that the righteous and pure Archer bounced off of the crude gutterminded Woody were some of the funniest dialogue exchanges this year, and it had hands down the best final fight scene of any comic I've read in 2014. Not to mention if you bought all four covers then you got your own board game. How great is that?"" – Tom Hairston
Deadly Class – Rick Remender, Wesley Craig, and Lee Loughridge
"One of several Image series that writer Rick Remender has been working on this year (you'll see another later in this list), Deadly Class is a truly creative and action-packed comic. Set in the 1980s, and featuring a number of pop culture moments, this comic depicts what life would be like at a prep school full of jocks, nerds, goths, and teachers…if they were all assassins.  Telling the story of a group of teenagers picked to be the world's next top assassins, Deadly Class is one of the most intriguing books I've read this year." – Andrew Cohen
Cork High and Bottle Deep – Virgil Partch
"Cartoonist Virgil Partch worked as a Disney animator in his youth, and in the years afterward he fell into the habit of drawing characters with seven or eight fingers on a hand, to make up for all the four-fingered hands the Disney studio had gotten him to draw.
There's no Disney cuteness in the style the mature Partch (or "VIP," as he signed his cartoons) developed in the 'fifties and 'sixties; he seemed to be more inspired by cocktail napkin designs and German Modernist George Grosz. The resulting cartoons, once an inescapable staple of the comic landscape, have long been out of print, and this attractive hardcover finally assembles a generous sample of classic VIP. These cartoons from a bygone time when alcoholics were called barflies are just as funny and sharply drawn today. Nobody draws belligerent drunks as well as VIP did." – Hal Johnson
Wonder Woman – Brian Azzarello and Cliff Chiang
"Wonder Woman had a spectacular end to Azarello, Chang, and Akin's run this year. They rewrote and updated Greek Mythology (a subject, dear to me). Zeus's Firstborn has risen to take his place on the throne of Olympus and his killed Apollo and several other gods to do so. Wonder Woman has taken her place as the God of War and in doing so, needs to lead the strike against the Firstborn. The gods' soap opera has been taken to the next level. Accompany that with Chiang's redesigns, where Poseidon is a Leviathan and Hades is a child with candles melting on his face, and you have DC Comic's creatively most successful New 52 book." – Dimitrios Fragiskatos
Saga – Brian K. Vaughan and Fiona Staples
"There's a reason this is on so many best-of-the-year lists; Saga is an unmatched epic that consistently teases and rewards its readers. There is so much world to explore, but BKV stays true to the characters and offers glimpses into the universe only when it serves the story. And the art by Fiona Staples is full of color, personality, and unforgettable splash pages. A must-read for comic readers and nonreaders alike." – Andrew Cohen
Southern Bastards – Jason Aaron and Jason Latour
""I grew up in the South, so for me there is a personal connection with Southern Bastards, so I fully understand if it doesn't hit the same cords with other people as it does with me, but man it hit those cords hard. I could smell and hear the first several pages of this book —that's how close it hit to home for me. I won't go into any personal stories about why I connect so much with this book, but when I got through with the first issue and Jason Aaron said, "'I love the South, but the South also scares the hell out of me",' I just wanted to applaud and go, '"yes, this book gets me!"'"" – Tom Hairston
Shoplifter – Michael Cho
"I know it doesn't sound promising: a quiet story of an aimless and frustrated twenty-something in the big city. But the narrative is smarter and less trite than you'd expect, and it barely feels "quiet" at all, because it is ROCKET PROPELLED by Michael Cho's breathtaking artwork, which somehow looks like a cross between Adrian Tomine, Jaime Hernandez, and…David Aja? Pascal Blanchet? This comparison is incoherent because, Cho's art is as sui generis as it is beautiful.
Shoplifter's ending may be too pat and a bit of a fumble, but a pat ending is easily forgiven in a book this beautiful." – Hal Johnson
Harbinger – Joshua Dysart, Justin Jordan, and Riley Rossmo
"Peter Stanchek is hormonal teenager and the most powerful psychic of all. That's bad news. What makes it even worse is when he is taken by the Harbinger Corporation and trained in a psychic army destined to take over the world. Now Peter, along with his friends , Faith, Torque, Flamingo and Kris are alone against a corporation and it's megalomaniac CEO, Toyo Harada. The characterization is very strong in this series thanks to Joshua Dysart's writing, and I recommend it to anyone who wished Heroes was a better show. The series ended this year but continued in Harbinger: Omegas and will Continue in Imperium this Spring." – Dimitrios Fragiskatos
This One Summer – Mariko Tamaki  and Jillian Tamaki
"A cute story about two friends who meet every summer at their parents' summer homes and the one summer where they each grew up a little. Beautiful black and white art that is full of life and vibrancy." – Matthew Perry
Black Science – Rick Remender, Matteo Scalera, and Dean White
"Take Lost in Space and mix it with Swiss Family Robinson, add a dash of Quantum Leap, and then finish with a pint of Rick Remender. After that combination, you'll end up with the critically acclaimed Black Science! The story follows Grant McKay as he leads his family and friends through a number of unique, terrifying dimensions. The only issue is they can't control which dimension they end up in! This results in some truly creative art from Matteo Scalera and Dean White. Get lost in this adventure today!" – Andrew Cohen
Opus – Satoshi Kon
"From the mastermind behind the movies Perfect Blue, Paprika, Paranoia Agent, and Tokyo Godfathers. Satohi Kon's Opus is a wild metacomic about an author's relationship with their creations and their creation's relationship with the universe." – Raymond Salvador
The Wicked + The Divine – Kieron Gillen, Jamie McLelvie, and Matthew Wilson
"One of the most imaginative comics of the year, that's for sure. Though it may take a few issues to fully understand what's going on, the story is well worth it. (What's not to like about mythological gods satirizing pop culture?) Not to mention the vibrant and beautiful art…" – Andrew Cohen
Chew: Warrior Chicken Poyo – John Layman and Rob Guillroy
"18 pages of comic book gold from Layman and Guillroy.  If you read Chew, then you know what you're getting from this creative team: humor, drama, action, humor, action, and humor.  The end of this story made me go, "WHAAAAAAAT?!"  Wherever there is evil, there is Poyo!  Watch that sword Michonne! – Bonus: The end of Chew #45 will leave you floored as well." – Michael Kim
In Real Life – Cory Doctorow and Jen Wang
"A comic about a girl who decides to adventure in MMO games and the friends she meets online. The watercolor a really pop and the characters are beautifully drawn." – Matthew Perry
New Warriors – Christopher Yost and Marcus To
"I''ve always said that it''s important for each generation of comic readers to have a fun, upbeat, and young superhero team book. I believe it''s important for kids to have a group of heroes they can identify with, who go out and just fight bad guys and save the world. And in recent years, the Teen Titans have become more of a militarized group, while the Young Avengers are great, but they''re  just regular kids with super powers trying to live their lives. So thank goodness this year New Warriors came out! As an old school New Warriors fan, it certainly hit all those buttons I needed it to."" – Tom Hairston
 Walt Disney's Don Rosa Library Vol. 1 & Vol 2 – Don Rosa
"Don Rosa gets a lot of love from alcoholic Europeans who cheat at the Olympics, but in the States he's been neglected even more than his idol Carl Barks. Let's hope that situation rights itself with the publication of this handsome series of archival volumes featuring all of Rosa's Disney Duck stories in chronological order. The adventures of Donald Duck and Uncle Scrooge presented herein are a delight, family friendly (of course) but smart and funny enough to satisfy discriminating readers of any age.
Almost as fun as the comics are Rosa's critical and biographical notes, which tell the story of a superfan who lucked into the chance to draw the Ducks one time, and did such a great job that he's still drawing them today. Did you know that in his first story Rosa traced all the duck characters from photocopies of Carl Barks drawings? That's true devotion!
(Psst! You should also probably be reading the Barks Library volumes, also from Fantagraphics.)" – Hal Johnson
Sex Criminals – Matt Fraction and Chip Zdarsky
Raunchy, emotional, and visually stunning, Sex Criminals is another in Image's long list of landscape-changing comics. The trippy art and attention to character take the seemingly jokey premise and turn it into a well-crafted and hilarious story. – Andrew Cohen
Elektra – Haden Blackman and Mike Del Mundo
"I have argued for a long time that we need more books with strong female leads, and 2014 was a great year for making progress in that direction, with titles like She-Hulk, Storm, and Ms Marvel, but my personal favorite from among this crop of titles was Elektra. Not only was it flat out gorgeous, but it had one of the most fun, just pure stand up and cheer style action I've seen all year. The story basically had Elektra taking on every assassin in the Marvel Universe, and for someone like me who wasn't the biggest Elektra fan when I started reading this, by the end of the second issue I was going around telling people 'Elektra is the most awesome fighter in the Marvel Universe, and if you want to dispute me then read this book and tell me I'm wrong!" – Tom Hairston'"
ODY-C – Matt Fraction and Christian Ward
"Matt Fraction's gender-bending retelling of Homer's Odyssey is just getting started, but the scope of the first issue alone makes this a worthy contender. It opens with an eight-page foldout detailing a rich history before even jumping into the story, which stays true to the cadence and poetry of the work on which it's based." – Andrew Cohen
Transformers: More than Meets the Eye – James Roberts and Alex Milne + Transformers: Robots in Disguise – John Barber and Livio Ramondelli
"These books are not just the best Transformers comics I have ever read, but they are the best ensemble comic I have ever read. Period. I can understand that people can be turned off immediately by the Transformers concept, but for those who are even a little bit of a fan, I encourage you to read these books. What makes this run of Transformers special is a couple of things. One is the premise it springs from. We've all seen every interpretation of the Hasbro toy line; Autobots vs. Decepticons, Maximals vs. Predacons, Maximals vs Vehicons, Headmasters etc. This time we start when the war is over. The Autobots won, so what happens next? On the one hand, we have Bumblebee trying to reform the Cybertronian government, and on the other we have Hot Rod going on a quest to discover a myth. They both have to contend with disenfranchised, irate Decepticons and Autobot soldiers looking for meaning in their million year struggle. The other thing is that for the first time in an iteration, each and every one of the 200+ characters has  a personal motivation, a drive, and a goal. They don't feel like interchangeable soldiers anymore fighting with Optimus and Megatron. So like I said, best ensemble book. Period." – Dimitrios Fragiskatos
Afterlife With Archie – Roberto Aguirre Sacasa and Francesco Francavilla
"One of the biggest surprise hits of the year, Afterlife With Archie brought Archie Comics back to the spotlight with this spooky imagining of a zombie outbreak in the town of Riverdale. Expect some familiar faces, and expect even more familiar faces being bit off by zombies. Yes, this book goes that far! These are not the innocent Archie Comics that you've known in the past. Some truly horrifying things happen in this series, which are heightened by the incredible black and orange artwork that Francesco Francavilla brings to the table. Could Archie be the new Walking Dead?" – Andrew Cohen
The Sakai Project – Adam Hughes, Kaite Cook, Frank Cho, Jeff Smith, and J. Scott Campbell
"This book was not only a celebration of Usagi, but a call to all to help Stan's wife Sharon.  All proceeds from the Sakai Project went to help with medical expenses for Sharon Sakai who recently passed.  The response from the comic book community was overwhelming.  The book collects approx 200 (?) works of art.  I spent most of my New York Comic Con in artist alley getting the book signed and saying thank you for their contribution."-Michael Kim
Hawkeye Vol 4- Matt Fraction, David Aja, and Annie Wu
"As devoted "Hawkguy" fans know, Hawkeye is a superhero comic that really isn't about superheroes, bro This small-scale look at the personal lives of Clint Barton and Kate Bishop really hit its stride in 2014, guiding us through broken friendships, personal tragedies and even an issue told largely in sign language. Matt Fraction's poignant-yet-hilarious writing and David Aja's unmistakably minimal art combine for some of the most charming storytelling in comics, making it a shame that the series is nearing its conclusion." – Mike Andronico
The views expressed herein are solely those of the writers, and not Midtown Comics. Additionally, Midtown Comics makes no representations as to the accuracy of any of the information expressed herein.
Tags:
2014 best comics
,
Afterlife with Archie
,
afterlife with archie comics
,
best comics
,
best comics in 2014
,
best comics of 2014
,
bumf
,
bumf comics
,
comic book
,
comic books
,
Hawkeye
,
hawkeye comics
,
New Avengers
,
new avengers comics
,
Saga
,
saga comics
,
shoplifter
,
shoplifter comics
,
souther bastards comics
,
southern bastards
,
Spider-Man
,
spider-man comic books
,
spider-man comics
,
superior foes of spider-man
,
the best comics of 2014
,
the wake
,
wake comic books
,
wake comics