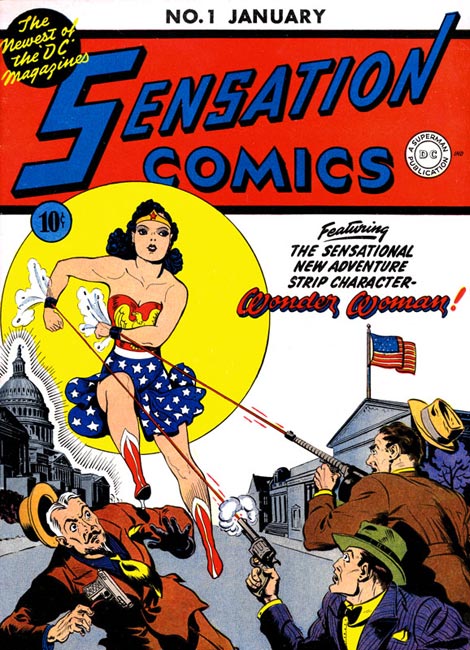 By Jacobus Dixon
Superheroes and costumed vigilantes were the bread and butter of the comic book magazine industry. They were colorful he-men who took no guff from nobody but ddidn'tuse their abilities to abuse innocent people. They were like local sports stars everybody would cheer for. But as a group, they weren't very diverse. Their costumes were different, but underneath they were all just a bunch of muscle-bound, wealthy white guys. This was the group that had the money, so popular art and commercial products were primarily aimed at pleasing them above everyone else (unfortunately this is still true for some products).  And if you weren't one of these wealthy white guys, these products would make you want to adjust your aesthetic tastes to be accepted into their sphere of influence. However, some felt that this pandering was a little too exclusive. William Moulton Marston was one of those people.
As an experienced psychologist, Marston was convinced that women were more honest, reliable, and hard working when it came to analyzing the sexes. In fact, his wife Elizabeth Holloway Marston helped him come up with the systolic blood pressure test (which would become a key component in the polygraph test- or lie detector as it's more commonly known).  He was an avid feminist, and wrote regular articles regarding feminism and how women were perceived. This caught the eye of Max Gaines (the publisher of All-American Comics), and impressed him so much that he invited Marston to act as an educational consultant for All-American Comics.
Now you'd think that an intellectual like Marston would pooh-pooh such an invite, but instead he eagerly accepted. He thought that comic books had tremendous potential for furthering social change. While discussing comic books with his wife, she suggested a female superhero. Thinking that this would be a wild idea, Marston then ran it by All-American co-publisher Jack Liebowitz who gave him the go-ahead. The result was Wonder Woman's first appearance in All-Star Comics #8.
Hers was the last story in the magazine, but boy did it have the most impact! The whole concept of an isolated island (Paradise Island) run by super strong but loving and peaceful Amazon women just blew readers' minds as much as it did pilot Steve Trevor (the male protagonist of the story). Women being physically tough? This wasn't what all those advertised images of women as caregivers, homemakers, and objects of sexual desire promised. This was so out of left field that readers couldn't help but be hooked. So while she wasn't quite strong enough to have her own title (yet) All-American felt that she should at least headline a magazine where she made regular appearances (the way Superman did for Action Comics, or Batman for Detective Comics, or Captain Marvel for Whiz Comics).
The novelty lost none of its potency as Wonder Woman soon proved to be the third most popular character owned by Harry Donenfeld. From her iconic Invisible Plane, to her Lasso of Truth, it was just pure fun watching her bring Steve Trevor back to America and help him when he came across a ring of enemy spies (so now Captain America wasn't the only one fighting the real bad guys of the time). As radical as the idea of a female superhero was though, her story was told in such a way that it didn't offend the mainstream populace (i.e. the guys who usually bought the magazines). She takes a job as a nurse in her secret identity of Diana Prince (a job typically associated with women). And she essentially allows Steve Trevor to lead the way to adventure while she tails behind to watch over him like a super-powered babysitter. So in practice, her actions don't deviate too much from the status quo. She's still everything the 1940s American society expects her to be.
Where she does deviate is her appearance. The skimpy outfit she wears is like a dominatrix outfit decked out in primary colors. Like the idea of the dominatrix, it is the picture of power and that this is a woman who does not follow the rules of men, but forces men to follow her rule. Which was an idea that definitely went against the grain of popular opinion in the early 20th century. And the tiara has two-pronged effect of showcasing her beauty as well as her royal authority (she is a princess after all). So really, she is the ultimate dominatrix in appearance. There is very little to connect her to the Amazons of Greek mythology save for the eagle on her top (which is honestly more of a Roman icon than Greek- though it was a symbol associated with Zeus, king of the Greek gods).
Honestly though, most readers weren't interested in the specifics of Hellenistic iconography or history. What she was though was a mash-up of an odd and sometimes taboo image with American colors and motifs acting out a role that upheld the social mores of the day. And it sold. But while she was a novelty in appearance, her earnest compassion and dedication to helping others made her stand out with the best superheroes. And most of all, her very image is a statement that women can also be heroes. Which is part of the reason she remains relevant to this day.
The views expressed herein are solely those of the writer, and not Midtown Comics. Additionally, Midtown Comics makes no representations as to the accuracy of any of the information expressed herein.
Tags:
1st appearance of wonder woman
,
Action Comics
,
Batman
,
comic book art
,
comic book covers
,
comic books
,
Comics
,
DC Comics
,
Detective Comics
,
first appearance of wonder woman
,
sensation comics
,
sensation comics #1
,
Superman
,
William Moulton Marston
,
Wonder Woman
,
wonder woman 1st appearance
,
wonder woman comic book
,
wonder woman comic book cover
,
wonder woman comic books
,
Wonder Woman Comics
,
wonder woman first appearance