It's that time again. The weather is getting nicer, the days are getting longer, and your comic book list just keeps piling up! It's summer, which means it's time for new Midtown Exclusives! We've put together this helpful guide to showcase our new variant covers, connecting covers, and exclusive items for the next three months! Read on below for more details below!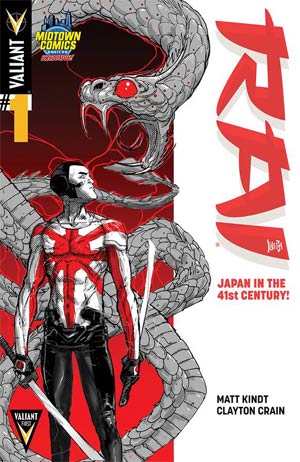 Rai is a new monthly series from comics superstars Matt Kindt (Mind MGMT) and Clayton Crain (Sensational Spider-Man). The year is 4001 A.D. – led by the artificial intelligence called 'Father,' the island nation of Japan has expanded out of the Pacific and into geosynchronous orbit with the ravaged Earth below. With billions to feed and protect, it has fallen to one solitary guardian to enforce the law of Father's empire – the mysterious folk hero known as Rai. This stunning variant cover is by Riley Rossmo and showcases Rai's signature dual blades and body paint.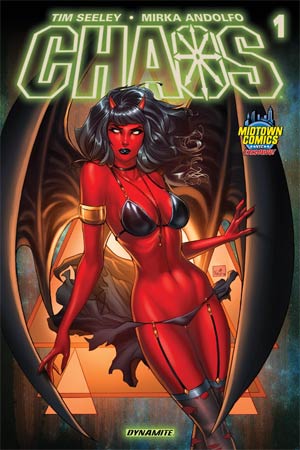 With Chaos' 20th anniversary and Dynamite Entertainment's 10th anniversary in 2014, the horror-heroes of the Chaos! Universe return in an epic event! A shared vision of the Apocalypse sets the supernatural serial killer Evil Ernie, the blood goddess Purgatori, the vampire assassin Chastity and the outcast teen heroes of the team known as The Chosen on a collision path with each other! Written by Tim Seeley with art by Mirka Andolfo, this series will bring about claws, blood, blades, and total CHAOS! Our variant cover by Nei Ruffino details Purgatori in all her demon glory.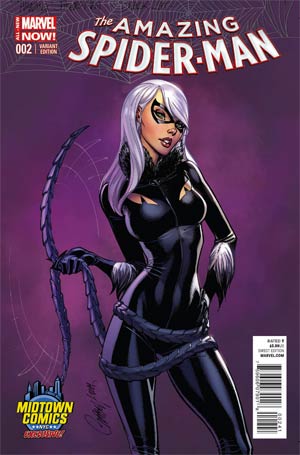 The Greatest Super Hero of All Time RETURNS! The world may have changed since Spidey's been gone, but so has Peter Parker. Dan Slott, the man who originally killed off Peter Parker in The Superior Spider-Man, finally brings him back into the Spidey Suit in this new ongoing series! Issue #2 focuses on everyone's favorite feline friend. No, not Catwoman! The Black Cat! J. Scott Cambell does a gorgeous job depicting her in this exclusive variant cover from Midtown Comics!
Dynamite Entertainment gives us two great heroines this June, with Blood Queen #1 and Vampirella #1!
Vampirella is back and returns to her horror roots with Bram Stoker Award-winning author Nancy A. Collins (Swamp Thing) and Patrick Berkenkotter (Dark Shadows). Vampirella is sent by the Vatican to investigate the kidnapping of a little girl by Ethan Shroud and the Chaos cultists, only to become the centerpiece of a ritual invoking Lady Umbra, the sister-bride of Chaos, that leaves her marked as a living sacrifice to the dark goddess who rules the shadows.
Inspired by the nightmares of your youth and the notorious Countess Bathory, Blood Queen comes from writer Troy Brownfield (Grimm Fairy Tales)! A new dark fantasy epic begins here! In a fairy tale land of knights and magic, a royal child's life hangs in the balance. Summoned to save the princess, a young woman of untold power begins a journey that will uncover secrets, reveal forbidden desires and stoke the fires of war! The reign in blood is about to be born!
Our exclusive connecting covers were designed by Nei Ruffino and paint a beautiful portrait, making these a pair of must-have books for any true Vampirella or Blood Queen collector!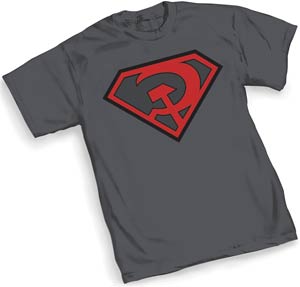 Midtown Comics is pleased to announce our new Superman Red Son t-shirts, available in a wide variety of styles and sizes. Ripped straight from the pages of Superman Red Son by Mark Millar and Dave Johnson, these shirts feature the alternate Hammer and Sickle insignia instead of Superman's classic "S". If you want to show off your Ukranian pride for this alternate universe Superman, this is the shirt for you!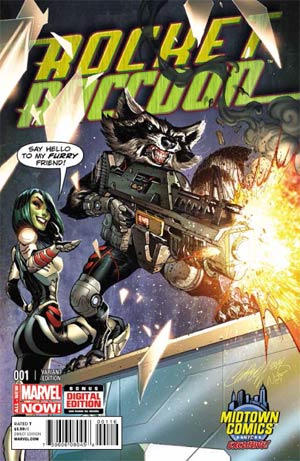 As defenders of the cosmos go, Rocket Raccoon has faced his fair share of galactic battles. He's been a hero to the weak, a champion of good, a protector of the innocent, a heartthrob to the many intergalactic female species and now–a raccoon on the run?! Superstar creator Skottie Young brings his A-game as writer and artist on the series we've been waiting decades for. Because let's be real, this is the only Guardian of the Galaxy you actually care about. Am I right? Our Midtown Exclusive cover from J. Scott Campbell shows Rocket in all his blazing glory, with a fun shout-out to Scarface mixed in!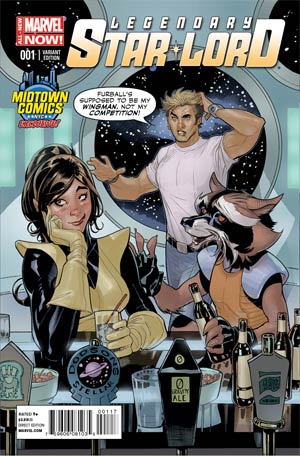 A brand new series from Sam Humphries (Uncanny X-Force) and Paco Medina (New X-Men)! In this exciting first issue, Peter Quill battles the Badoon, fights to save an orphanage, and still finds time for some flirting with Kitty Pryde — but it's all in a day's work for the STAR-LORD! Pick up this exclusive Terry Dodson Variant cover and get ready for the new Guardians of the Galaxy movie coming this August!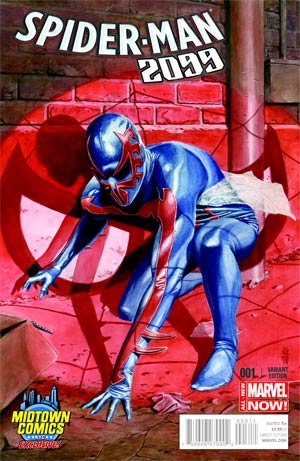 The book you have been demanding for months finally hits the stands! Miguel O'Hara is Spider-Man in the year 2099 but he's currently stuck in the year 2014. He was stranded here by his father who is the head of an evil corporation called Alchemax in 2099. But in 2014, Alechmax has just been formed and Miguel has a chance to stop its corruption before it starts! Created by Peter David (The Incredible Hulk) and Will Sliney (Farscape), you won't want to miss this! This exclusive variant cover by J.G. Jones features a hyper-realistic Spider-Man 2099 with a spotlight backdrop.
Did we mention that Peter David and J.G. Jones will be signing this book at Midtown Comics Downtown on July 10th? Don't miss out on getting this exclusive variant signed!
The Doctor is in….twice!
The tenth Doctor is back, in an all-new ongoing series! New companion, new foes, unforgettable new horizons! Allons-y! The Eisner Award-winning Nick Abadzis and fan favorite Elena Casagrande take control of the TARDIS for the first five-issue arc with the tenth Doctor, portrayed by David Tennant!
The eleventh Doctor returns in an all-new ongoing series, with a time-twisting leap into the unknown! Geronimo! Alice Obiefune has just lost her mother when the Doctor explodes into her life. But what does a grieving young woman have to do with the career of a 70s musician, an amnesiac alien time traveler, and a terrifying cosmic threat? Writers Al Ewing and Rob Williams will help answer these questions with stunning art from Simon Fraser!
Collect both Midtown Exclusive connecting covers by Amy Mebberson towards the end of July. You'll definitely want to add these to your Doctor Who collection!
All right! The very first Bob's Burgers comic book, a new series from the creator of the hit TV show, created by Loren Bouchard! Midtown Comics is proud to announce our very own variant of this book, with a special depiction of Midtown Comics Times Square in the background! Now you can read about the Belcher family (parents Bob and Linda, and their children Tina, Gene and Louise) in brand-new in-canon stories created by the TV show's producers, writers and animators creating all original stories appearing exclusively in this comics series!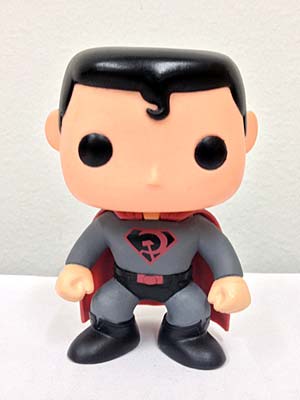 One of out most popular exclusives this summer is our Superman Red Son vinyl figure from POP! Funko.
The Funko line of POP! DC Universe continues with Midtown Comics' exclusive 3 3/4″ vinyl Superman Red Son figure, ripped straight from the pages of Superman Red Son by Mark Millar and Dave Johnson.  Available on August 30, 2014, you can pre-order today and save 10%! This Superman did not grow up in Smallville!
Tags:
Amazing Spider-Man
,
amazing spider-man comics
,
Amy Mebberson
,
blood queen
,
blood queen comics
,
bob's burgers comic
,
bob's burgers comics
,
chaos comics
,
Doctor Who
,
doctor who comics
,
Dynamite Entertainment
,
Funko
,
Guardians of the Galaxy
,
J. Scott Campbell
,
J.G. Jones
,
Marvel Comics
,
midtown exclusives
,
Nei Ruffino
,
pop vinyl
,
rai comics
,
Riley Rossmo
,
rocket raccoon
,
rocket raccoon comics
,
spider-man comics
,
star lord
,
star lord comics
,
Superman
,
superman red son
,
Vampirella
,
vampirella comics