Before we step into the future – will there finally be legitimate hover boards in 2016? – it's time to reflect on the past. In 2015, quite a few awesome comic book series were published. There are several comics that won us over for totally different reasons, but we'll keep it concise and take a quick look at just 25 of our favorite comics from 2015 (plus 5 honorable mentions). After all of the staff picked their favorites, we went ahead and ranked them. Obviously, there's plenty of great comics out there and the list is sure to fluctuate from person-to-person. So, if your top choices aren't below, go ahead and give them some love in the comments!
Honorable Mentions
"Take the persecution of X-Men and add a little bit of modern satire and you got Millennials. It's the story that had to be told and I am happy someone told it, even if that someone was me!"
-Dimitrios Fragiskatos
"I really had no idea what to expect with this new series from James Robinson and Greg Hinkle. I knew nothing about Airboy besides the fact that he's an older character who has never been that popular. Well, it looks like Image got the rights for Airboy, and boy did they do something unique (and very, very meta). The series begins with writer James Robinson complaining about the fact that he was offered to write a new Airboy series for Image, but he has no ideas about how to revive the character. He calls up artist Greg Hinkle and they go on a spree of debauchery until they encounter Airboy himself at a bar! At first they think it may be the drugs causing these delusions, but it becomes a much stranger trip as the series continues. Fans of Charles Bukowski would love this series, so check it out if you want something different (with very mature content). "
-Andrew Cohen
"This is a long-running web comic collected into an omnibus edition. Outgoing TJ and reserved Amal are two strangers who get to know each other on a road trip across the US. Both the story and the art are exceptional and keep you wanting to turn the page til the very end. This is one of the best depictions of two people falling in love that I've ever seen in any medium. Highly recommended."
-Evelyn Lucas
"With Spider-Man now a millionaire, Hercules is the new relatable character in the Marvel Universe. He's got a small rental in Astoria Queens with a dude crashing on his couch and he has flyers and business cards so he could get gigs as superhero! Don't let the manbun fool you Hercules is the best new Marvel Book."
-Dimitrios Fragiskatos
"With Island, Brandon Graham has created a monthly anthology series to help get other indie writers' and artists' work out to a larger audience. These self contained stories are designed to be read in a single sitting, and often read like a collection of short stories. If you want to get into some lesser known writers and artists who will be doing big things soon, this is the place to start!"
-Andrew Cohen
Top 25 Comics of 2015
"The continuing adventures of paranormal investigator Dib and the elusive alien he's tracking: ZIM! Fans of the show and newbies alike will enjoy this comics series. And robot GIR is still as clueless as he is adorable!"
-Evelyn Lucas
"This has been my favorite of the new Marvel releases. Doc Strange is finally getting a shot at his own series again and its awesome.  It tackles a lot that hasnt been a focus of the comics in the past, from the innards of the sanctum santorum, to how strange sees the world. Jason Aaron is giving Strange a new life, and Brian Bachelo is making it fully realized."
-Kyle Tobey
"Have you ever yearned for a surreal, gender-bent sci-fi retelling of Homer's The Odyssey? Well, that's what Matt Fraction is giving you with a contrast of writing both faithfully epic and darkly humorous. Paired with Christian Ward's beautiful, psychedelic art, you can't go wrong with ODY-C."
-Tyler Maron
"After a whole lot of craziness, worldbuilding, and heartbreak, Gerry Duggan and Brian Posehn's Deadpool run comes to an end. (Don't worry, Duggan and frequent series artist Mike Hawthorne stick around for the next volume.) What makes the final stories of this volume especially praiseworthy is the balance these co-writers were able to strike with the Merc with a Mouth. He was silly and there was plenty of absurd violence, but this volume also made it blatantly obvious that Deadpool isn't just some wacky goofball. He may act like it at times, but there's much more to the character than chimichanga jokes. It's a fitting (temporary) goodbye for the character, especially since it was illustrated by Hawthorne, an artist who proved over the course of the volume that he can handle the brutal action and heartfelt moments equally well."
-Gregg Katzman
"Previously a web comic and now collected into a full-color graphic novel. A shapeshifter named Nimona becomes the sidekick of Lord Blackheart, an outcast villain. This comic is hilarious and heartwrenching in equal measure. Artist and writer Noelle Stevenson is a rising star in the comics world."
-Evelyn Lucas
"This thing is shaping up to be really, really rad. Nicola Scott's nearly-realistic greyscale art style is quite a treat when paired with the suspenseful writing of Greg Rucka. Badass cop protagonist, some deep cult stuff; man, I'm not gonna go spoil it all for you. Just check this indie thriller out!"
-Tyler Maron
"W. Haden Blackman, Michael Del Mundo, and Marco D'Alfsono's brief Elektra run is unforgettable. We are talking about a comic that had Elektra and a dragon taking on the Hand, after all. The combination of Blackman's imagination and Del Mundo and D'Alfonso's beautiful art turned this 11-issue run into something truly phenomenal. Are you even just a little bit interested in Elektra? If so, go get this."
-Gregg Katzman
"The last issue came out this year, so I'm cheating and counting it. It's the Hawkeye's when they arent being Avengers. Clint has to deal with a bro-mafia taking over his apartment in Bed Stuy (there's a map, the building is like 5 blocks from my apartment) and Kate has to deal with Clint. The minimalistic color pallette and bringing in Annie Wu to help tell Kate's story were amazing touches that separate it from other books.  Fraction and Aja have made my favorite book of the last 5 years, maybe more. Can't recommend enough."
-Kyle Tobey
"Justin Jordan, Tradd Moore, and Felipe Sobreiro's Luther Strode franchise has (unfortunately) reached its final chapter. Strode and Petra have undergone a ton of development over the years, and this final limited series is placing them in an adventure that's full of frenetic and jaw-dropping action. If you have any appreciation for well-choreographed fight scenes involving ridiculously talented and powerful characters, this one's for you. Seriously, this is mandatory reading for action fans."
-Gregg Katzman
"Growing up as an X-Men fan, how could I not be a fan of this team of telepathic teen outcasts, created by Image Comics publisher Eric Stephenson. I was a huge fan of his work on Nowhere Men, so I was more than excited to begin this new series. I wasn't disappointed, and he did a great job of exploring the characters and the mysteries surrounding this team of troubled kids. What would you really do if you had telepathic powers? Would you use them for good? Or for your own selfish needs? You'll likely question yourself after reading this series."
-Andrew Cohen
"Black Mask's critical darling, we can never go home is an awesome story about two youths with powers who run away from home. There's violence and sexual content, but it's handled well and with consequence. I would totally recommend this to someone looking for a good quality, future television adapted story."
-Dimitrios Fragiskatos
"Peter J. Tomasi, Patrick Gleason, Mick Gray, and John Kalisz's Batman and Robin run concludes with an entertaining story. Batman's assault on Apokalypse is such a blast. Despite his intellect, resources, and skill, you can still tell the guy's in over his head, and if even one thing doesn't go as planned, the situation could turn dark very, very quickly. Also, Damian Wayne's return offers a nice mix of fun and heartfelt material. He's my favorite Robin (judge away, readers) and Damian's brief amount of time with powers offered a much better look at his psyche than I expected. Oh, and can we please see more of him and Shazam interacting?"
-Gregg Katzman
"John Arcudi, James Harren, and Dave Stewart's Image series is everything I want in a comic. It's consistently fun, full of creativity, looks great, and, every now and then, it really knows how to make you care about its characters. It doesn't matter what genre you like, because Rumble is a book that has what it takes to appeal to just about everyone. Except for the people who dislike legitimately good books – those people probably won't be a fan of this one."
-Gregg Katzman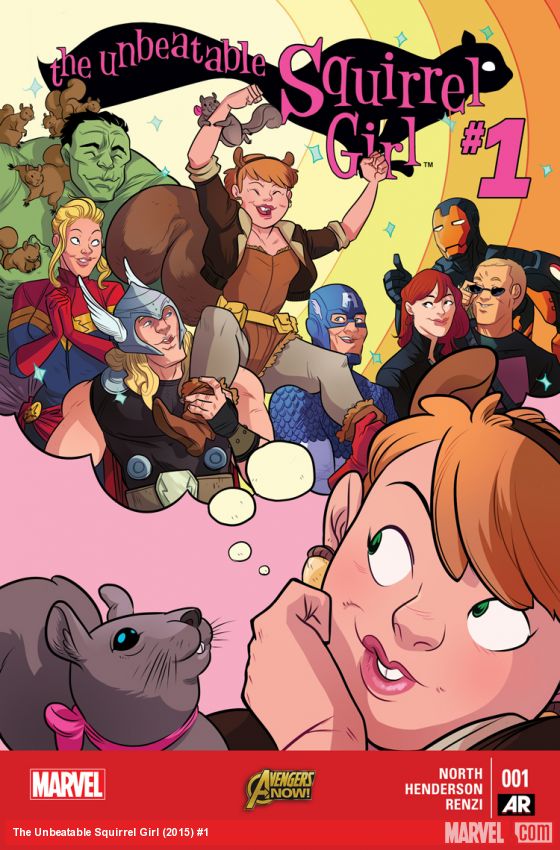 "Going into this series, I knew nothing about Doreen Green and her alter-ego, Squirrel Girl. Much like Matt Fraction's run on Hawkeye, Ryan North and Erica Henderson aren't afraid to have fun with this character, and put a lighter spin on her battling other super villains (such as a hilarious fight with Kraven the Hunter in issue #1). It's a much needed series for Marvel, and I think it's reached a lot of new fans for trying something different."
-Andrew Cohen
"We're only two issues into writer Mark Millar, artist Rafael Albuquerque, and colorist Dave McCaig's latest Image title, but I'm confident that Huck deserves – no, needs – to be on this list. Huck's story is a simple (so far, that is) yet heartwarming reminder to always be the best version our ourselves that we can be. Huck's abilities means his helping of others is going to thoroughly entertaining (and gorgeous, thanks to the art team), but it's a legitimately sweet story and its message is sure to sink in. Go read some Huck; it'll make you smile."
-Gregg Katzman
"If someone says "Bloodshot", odds are some '90s nostalgia comes to mind. You know, we're talking about big guns, lots of over-the-top action, and some one-liners right before the villain is defeated. Valiant's reboot had a hugely entertaining Bloodshot volume that was full of madness, but the latest series for the character, Bloodshot Reborn, is taking the anti-hero in a new direction. Writer Jeff Lemire's story is a pure character study and, if you've been paying attention to what's going down in the universe, you're sure to appreciate how it deals with what happened in the big event The Valiant. If you've never found yourself interested in Bloodshot, this title can definitely change your opinion of the character. And if you like him… well, then you're obviously already reading the series, right?"
-Gregg Katzman
"The IDW Ninja Turtles series is one of my favorite series of the year. The art's fantastic, the story's phenomenal, and it's a great addition to the turtles mythos."
-Jadrian Schmidt
"The new grown-up reimagining of Archie from Mark Waid and Fiona Staples surprised many people this year, myself included! I've never read an Archie story that goes so deep into character development and really makes you care about what happens next. Fans couldn't stop guessing what the famous #lipstickincident was! The beautiful art by Fiona Staples is what first attracted me to this series, but Mark Waid's story kept me hooked. Although Fiona Staples is no longer the main artist on this series, I can't wait to see where this story goes in 2016. I never would've guessed I'd say that about an Archie comic!"
-Andrew Cohen
"I have to go with the thrilling Paper Girls. Brian K. Vaughn continues to prove that he's got much more gold in store for us beyond his continuing Saga. Cliff Chiang's skilled art flows flawlessly with Matt Wilson's smart palette choices as they lay an effortless mood scene-by-scene. With a very real representation of female pre-teens' coming of age, you're going to want to give Paper Girls a shot. Oh, and being on the Midtown design team, I fully approve of the comic's beautiful physical design from the cover to insides."
-Tyler Maron
"After the epic conclusion of the first story arc, Kieron Gillen and Jamie McKelvie continue their groundbreaking series The Wicked + The Divine and take it to even greater heights than before. They explore some new themes of power struggle and worship, and add even more interesting characters to the mix. Also, the ending of this second arc will blow your mind! This is one of the best comics out there right now, and touches on so many interesting current topics. You won't want to miss out on one of the best series of the year."
-Andrew Cohen
"What's there left to say about Jeff Lemire's latest sci-fi epic, Descender that hasn't been said on any other "Best Of" list this year? Lemire and artist Dustin Nguyen have created a completely new galaxy full of monsters, space pirates, and a teenage robot tying everything together. Before this comic was even released, Sony purchased the film rights (that must be a good sign for the series, right?) If you're a fan of Saga or any other space epics, pick this up ASAP!"
-Andrew Cohen
"I enjoy Secret Wars because it's the culmination of Jonathan Hickman's work over the years, starting with Ultimates to Fantastic Four to the Avengers to Infinity. If you've been reading any of his material, it's a joy to see all the seeds that he planted so long ago finally come to fruition."
-Vic Melendez
"This is the most realistic, terrifying comic out there. It's violent, brutal, and completely plausible. I mean, I could definitely see how a town could just ignore a murder because the football coach WANTS it to be ignored. And just when you think you have the book figured out, it takes a hard left turn early in the series. Jason Aaron (damn you Jason Aaron, you made it on my list twice) and Jason Latour are both from the south, so including southern recipes in the hardcover is a nice bonus to add to the authenticity."
-Kyle Tobey
2. Saga (Brian K. Vaughan, Fiona Staples)
"Saga has been on several "Best Of" lists since it first launched in 2012, and for good reason! Brian K. Vaughan is the master of the cliffhanger, and keeps leaving fans hooked on this epic sci-fi series from Image Comics. The two main characters Marko and Alana have been through hell and back to try and protect their daughter, Hazel. With several plot twists and turns in every issue (not to mention incredible artwork from Fiona Staples), Saga still remains one of the best comics of the year…yet again."
-Andrew Cohen
"It's a solid run with a great creative team. They knocked it out of the park with Endgame and they switched it up – that's the big thing. They switched it up with Jim Gordon now being in the Batsuit and Bruce not having any memory of what happened before. I'm genuinely curious to see where they're going. I haven't said that about a Batman comic in awhile."
-Andre Ford
2015 had dozens of excellent comics, so if the ones you really like aren't above, go ahead and give them some support in the comments.
Tags:
Batman
,
Black Mask
,
comic books
,
Comics
,
DC
,
IDW
,
Image
,
Marvel
,
Oni Press
,
secret wars
,
valiant