By Dan Gladston
Here at Midtown Comics, we LOVE movies… especially those about our favorite superheroes and super-teams.  We've created a list of some of the most anticipated upcoming films from the DC cinematic universe.  If you're looking for the inside scoop on some of the hottest upcoming DC Comic book films, we've got you covered!
Please enjoy the list that follows and we hope you post your thoughts, concerns, and opinions to the comments section below!
Batman V. Superman: Dawn of Justice
What We Know: Although Warner Bros. has not yet released an official plot synopsis of Batman V. Superman: Dawn of Justice, the teaser trailer has outlined the basic premise of the film.  After the events that took place in Man of Steel, Superman has become a very controversial figure and some consider him a deadly threat.  The Dark Knight seems to fall into that category and he is prepared to use all his resources to bring the man of steel down.  As to how the other major characters such as Wonder Woman and Victor Stone will fit in, remains a mystery.  Henry Cavill reprises his role as Superman, Ben Affleck portrays Batman, Gal Gadot will take on Wonder Woman, Jessie Eisenberg plays Lex Luthor, and Jason Momoa will cameo as Aquaman.  The film hits theaters on March 25, 2016!
What We're Excited About: Primarily, we're excited to see Batman and Superman beat each other to a pulp, but also what kind of role Princess Diana will have in the film.  It has, however, been confirmed that Wonder Woman is in fact a demi-god, and that her father is Zeus.  That clears up one aspect of her origin in the film and leaves us wanting to know more!  As for the caped crusader's sweet new ride, it looks menacing and just plain awesome.  We can't wait to see this batmobile shredding up the streets of Gotham!
What To Read: The Dark Knight Returns by Frank Miller.
Suicide Squad
What We Know: The upcoming Suicide Squad film is very unique in nature as it deviates greatly from the current stream of superhero films being produced.  It's the first film in which fans will get to see how super villains, or anti-heroes, operate and carry out their evil deeds.  This will be the team's first ever theatrical appearance and it already looks incredible.  Although the film's official plot has yet to be announced, we can expect the basic storyline from the comic books to be present.  This film is also expected to be tied into Batman V. Superman: Dawn of Justice through Lex Luthor, played by Jesse Eisenberg.  Other members of the supervillain squad include the Joker (Jared Leto), Harley Quinn (Margot Robbie), team leader Rick Flag (Joel Kinnaman), Enchantress (Cara Delevingne), Captain Boomerang (Jai Courtney), Deadshot (Will Smith), and others who have not yet been confirmed to make an appearance in the film.  Suicide Squad will be released on August 5, 2016.
What We're Excited About: There are multiple characters that are rumored to be involved in the film and we would certainly be very excited to see them in action.  Among them are El Diablo, Deathstroke, General Wade Eiling, and even Batman himself, as seen in the recently leaked footage here!  Although not currently on the schedule, it has been confirmed that Batman will also get a solo film in the near future, which we are super excited for as well.  Similarly, Superman will also get a solo film within the next few years.  As it stands right now, we're confident that Suicide Squad will make all your super villain dreams come true and more!
What To Read: New Suicide Squad Vol 1 Pure Insanity by Sean Ryan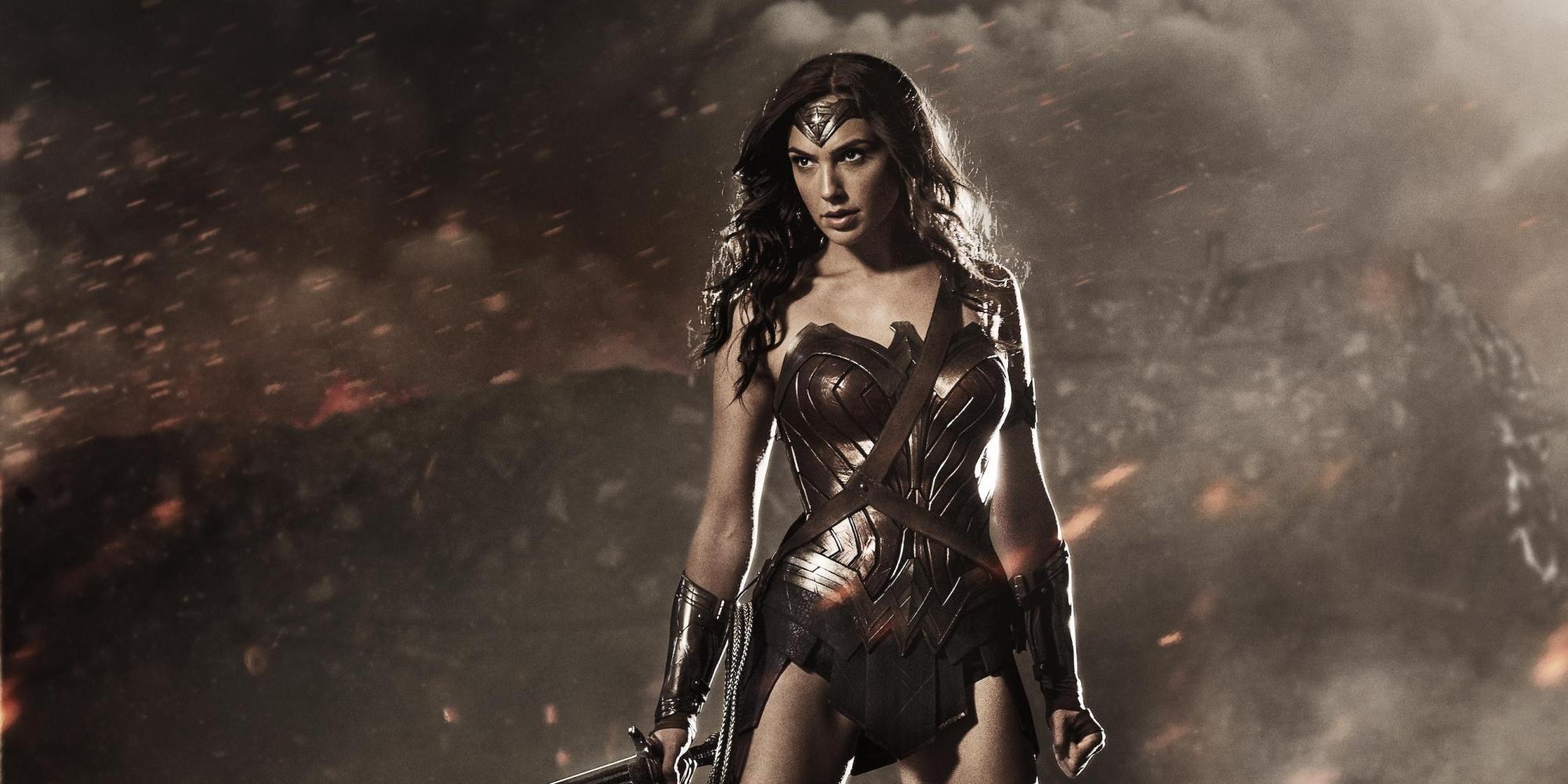 Wonder Woman
What We Know: The upcoming Wonder Woman film, starring Gal Gadot, currently has more questions surrounding it than answers, but there are some things we know for sure.  Recently, director Michelle MacLaren left the project due to creative differences and Patty Jenkins took over. Chris Pine is also in talks to star in the film. The official costume is shown above, and it looks incredible.  She's wearing a next-generation type suit equipped with leather straps, a large sword, her famous gauntlets, and a metallic headpiece that is quite reminiscent of her portrayal in the comics.  Wonder Woman gets unleashed in 2017.
What We're Excited About: We are beyond excited to see what's in store for the plot of the movie since, as of right now, it is completely unknown.  Wonder Woman is arguably the most powerful female character of all time, certainly in the DC universe, and we are looking forward to seeing what Gal will be bringing to the table in 2017.
What To Read: Wonder Woman Vol 1 Blood by Brian Azzarello
Justice League Part One
What We Know: There is not much known for certain about the upcoming Justice League film other than it will follow in the footsteps of next year's Batman V. Superman: Dawn of Justice.  Nothing regarding the film's specific plot has been revealed but we are expecting something along the lines of an epic battle between Earth's greatest heroes and an unknown threat.  Zack Snyder is rumored to direct once again and those confirmed to star in the film so far include Henry Cavill as Superman, Ben Affleck as Batman, Gal Gadot as Wonder Woman, Amy Adams as Lois Lane, and Jason Momoa as Aquaman.  The film's exact release date has yet to be announced but it will be in 2017.
What We're Excited About: We are mainly excited to finally see the Justice League on the big screen as the super-powered team is one of the most iconic in history.  We can't even begin to imagine what the details of the plot could be considering the unlimited amount of options and routes that could be taken, but we have a feeling that it's going to be awesome!
What To Read: Justice League Vol 1 Origin by Geoff Johns or JLA Vol 1 by Grant Morrison.
The Flash
What We Know: Unfortunately, very little is known about the upcoming Flash film, but at least we know who will be portraying the scarlet speedster in this solo film — Ezra Miller (pictured above), has taken on the role of Barry Allen, or Wally West, which remains uncertain as well.  With the hit television series on the CW following the story of Barry Allen, in an effort to avoid confusion with the DC Cinematic Universe, the film might opt to take the route of Wally West, who was the Flash in the hit animated series.  Only time will bring the answers we're looking for, so we'll just have to wait and see. The Flash bolts into theaters in 2018!
What We're Excited About: There are so many things to be excited about for this movie we just can't take it!  For one thing, will Warner Bros. choose Barry Allen or Wally West as our favorite speedster in the film?  That could greatly alter the plot of the movie and could even affect the television series, because characters could be left out in the show so that they may be saved for a theatrical appearance.  If only time could pass a little quicker so that we could get some answers!
What To Read: Flash A Celebration of 75 Years HC by Gardner Fox, John Broome, and Geoff Johns.
Aquaman
What We Know: Our favorite aquatic superhero is finally getting his turn to shine on the big screen and although not much is known about this film either, starring actor Jason Momoa has shined a little light on how he believes the movie will go.  According to the Game of Thrones actor, the Aquaman film will be centered around the hero's origin story.  However, because it is set to be released after Justice League: Part 1, the actor is not sure if it will take place prior to the events of Justice League, or post.  For more information, we'll have to, once again, wait and see what happens!  DC's Aquaman splashes into theaters on July 27, 2018!
What We're Excited About: Since an Aquaman film has never been attempted, we're very excited to see what Warner Bros. has in store for this DC hero. Star Jason Momoa's comments seemed to be alluding to an interesting wrinkle in the DC timeline, depending on the point in time in which the film will be set. Either way, we're eagerly awaiting more juicy details about this DC blockbuster film!
UPDATE! It has now been confirmed that director James Wan will helm Aquaman and that has us REALLY excited.  We can't wait for this movie!
What To Read: Aquaman Vol 1 The Trench by Geoff Johns
Shazam!
What We Know: The upcoming Shazam! film has much confusion surrounding it, mainly due to how little we know about it, but also because of legal issues with the character's name.  In the film, "Shazam" will be the names of both Billy Batson, a.k.a. Captain Marvel, and his mentor, the wizard named "Shazam" who gave Billy his powers.  The wizard is expected to be one of the film's strongest supporting characters and will continue to serve as Billy's mentor as he has in the comic books.  The story's basic premise should remain unchanged as it has been confirmed by Dwayne Johnson, who will be playing main antagonist "Black Adam," that like the New 52 version, his character's origin as a former slave will be kept.  Johnson's character is a very interesting being because although he is the "bad guy," he has experienced hardship and suffering. This means we will most likely see him transformed from an outright villain to someone who wants to do the right thing.  The only difference is that his methods are much more brutal than most other superheroes.  Shazam! zaps into theaters on April 5, 2019.
What We're Excited About: We're very excited about this film because it will be the superhero's first theatrical appearance since the 1940s and it is sure to be a smash hit!  The story of Billy Batson is a very unique and popular one as it actually overtook Superman in the 1950s!  We can't wait to see Billy Batson, along with his heroic alter ego, Black Adam, and the rest of the family in action on April 5, 2019!
What To Read: SHAZAM A Celebration of 75 Years HC by Otto Binder and more.
Cyborg
What We Know: Ray Fisher will play Victor Stone in the upcoming Batman V. Superman: Dawn of Justice film, however, whether or not he will become Cyborg in the film is a mystery.  Although the actor is very well-known on stage, he has not had much movie experience as of yet so this will be his first major role.  As for Fisher's Cyborg solo film, it is very likely that the fallout of the Justice League: Part Two story will play a crucial role in that of the Cyborg film.  Cyborg hits theaters on April 3, 2020.
What We're Excited About: There is plenty to be excited about for this film but it is a long ways off and not much is currently known about its plot.  Ray Fisher seems like the perfect choice for the job and we think he will do a fantastic job portraying the robotic superhero!  There are, however, rumors circulating that suggest the appearance of Darkseid in the Justice League films which might trickle down into Cyborg.  We'll just have to wait and see!
What To Read: Teen Titans Spotlight Cyborg TP by Mark Sable
Green Lantern
What We Know: The upcoming Green Lantern reboot is perhaps the most elusive of the current DC lineup as we know absolutely nothing about it except for the fact that it exists and that it will be released in 2020 along with Cyborg.  The cast, including Green Lantern himself, has not yet been announced and we do not know whether the character in the film will be Hal Jordan or John Stewart.
What We're Excited About: We're aching with suspense on the topic of who will play the superhero, as this will also clear up which Green Lantern the film will feature.  The only thing left to do is wait… and wait, and wait.  Well, you get the point.
What To Read: Green Lantern Chronicles Vol 1 TP By John Broome
The views expressed herein are solely those of the writer, and not Midtown Comics. Additionally, Midtown Comics makes no representations as to the accuracy of any of the information expressed herein.