Remember last month's DC Bombshells Covers Guide?  Well, DC is currently releasing an army of selfie covers for its characters!  Read on for the complete guide and release dates of these wacky fun-filled selfie variants!
Grayson digs deeper into the mysterious organization known as SPYRAL and learns more about his new partner – Helena Bertinelli in Grayson #2! This selfie cover by Andrew Robinson shows Grayson with his very own SPYRAL ID Card!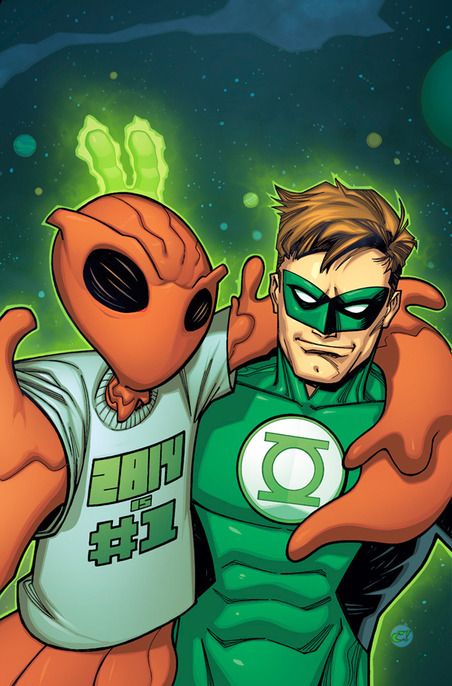 In the bloody wake of 'UPRISING,' Hal is forced to take stock and ask if he's really managed to redeem the Green Lantern Corps… and new Lantern Simon Baz may help him find the answer he seeks! And don't miss the shocking final pages, which signal the start of the biggest Lantern story yet! The selfie art by Craig Rousseau shows Hal posing in a picture with his biggest fan!
In Earth 2 #26, Val and Lantern battle Superman with Earth's fate hanging in the balance when a familiar faces arrives on Earth 2 via the Boom Tube to turn the tide! Selfie art by Kevin McGuire features these characters in action! They must have used a steadicam for that shot!
Batman is faced with an unsolvable mystery: a dead friend, an unknown assailant, and a drug called 'Icarus in Detective Comics #34. Has the World's Greatest Detective finally been outmatched? Colorful selfie art of Alfred in costume by Tommy Lee Edwards!
And now 'Last Sun', the penultimate chapter in the 'SUPERMAN: DOOMED' saga arrives with Action Comics #34! Find out what happens as Earth lies in ruins and everyone's survival is in question! We wonder how Superman managed to save a kitty and snap a selfie in this cover by Gary Frank!
'
Deadline' concludes in Batgirl #34 as Batgirl teams with Huntress and Black Canary to stop the evil of Obscura! After everything Barbara has been though to become Batgirl – will she be undone by her demons?Barbara also manages to show off her sweet bike in this selfie cover by Dave Johnson!
Last Sun,' the next sensational chapter in the 'SUPERMAN: DOOMED' saga arrives with Superman/Wonder Woman #11! Diana must do the unspeakable as the God of War in her effort to beat the forces of Brainiac! And now, there is no Kal-El – only Doom! Superman's getting some love in Tony Daniel's selfie cover!
Justice League Canada's first adventure comes to an explosive end in Justice League United #4! The girls are having fun in this selfie cover by Emanuela Lupacchino.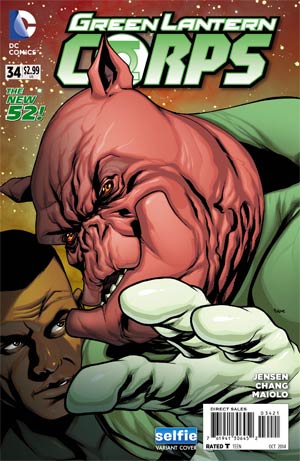 After last issue's shocking revelation, John Stewart's world is turned upside down in Green Lantern Corps #34! Is it too late for him to find the truth, or has he started down a dark path he can never return from? Kilowog doesn't want his picture taken in this selfie cover by Mike McKone!
Shipping twice in August! When Harley fills in as a burlesque dancer, she kills it on the main stage – literally! But what happens when she gets caught by the cops and finds herself face to face with her most devoted stalker?! Find out in Harley Quinn #9! Selfie art by Amanda Conner.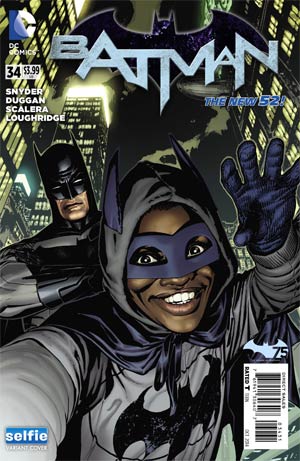 ZERO YEAR is over, and the events of BATMAN: ETERNAL have put Gotham City in a tailspin, but Batman is focused on finding a killer who has haunted his hometown in secret for years. Batman #34 features art by Matteo Scalera (DEADPOOL, Black Science) and sets the stage for the next major Batman story in the fall. Detailed selfie cover art by Ryan Sook. 
Teen Titans #2 – 8/20/14
Now the new hotness on social media, the Titans try to control their own images as a new threat continues to grow around the team in Teen Titans #2. Meanwhile, S.T.A.R. Labs takes an interest in DC's teen heroes. The Titans are having a wild party in this selfie cover by Ben Caldwell!
Batman's quest for Damian's body is about to take him further down the road to damnation than he's ever gone before! His first stop: the Justice League's Lex Luthor?! Find out more in Batman and Robin #34! It looks like Batman and Robin are wanted in this selfie cover by Phil Noto!
Superman #34 – 8/27/14
Geoff Johns and John Romita, Jr. continue their epic Superman run with "THE MEN OF TOMORROW" chapter 3! Introducing the bizarre villain known as The Machinist – the man behind the recent technological attacks on Metropolis. But what is his strange connection to Superman? Where is he from? And what does The Machinist want with The Daily Planet? Selfie cover art by Neil Adwards features Superman in action, and a pretty neat Superman watch! Where can we get one??
Batman '66 #14 – 8/27/14
Crime never sleeps, but even Batman can't be on call 24-7. So the Caped Crusader introduces an ally who never needs rest: a futuristic Bat Robot! Astounding both Gotham City's criminals and its police force, the chrome-plated crimefighter proves to be incredibly efficient. So much so that a dreaded question must be asked: Is it time for Batman and Robin to retire? Find out in Batman '66 #14! Robin snaps a pic with the retro bat-phone in this selfie cover by Joe Quinones.
Deadman's secret backstory is revealed… and the JLD battles Pantheon for the soul of paradise in Justice League Dark #34! Kyle Barker provides some comedic artwork in this variant selfie cover!
Aquaman #34 – 8/27/14
The ruthless Chimera has arrived to destroy Aquaman – and Arthur may not be powerful enough to stop him! But with Atlantis in turmoil, does he have any allies left to save him? Find out in Aquaman #34! Where did he get an underwater camera in this selfie art by Dan Panosian?
Catwoman #34 – 8/27/14
It's buyer beware when Selina purchases a new house – but Catwoman is much more interested in the treasure that lies beneath the property in Catwoman #34! Selina takes a selfie with the cats in this variant cover by Stephane Roux!
The Flash #34 – 8/27/14
Time is getting closer as Future Flash reaches the point that broke his spirit – Wally West's death – while Wally meets his uncle Daniel, the Reverse Flash, and Barry Allen is trapped in the middle in The Flash #34! Wally snaps a great selfie while Superman tries to keep up in this detailed variant cover by Eddy Barrows!
Paranoid survivalist. Wanted fugitive. Damned soul. Meet the newest member of the Justice League: Jessica Cruz, a.k.a. Power Ring! With the most dangerous weapon in the universe in her possession, Jessica has been transformed into a dark prophet – one who will force the other members of the League to confront their greatest fears in preparation for a horrific new threat. Meanwhile, Batman and Lex Luthor continue their mission to cure the world of super-villains – but will the extremes they're willing to go to threaten even their closest allies? Lex hopes so in Justice League #34, with some crowded selfie artwork by Dale Eaglesham!
Batman/Superman #14 – 10/01/14
Part 2 of "Forgotten Heroes" finds the new team of Catwoman and Superman taking on Gotham City – and there's nothing Batman or Lois Lane can do to stop them! This playful selfie cover for Batman/Superman #14 was drawn by Paolo Siqueria.
Is this the end of Olympus and the gods? Wonder Woman is locked in a desperate battle with the First Born with the destiny of immortals at stake – and she must make a decision that will effect the lives of those she loves most. Diana pulls a Miley Cyrus and sticks her tongue out in this selfie cover by Terry Dodson! 
Hope you can collect them all! Stay tuned for more DC incentive guides from Midtown Comics!
Tags:
action comics selfie
,
batgirl comics
,
batgirl selfie
,
Batman
,
batman 66
,
batman 66 comics
,
batman 66 selfie
,
batman and robin comics
,
batman and robin selfie
,
batman comics
,
batman selfies
,
DC
,
DC Comics
,
dc comics selfie covers
,
dc comics selfies
,
dc selfie covers
,
dc selfies
,
grayson comics
,
grayson selfie
,
harley quinn comics
,
harley quinn selfie
,
justice league comics
,
justice league dark comics
,
justice league dark selfies
,
justice league selfie
,
selfie covers
,
selfies
,
Superman Comics
,
superman selfies
,
teen titans comics
,
teen titans selfie
,
the flash comics
,
the flash selfie
,
Wonder Woman Comics
,
wonder woman selfies