By Daniel Gladston
We at Midtown Comics are huge fans of Marvel's new television series, Daredevil. The show's witty and exciting portrayal of the masked crusader will keep you on the edge of your seat and leave you wanting to see more (or feel more, or hear more, in the case of Matt Murdock). In light of the show's phenomenal action sequences, we have created a list of the top 5 Best Fight Scenes from the first season!
If you have yet to begin watching the series, please be advised that there are spoilers that follow. Read on for the complete list below and post your thoughts in the comments section. Enjoy!
5 – Brawl on the Docks
This action sequence is the opening scene of the series and what an incredible way to kick off the show! The Man in Black (yet to become "Daredevil") first appears in the shadows to easily stop a group of thugs and save the day. Dipping and dodging into the night like Batman before him, this is what superhero fight scenes are all about! 4 – Daredevil vs. Stick
Upon the return of Matt's former mentor, Stick, long-buried emotions resurface and tension leads to an epic master/student brawl that will have you shaking after every blow! Two blind men who can probable "see" better than most superheroes put on one hell of a fight scene!
3 – Matt Battles Nobu
After falling into Fisk's trap, Daredevil finds himself pinned against samurai warrior Nobu. This foe, however, poses a much greater threat to the mighty devil of Hell's Kitchen! This is one of the most epic fight scenes of the series, and truly shows off Matt's own mortality…making him rethink his choice of body armor.
2 – Hallway Fight Scene
The eerie ambiance in this thrilling battle scene is masterfully adapted from Frank Miller's iconic story, The Man Without Fear. Did you know that Daredevil's hybrid fighting style is a unique combination of boxing, the Filipino martial art Kali, and Wing Chun? This is one of the greatest long-shots in the entire series, coming in at around 3:00 minutes without any cuts. This shows off some amazing choreography, and really got fans hooked to watch the rest of the series.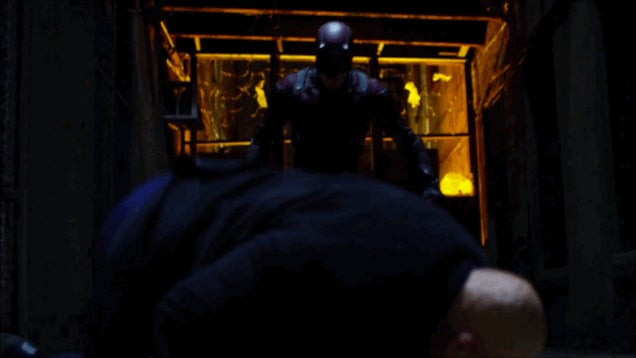 1 – Daredevil vs. Kingpin
In the epic finale of season 1, Matt faces off against Fisk for the city in this gory and ruthless battle! Fans get to see Matt's red Daredevil costume for the first time, and feel the true power of the Kingpin. It's what fans had been waiting for since episode #1, and it did not disappoint! We can only imagine what battles we can look forward to in season #2 (Elektra, Bullseye, Mr. Fear??)
The views expressed herein are solely those of the writer, and not Midtown Comics. Additionally, Midtown Comics makes no representations as to the accuracy of any of the information expressed herein.