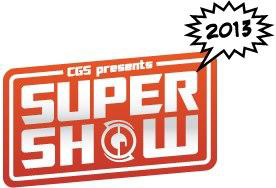 Hello Midtown Blog-ees! Raph here with a special recap of a special show. Before I was a member of the illustrious Midtown Comics staff, your favorite blogger was a simple podcaster/fanboy. Comics podcasting hit the scene around 2005, and one of the first ones was Comic Geek Speak. They have a large following, and have since decided to hold an annual celebration of that community, the CGS Super Show. I've been to Super Show every year since it's inception (cue Hans Zimmer horns), and this year may have been one of the best ever.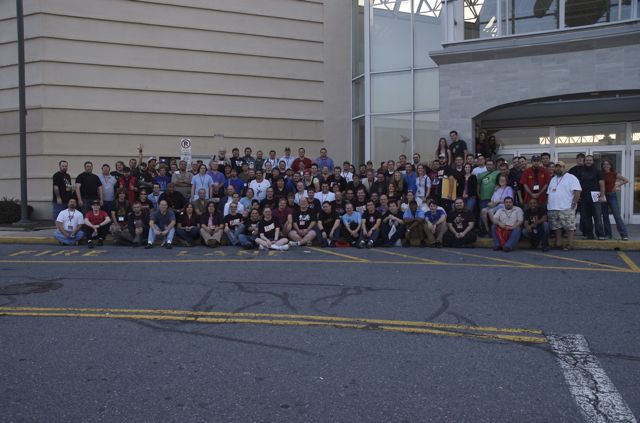 From an earlier CGS event, I'm on the bottom row sixth from the right. Courtesy of Comic Geek Speak.
The event itself is two days, and is open to the public. Most of the attendees, however, are listeners of CGS, and/or post on The Comic Forums. I've been a member of the forums there since 2006, as well as produce my own podcast (which has a forum on the Comic Forums as well). The show consists of a few retailers and a large contingent of independent creators, small press, and a couple of creators in the mainstream (this year: Chris Burnham, JK Woodward, Tony Moore among a few others). It's a celebration of comics and community, with panels and events after the show itself.

The CGS crew, in the JLI #1 pose. Photo Courtesy of Jeffery Borchert
Now I know it seems a little odd to be talking about a small show not many people may go to, but I truly believe in the community that comes together and the philosophy on comics that people there share with me. Without the passion of these people, I would be a lone comic fan. The comics podcasting community has been very good to me over the years, and has allowed me to become more aware of comics and the culture surrounding it, thus making me one of the better comic shop staff in the world (if I humbly say so myself). I could brag about how I read all these books every month (and I  thank Midtown Comics for allowing me to do that and to sell books for them to the greater public), but without the context I've been giving by people who do comics podcasts, my experience would be more limited.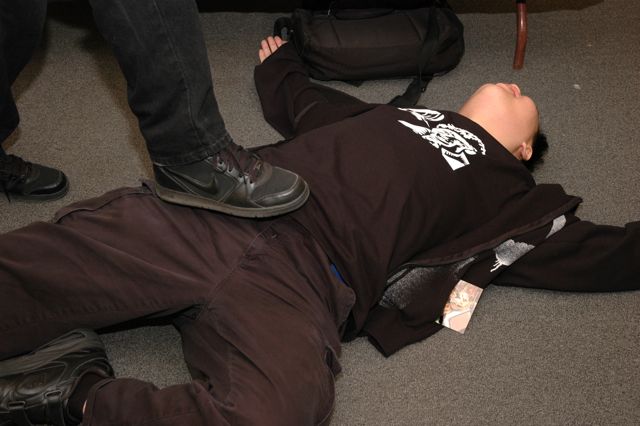 Getting beat at Super Show. There's always Round 2!
If you've ever felt like you wanted someone to talk to about comics, and maybe you're not fortunate enough to come to Midtown and talk to one of our  guys, check out a podcast. Heck, Midtown's got it's own podcast (hosted by the Terrific Thor and the Dashing Dimitrios), so your options are wide and plentiful. The spirit of community in comics always shines through at conventions, and especially the little ones, but podcasts take a little piece of that and put it in an audio file for  your enjoyment.
That's all for now, but later this week, we'll have some more Fear Itself Coverage!
Go Love Some Comics!
Raph