Midtown Bloggerinos! Raph here, with a topic very close to my heart: New York Comic Con! More specifically, I'm going to give you some pointers on how to survive New York Comic Con, and make it through the weekend!
NYCC 2011 had an attendance of over 100,000 people, and that number is sure to be eclipsed this year! With all of those people there, you might get lost in the shuffle, so here's some recommendations from a long time veteran of conventions: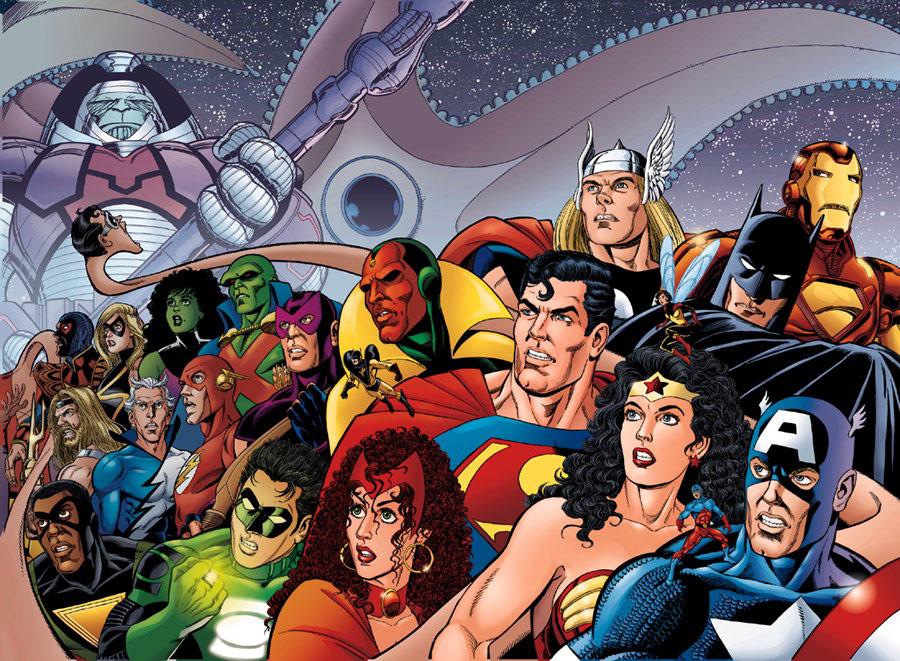 "OMG IT'S THE CAST OF WALKING DEAD!!"
"Act like you've been here Supes!"
"Sorry…"
Stick with a group:
With so many people in a small area, cell phone service might not be the best. If you're traveling with friends and/or family, make sure you're with the group. If you split up, designate a spot to meet back up. With the sheer size of the  convention center, it's best to coordinate, which leads me to my next point:
Learn the floor plan:
The floor plan is available in the program, but you can spot some of the major booths, like DC, Marvel or our very own Midtown Comics booth. Maybe divide the floor up into zones, using these booths as central points, and explore from there? Here's a link to this year's floor plan!
We're gonna need more X's and O's… it's COMIC-CON TIME!
Have a game plan:
Looking to get an autograph from Jim Lee? That's great, but keep in mind, there are a few thousand people who want to do that as well! If someone you want to get a signature from is signing at a booth (like the Midtown Comics booth), be sure to stop by and get a schedule ASAP. The bigger guests probably aren't going to have a table in Artist Alley, so find out what booth they're gonna be at. All the celebrities tend to have their own section too, so pay attention to where the Autograph Alley is too! Again, knowing the floor plan helps!
The Guide is Your BEST FRIEND:
Going back to having a game plan, the NYCC Program is your guide to not only the show floor, but the panels and other events going on. Panels are always a big deal at larger shows, with the opportunity to find out what's happening with your favorite comic companies, or the chance to see actors talk about a show they're on. Typically, the con will print up a big bunch of these, but there's also an app for iPhone, iPad and Android as well! These are going to be your key to survival! You can also use NY Comic-Con's My Show Planner!
One at a time please, one at a time…
Proper etiquette:
There are some things you can't ignore, like someone in an awesome costume. That's all well and good, but don't stop someone in the middle of a row, with thousands of people, to take a picture. Ask him kindly to step over to the side, and let everyone else through. The show's sold out, there's going to be a lot of people trying to walk through. The same goes for meeting up with people, or stopping to get something out of a bag. Be aware of your surroundings, you don't want to bump into anyone, or knock into someone's booth.
 Keep a supply bag:
The area around the Javits center is pretty sparse, and the food court can get expensive, so have a bag filled with snacks, maybe a sandwich… the events at the Javits Center go into the night, so if you're going to be there all day, try not to starve to death. It also wouldn't hurt to have Purell too. You and your friends may not be sick, but can you guarantee all 100,000+ people won't be sick either? Better safe than sorry! Con flu is not something you want to get!
We've even got tips for exhibitors! Here's Midtown's Gerry and Thor giving a few inside tips for exhibitors at NYCC:

That's all the tips I have, except for one last one…
GO HAVE SOME FUN!!!
That's it for now, if you're going to NYCC, I'll see you there, until next week—
BE HEROIC, READ A COMIC!
–          Raph