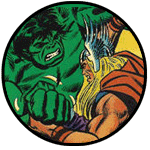 The new Midtown TV: Hulk vs. Thor resolved!
Zoë and Thor ponder the age-old question that has puzzled comics readers since time immemorial, and bring in expert testimony to make the final call. Check out Midtown TV's take on other hot topics, including Scott Pilgrim, Ron Marz and his new book Artifacts, and Dark Horse and Red Bull (yes, Red Bull). New characters, new style, new Midtown TV.


Scott Pilgrim gets it together at a multiplex near you!
Scott is unleashed this week, reviews are boffo, and it's the hottest ticket in town. Read the books and see the movie! See Zoë dressed as Ramona Flowers on Midtown TV in our Scott Pilgrim costume contest.

Sizzlin' website specials this week:
The heat is hot and so is our apparel sale, now in its FINAL WEEK! Cool off with a hot t-shirt at 10-50% off, as well as all kinds of super-heroic apparel including hats from New Era. Save 30% off all Dark Horse, IDW, Image, and independent back issues letters A-M, with the super-secret codeword (hint: it's on this page). Remember to check out our other super sales in our finance department below.


Ex Machina Concludes!
One of the best comic series of the past six years is sadly coming to an end — Brian K. Vaughan and Tony Harris's Ex Machina hits #50 this week, its final issue. We'll finally learn how Mayor Mitchell Hundred got his powers and why he told us in issue one that this story is a tragedy. This has consistently been one of my favorite books since issue #1. If you've never read Ex Machina grab the trades and catch up quick because the end is here!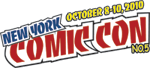 New York Comic-Con tickets on sale at Midtown
Don't let NYCC sneak up on you! Tickets are available as of Friday, August 13th, at both of our NYC locations. New York Comic-Con will be combined with NY Anime Fest, and will be held again at the Jacob K. Javits Center on October 8th-10th. If you've been to NYCC before you know that Midtown Comics does it large! So be sure to grab your tickets early.
Believe it,
Gerry G., aka G-Man!


and
Thor


This week's featured eBay item is a huge Star Wars lot! This lot features tons of comics, action figures, and Star Wars Galaxy magazines. We also have lots of great vintage magazines, action figures, statues, and more at huge discounts, all available from our eBay page!

THIS WEEK'S CODEWORD SALES! (Ends August 18th.)

30% off All Dark Horse, IDW, Image, and Independent back issues letters A-M! Click here to activate this week's codeword SPAWN. Your discounts will automatically be activated in your cart. So just place the items you want into your basket and check out when you're finished!

MORE ONLINE SALES THIS WEEK!
· 10 – 50% off All apparel — FINAL WEEK!
· 30% off Comic Boxes.

I bet you didn't know that Marvel once made magazine comics did you? You did? Well not everybody is as smart as you, so we added some great Marvel magazines to the website. We've got huge runs of Cracked, Crazy, Planet of the Apes, and Savage Sword of Conan. If you're not a magazine fan, fear not! We also added Ghost Rider (all volumes), Marvel Premiere, Marvel Spotlight, Marvel Comics Presents, and Amazing Spider-Man! Don't think we forgot about the DC fans. We put in a whole run of Batman Beyond so you can catch up with the new series, and some great Paul Dini Batman Gotham Adventures. It's just another 6,000 comics and rare magazines up on our site this week, no big deal. That's just how we roll.
This just in! Our Times Square location just got some very affordable Golden Age DC comics! And our Grand Central location has some great Bronze Age comics like G.I. Joe #1 and #21, the famous "silent issue" and first appearance of Storm Shadow by the great Larry Hama!
Stay Mint,
Alex Rae!




Ivan Brandon will be signing Weird War Tales #1 from DC Comics at our Grand Central store on Thursday, September 9th, from 6:30-7:30 P.M.
New York Comic-Con! October 8th-10th at the Jacob K. Javits Center NYC. Stop by the Midtown Comics booth for amazing creator signings and awesome sales!



Midtown Comics Podcast:
This week writer Len N. Wallace calls in to tell us about his Oni Press book Love Buzz. Also, Dimitrios some how gets his hands on a newspaper and shares a story with us about someone finding a copy of Action Comics #1 in their basement. Lucky ducks! Listen here!



Midtown Comics TV:
It's time for Pillow Talk with Zoë and Angela. In this episode the girls ponder the age-old question, who would win in a fight, Thor or The Hulk? Watch as the girls get down to the bottom of this impossible issue.
Note: for TEXT-ONLY list, please click the Printer Friendly link/icon at the top right of the Weekly Release list