To the Batmobile, Robin, let's go Downtown!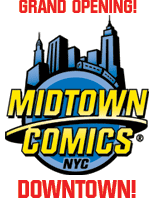 Midtown Downtown is open for business!
If you love comics and you need a fix tomorrow at 8:00AM you can now go DOWNTOWN in NYC! Our new store has special early-morning hours to accommodate our Wall Street clientele, so you can have a stack of new books on your desk before the bell rings! Weekend warriors, worry not, we're open weekends too. To spice things up, we're offering 40% off ALL back issues, valuable coupons distributed at our other stores and on the street, and our famous in-store rewards program is valid downtown, and works at any of our locations. Jim Lee and Jonathan Layman will appear Downtown in December; see news & events below.


Grab the money and run!
Take no less than 40% off ALL grab bags and complete runs this week, with the super secret codeword below. What exactly is a grab bag? We're glad you asked! A grab bag is a selection of GREAT back issues hand-picked by Midtown expert Alex Rae himself! A complete run is, well, a complete run of a particular story arc, packaged together so you don't have to make like Kraven and hunt 'em down separately. Also, in one of our most popular sales of the year, take 10 to 50% off ALL statues. Decorate that mantle in your stately mansion in time for the holidays! These sales are online only.


Vampirella #1 Midtown exclusive variant covers!
Our friends at Dynamite Entertainment have hooked us up with two smokin' hot, exclusive covers for Vampirella #1! Check 'em out on our blog, and remember to follow us on Twitter and Facebook for more first-look announcements and deals!


Distinguished DVD's from DC Comics
Secret Origin The Story Of DC Comics DVD: Narrated by Green Lantern Ryan Reynolds himself, this is "An expansive documentary exploring the 75 years of DC Comics, the memorable characters of its universe and the talented artists and writers who brought them to life."


DC Showcase Animated Original Shorts Superman/Shazam The Return of Black Adam features an all-new, original short starring Captain Marvel fighting alongside Superman against the nefarious Black Adam! Also included: three extended shorts starring Green Arrow, Black Canary, The Spectre, and Jonah Hex!
The Walking Dead keep walking!
In case you haven't heard the news, AMC's The Walking Dead is a huge success and has been green-lit for a second season! We here at Midtown believe one good piece of zombie news deserves another, so for everyone waiting for the next Walking Dead trade, we'll have Walking Dead TP Vol. 13 Too Far Gone ONE DAY EARLY, on Tuesday, November 23rd! Now that's good news!
Follow us on Twitter & Facebook:
Want to stay up to date with all things Midtown? Want access to exclusive deals and giveaways? Then follow us on Twitter! We're @MidtownComics.
This comic fan won big bucks dept:
We're pleased to announce that our NYCC Newsletter signup contest has a winner, and his name is Andrew Marrell! Andrew is from L.I., NY, and has won a Midtown Comics gift card in the amount of $100.00. The contest is over, but it's never too late to sign up and save big!
Believe it,
Thor and Gerry G., aka G-Man


This week's featured eBay item is a lot of Marvel Bronze Age Comics! This includes Daredevil, Ghost Rider, Howard the Duck (including #1), Iron Fist, Red Sonja, Spider-Woman, Star Wars and so much more! We also have lots of great action figures, statues, collectibles, and more at huge discounts, all available from our eBay page!
THIS WEEK'S CODEWORD SALE! (Ends November 17th.)

40% Off All Grab Bags and Complete Runs! Click here to activate this week's codeword SEIZE. Your discounts will automatically be activated in your cart. So just place the items you want into your basket and check out when you're finished!

40% Off ALL back issues at our new store Downtown ONLY, starting November 10th.

ALSO ON SALE THIS WEEK, ONLINE ONLY:

15% – 50% Off All Statues (Percentage set by release date).
Up to 70% off all Halloween costumes and accessories.

Zing! Pow! Blam! The back issue team did some great work this week! In our weekly upload of over 5,000 back issues we added great runs of Captain America, Brave and the Bold Vol. 1 and Vol. 2, Incredible Hulk Vol. 1 and Vol. 2, G.I. Joe (Marvel), Wolverine Vol. 1, and Wonder Woman Vol. 1, Vol. 2, and Vol. 3 and even some Lobo, including all volumes and minis for all you bastiches! We put so much work in to this I haven't even had time to shave or pack for the Wizard World Austin comic convention that I will be going to this weekend. But we did manage to put in some great hard-to-find kids stuff as well, Disney's Aladdin, Disney's Little Mermaid, Disney's Beauty and the Best, and a good chunk of my favorite kid's show, Animaniacs!
Holy openings Batman! Our new Downtown store is open and man did we put some great runs in that store! Uncanny X-Men, Ghost Rider, Wolverine, and Punisher just to name a few and with the crazy 40% off back issue sale they are having, these full runs will be going fast! I would check them out now, because I know that the entire run of all volumes of Deadpool they currently have will be gone before you can say "accelerated healing factor!" And if you're looking to sell, remember you can always e-mail me!

Stay mint,
Alex Rae!



| | |
| --- | --- |
| | Midtown Comics Downtown is now open! Come check out our new store! |
| | John Layman, the writer behind the hit series Chew will be signing at our new Downtown location on Thursday, December 16th! |
| | Jim Lee will be signing his new book Icons: The DC and Wildstorm Art of Jim Lee at our new Downtown location on Sunday, December 19th! Purchase of Icons is required to attend the event, and tickets are given out in all three of our NY locations, free with purchase. |
| | Are you a New York City high school senior who loves to make comics? Then enter your work in the Random House, Inc. Creative Writing Competition. The competition is open for graphic novels, stories, plays, memoirs, and spoken word poetry! Deadline for submissions is April 1st, 2011. So download an application here and get crackin'! |

Midtown Comics Blog:
Dynamite Entertainment and Midtown Comics recently joined forces to celebrate the return of Vampirella with two all new exclusive variant covers! Read all about it and see them here!

Midtown Comics TV:
Zoë and Thor chat with creators Todd McFarlane, John Arcudi, Antony Johnston, Rick Remender, Jerome Opena, Scott Wegener, and Brian Clevinger from the Midtown Comics Booth at NYCC 2010!! Take a look here!

Midtown Comics Podcast:
This week Dimitrios interviews two fourteen year-old Midtown customers, Andrew and Matteo. With the help of our back issue buyer Alex, Dimitrios tries to get inside the head of these fourteen year-old comic fans to see what makes them tick! Check it out here and have a listen!

Midtown's New Release List:
Not everyone realizes it, but our new release list is the most accurate and complete in the industry, BAR NONE. Our list is posted every Thursday afternoon, and includes ALL of the new releases for the following week, complete with links to purchase and reserve. Check it out!
Note: for TEXT-ONLY list, please go to the New Release List, and uncheck the "Show Images" button.