Comic-con season in NYC!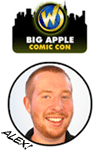 This week:
At Big Apple Con you can Meet Adam West AND Burt Ward, three Brady Brothers, Mark Millar, and take a class in digital art with Greg Horn. But tops on your list: meet the most infamous personality at the con, the one, the only, Midtown Back Issue Man ALEX RAE! Alex will sign autographs, pose for photos, wax philosophically, and BUY AND SELL COMICS, GRAPHIC NOVELS AND COLLECTIBLES. Got stuff to sell? Run your list by Alex in advance. We're buying everything, and paying top dollar for Golden and Silver Age. Friday, October 1st – Sunday, October 3rd.

Next week:
NYCC: The mother of all comic-cons (take that, San Diego) rolls into NYC! Meet Blair Butler, Todd McFarlane, Garth Ennis, Andy Diggle, and enter to win the ONLY advance copy of Paul Levitz's massive new hardcover book DC: 75 Years of Mythmaking, and that's only at Midtown's booth! We'll take you on a roller-coaster ride of non-stop creator signings! We'll be unveiling our new Marvel NYCC variant cover of Uncanny X-Force #1 by J. Scott Campbell and our exclusive Captain America t-shirt from Mad Engine this week in-store and online, and co-unveil (is that a word?) the new line of Atlas Comics at the con. We hate to brag, but we're also the exclusive dealer at the con for New Era, and we'll have a full line of their superhero baseball caps. We'll announce other goodies shortly!
The New Midtowncomics.com:
Our new site launched last week, and introduces a plethora of great features that include Diamond Previews online, a Wish list, customer reviews, monthly subscription shipping, drastically improved search logic, and so much more! Let us know what you think of the new site. We take your comments to heart, and we actually act on them.
Follow all things Midtown on our blogs, Facebook or Twitter! I could go on and on, but that pesky Thor now wants to tell you about all the great sales and hot new books 'n stuff coming out this week, so we'll give him his moment in the spotlight!
This week Superman Batman: Apocalypse was released on DVD and Blu-ray. But before it hit our shelves Midtown TV's Zoë G went to the premiere and talked to Batman voice actor Kevin Conroy all about the new film — you can check it out here!
Come sale away!
We've got a brand new website with some great deals! Right now get 25% off all back issues letters H-N with the super-secret codeword. We've also got 15%-50% off all magazines. And in honor of the upcoming Halloween season we're offering 25% off all horror comics, graphic novels and trade paperbacks as well as 30% off ALL Halloween costumes and accessories. So don't wait till the last minute to throw a dress shirt over your old Superman tee and say you're Clark Kent!
Believe it,
Thor and Gerry G., aka G-Man


This week's featured eBay item is a long-sold-out Spider-Man & Green Goblin mini bust set from Bowen! These two busts haven't been available for years. Now's your chance to get them both! We also have lots of great vintage magazines, action figures, statues, and more at huge discounts, all available from our eBay page!
THIS WEEK'S CODEWORD SALES! (Ends October 6th.)

25% Off All Back Issues H-N! Click here to activate this week's codeword NEXUS. Your discounts will automatically be activated in your cart. So just place the items you want into your basket and check out when you're finished!

ALSO ON SALE THIS WEEK, ONLINE ONLY:
25% off All Horror Comics, Graphic Novels and Trade Paperbacks.

30% off all Halloween costumes and accessories
15% – 50% off all magazines.
It's amazing how much Amazing Spider-Man Vol. 1 and Vol. 2 we added today! It drives me batty to see how much Batgirl Vol. 1 and Gotham Central we added website to our website this week. And man, I still can't believe we uploaded loads of Iron Man as well! It's just super that we also added in Supergirl Vol. 4 too! That's over 1,000 back issues added weekly to our website! Okay, bad writing aside, we did add some great things to our site. I will be at both New York comic conventions in the next two weeks so if you love my jokes come tell me. If you want to sell some books, come sell me. And if you want great deals on back issues come smell me!
Stay mint,
Alex Rae!



| | |
| --- | --- |
| | Wizard World's Big Apple Comic Con: October 1st-3rd at the Penn Plaza Pavilion in NYC. Come by and see our back issue buyer Alex! He'll be buying and selling tons of back issues all weekend for great prices! |
| | New York Comic Con! October 8th-10th at the Jacob K. Javits Center, NYC. Stop by the Midtown Comics booth for amazing creator signings and awesome sales! |
| | The Lord of the Rings – The Two Towers: On October 8th and 9th in New York City the score to The Lord of the Rings: The Two Towers will be performed live at Radio City Music Hall by 300 musicians, beneath an immense 60-foot projection of the film. Watch and hear The Lord of the Rings in this once-in-a-lifetime spectacular! For tickets call Ticketmaster 866-858-0008 or Visit www.TheRadioCityLOTRconcert.com. |
| | LitGraphic Exhibition: Pennsylvania! Organized by the Norman Rockwell Museum, this exhibit features 200 paintings, drawings, books, storyboards, studies, photographs from, among others, Will Eisner, Peter Kuper, Brian Fies, Milt Gross, Dave Sim, Niko Henrichon, Mark Wheatley, and Marc Hempel. Michener Art Museum in Doylestown, PA from September 25th through January 30th. |


Midtown Comics Podcast:
This week we talk to the brotherly writing duo Alexander and Joseph Lagos about their graphic novel series The Sons of Liberty and Dimitrios tells us about working as an extra for the upcoming Walking Dead television series. Check it out here and have a listen!
Midtown Comics TV:
Midtown TV hit the red carpet for the premiere of the new DC animated film Superman/Batman Apocalypse! Zoë got a chance to talk to the legendary voice of Batman, Kevin Conroy, all about his role in the new film. Take a look here!

Midtown's New Release List:
Not everyone realizes it, but our new release list is the most accurate and complete in the industry, BAR NONE. Our list is posted every Thursday afternoon, and includes ALL of the new releases for the following week, complete with links to purchase and reserve. Check it out!
Note: for TEXT-ONLY list, please go to the New Release List, and uncheck the "Show Images" button.