Welcome back to a monster week of comics!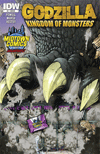 The King of Monsters makes mayhem at Midtown with our exclusive cover!
Godzilla is back, and he's bringing the other Toho monsters with him to DESTROY MIDTOWN COMICS on our exclusive cover from our friends at IDW! From all-star team Eric Powell, Phil Hester and Alex Ross, this exclusive Midtown Comics cover for GODZILLA: Kingdom of Monsters #1 will be available March 30th for only $3.99!
Monolithic Monster sales online:
Take 50% off ALL back issue incentive covers and Midtown exclusive comics with the super-secret codeword below. Take 10-50% off ALL action figures and pose those articulated plastic figures for battle and display 'em with pride. Lastly, save 10%-50% off all kinds of cards…sports cards, entertainment cards, and collectible gaming cards!




Subscribe with the Midtown Pull List:
Enjoy great savings with weekly, bi-weekly, and monthly shipping options. There are no fees for our Pull List, and payment is due only at time of shipping.
Pre-order with Previews and save 25-50% off every title:
Enjoy great savings and access to EVERY single item offered by Diamond's Previews and take 50% off many of May's top comics in the March Previews, including Snake Eyes #1! Be diligent and don't dilly-dally; March Previews orders are due by 3/25/11.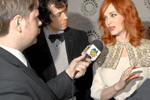 Christina Hendricks: The Midtown interview!
All-Star Superman DVD is here, and Thor's got the scoop on Lois Lane, AKA Christina Hendricks! Midtown Comics TV takes you to the Red Carpet premiere of the new DC Comics animated film, All-Star Superman and gets interviews from Christina Hendricks, screen writer Dwayne McDuffie, and voice director Andrea Romano. Check it out!
Atlas Comics Launches!
Atlas fans rejoice! The all new Atlas Comics Launches this week with three amazing titles: Wulf #1,Phoenix #1 and The Grim Ghost #1! This follows the New York Comic Con team-up of Atlas and Midtown Comics that brought you the NYCC exclusives Phoenix #0, and The Grim Ghost #0. You can expect great things from Atlas in coming months!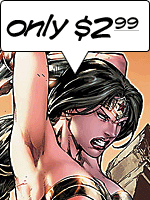 DC Comics holds the line at $2.99:
DC continues to hold the line at $2.99! Check out some of this week's awesome $2.99 releases: Azrael #18, Batman Beyond #3, Batman Confidential #54, Batman Streets of Gotham #20, Brightest Day #21, DC Universe Online Legends #3, Freedom Fighters #7, Green Lantern #63, Jonah Hex #65, and Secret Six #31!
Help Midtown win an Oscar!
Okay, it's not quite the Oscars, but we'd really love to be nominated for the Bleeding Cool Fan Awards! Ever modest though we are, the category "Comic shop least likely to be mistaken for Android's Dungeon" may be the one for us. Please! Advocate for Midtown and nominate us…then vote (for Midtown)!


Geek Girls Sleepover!
Midtown Comics TV host Zoë leads an all-star squadron of geek girls for a geek girls slumber party! What goes on behind closed doors at one of these slumber parties? Watch the Midtown TV coverage of the party to find out!
Follow us on Twitter & Facebook and win big!
We're always giving away great prizes to our fans and followers! We give away comics, graphic novels, movie tickets and more! All you have to do for a chance to win is follow us and be a fan!


Write a review, win some revenue!
Now when you visit MidtownComics.com and be the first to write a review for a product on our site, you'll automatically be entered to win a $25.00 Midtown Comics Gift Card! We'll be drawing a new winner every month! Give it a five star rating, or a thumbs down — it's your call!
Our copyeditor Hal has some words to share about the passing of our friend Perry Moore:
Midtown mourns the passing of a dear friend Perry Moore, who died last Thursday. Perry is best known for producing the Narnia movies, a labor of love for him, but he would probably want to be remembered as the author of the wonderful young-adult superhero novel Hero. We remember him as a warm, generous, and fun-loving Wednesday regular. His favorite character ("Don't snicker," he'd say) was Colossal Boy. We'll miss him.
-Hal Johnson, Midtown Comics
Dwayne McDuffie will be missed.
Beloved comic book, film writer and film producer Dwayne McDuffie passed away this Tuesday. Dwayne was best known for writing the Justice League Unlimited animated series and creating the series Static Shock, and was one of the most prominent voices for diversity in comics. Dwayne wrote the script for the well-received animated film All-Star Superman, and it was great to have the opportunity to interview him at the film's premiere. Our condolences go out to Dwayne's friends and family. You can find the beat's coverage here.

-Thor Parker, Midtown Comics
Believe it,
Thor and Gerry G., aka G-Man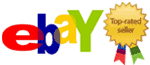 Midtown Comics is now a top-rated seller on eBay, so you can rest assured that you are, as always, buying from the best!
This week's featured eBay item is a sealed box of Marvel Universe III trading cards! Not only will you get the sealed box of classic Marvel Universe cards, but you'll also get a big stack of awesome X-Men cards from the 1991 series. This is perfect for all of those who grew up on Marvel trading cards. I know I did! We also have lots of great action figures, statues, collectibles, and more at huge discounts, all available on our eBay page!
THIS WEEK'S CODEWORD SALE! (Ends March 1st.)

50% Off All Back Issue Incentive Covers and Midtown Exclusive Comics. Click here to activate this week's codeword EXCLUSIVE. Your discounts will automatically be activated in your cart. So just place the items you want into your basket and check out when you're finished!

ALSO ON SALE THIS WEEK, ONLINE ONLY:

10% – 50% off All Action Figures.
10% – 50% off Cards.

On sale in-store
40% off ALL graphic novels, books and manga, in-store only, through Friday, February 25th.

CGC Don Winslow of the Navy!
It's convention season! We were at the New York Comic Buyers Market Place this past weekend and it was great! We had a special codeword for our twitter and facebook followers and they got 50% off our entire booth! It was a blast, but I never forget about our awesome back issue section on our website. This week in our giant upload we added great runs of DC's 80-Page Giant, Iron Man, 52, 100 Bullets, 30 Days of Night, Superman Batman, Avengers, Flash, Firestorm, Deadman, Deadpool, Teen Titans Vol. 3, Fantastic Four Vol. 3, Strangers In Paradise, Usagi Yojimbo, Concrete and Morbius. We love comics! I can't add great stuff without buying great stuff, so if you have some doubles you need to get rid of, don't forget I am always buying comics!
This just in! Our website got in an amazing run of CGC Don Winslow of the Navy. These are golden age books, and are among the highest graded Don Winslow books in existence. Don Winslow was an early Fawcett published book (you know, the people who invented Captain Marvel! SHAZAM!) and these copies are part of the rare Crowley Pedigree and some are even file copies!
All three of our locations got new CGC books. Check out our Times Square, Grand Central, and our new Downtown store to see what they've got. Our Times Square store also got in nice runs of Ms. Marvel, Incredible Hulk, Aquaman, Spider-Man, Peter Parker the Spectacular Spider-Man, Star Wars, Marvel Premier and various Venom minis. Yay comics!
We buy comics, graphic novels and collectibles! If you've got books you want to sell, e-mail me!
Stay mint,
Alex Rae!

Midtown Comics Blog:
We get a few reviews of some of last week's books including Supergirl, Jennifer Blood and Spider-Man. Take a look here!

Midtown Comics TV:
Geek Girl Sleepover! They said no boys allowed. Good thing we had a girl on the inside to report on everything that went down at the Geek Girl Sleepover. Take a look here!

Midtown Comics Podcast:
We recently teamed up with Think Geek to sponsor the Geek Girls Sleepover. We decided to have the lovely ladies on our podcast so you could finally put a voice to the twitter handle. Our very own Zoë was there too! Have a listen!
Midtown Comics Forum:
Sign up for the all-new Midtown Comics forums at Superfandom.com: THE place to talk comics, movies, games, and everything else we love! Get the inside scoop on everything comics from Midtown employees Raph and Rea! Check it out today!

Midtown's New Release List:
Not everyone realizes it, but our new release list is the most accurate and complete in the industry, BAR NONE. Our list is NOW POSTED EVERY WEDNESDAY afternoon, and includes ALL of the new releases for the following week, complete with links to purchase and reserve. Check it out!

Note: for TEXT-ONLY list, please go to the New Release List, and uncheck the "Show Images" button.