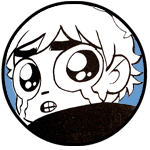 Welcome back to another super week of comics!
Have you seen the best movie of the year yet? I'm talking about Scott Pilgrim (you knew that). I hope you did, 'cuz I just can't stand the fact that Eat Pray Love beat it at the box office. As comic fans we have to unite and help one of our own! Go see Scott Pilgrim; twice if you have to!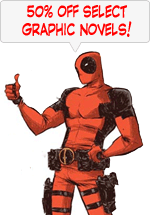 Super Summer Sale
We've got a codeword sale this week to blow the doors off of your summer! 50% off select trade paperbacks and graphic novels (online only)! Can you believe it? That's like getting handed the keys to the comic book kingdom! Will you heed the call and take advantage of this amazing sale, or will you let it pass you by like so many cars on a highway in a society no longer willing to pick up hitchhikers?


Back to school sale: save big!
Save 15%-45% off all non-fiction (including comic history and reference) and how-to books, as well as all young readers comics, graphic novels, manga, and books! If you're heading back to school, this is your chance to save big on some studious reading material! Online only.
Back issues sale at our Grand Central store in NYC!
We're bringin' some of the love to Grand Central this week, so come on over and enjoy 40% off all back issues, until Wednesday, August 25th, at Grand Central only.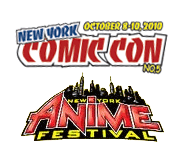 New York Comic-Con tickets on sale at Midtown
NYCC tickets are available now at both of our NYC locations and are going fast! This year we're going to show all those people in San Diego that you don't mess with New York!
Believe it,
Thor


This week's featured eBay item is a huge Signed Comic Book Lot. This lot includes 25 comics signed by Michael Turner, Jim Lee, Joe Quesada, J. Michael Straczynski, Neil Gaiman, Brian Bendis, and more! We also have lots of great vintage magazines, action figures, statues, and more at huge discounts, all available from our eBay page!

THIS WEEK'S CODEWORD SALES! (Ends August 25th.)

50% off select trade paperbacks and graphic novels! Click here to activate this week's codeword SELECT. Your discounts will automatically be activated in your cart. So just place the items you want into your basket and check out when you're finished!

ALSO ON SALE THIS WEEK, ONLINE ONLY:
· 15%-45% off all young readers comics, graphic novels, manga, books, non-fiction and how-to books
· 30% off comic and magazine boxes – FINAL WEEK!

In-store only:
40% off all back issues at our Grand Central location only

Holy Shadowland! I love Daredevil and Shadowland is rockin', so I put some Heroes for Hire Vol. 1 and Vol. 2 on our site so you can catch up on all the supporting characters. I love team books in general, and of the 5,000 back issues uploaded today I put some nice high grade issues of Legion of Superheroes (all volumes and incarnations) and G.I. Joe. I'm going to make this short today; Hollywood called and wants me to be in the Thor movie! Something about a stand-in for a tree or something. Check up on Thor Vol. 3, so when you see the movie you can say things like "Hey that's like what JMS did in issue #5."
We love superheroes here at Midtown, but we also read "classy" books as well. You know, like Classics Illustrated. That's why both stores now have good runs of some of your favorite books they made you read in school, in comic book form! Check out both our Times Square and Grand Central locations to see what issues they have available!
Stay mint,
Alex Rae!



Ivan Brandon will be signing Weird War Tales #1 from DC Comics at our Grand Central store on Thursday, September 9th, from 6:30-7:30 P.M.
Dean Haspiel will be signing CUBA: My Revolution from Vertigo at our Grand Central store on Wednesday, September 15th, from 6:30-7:30 P.M.
New York Comic-Con! October 8th-10th at the Jacob K. Javits Center NYC. Stop by the Midtown Comics booth for amazing creator signings and awesome sales!



Midtown Comics Podcast:
Production Editor Jim Spivey gives us a lesson in Yen Press manga and reveals all the details of the infamous Crisis on Infinite Earths trade collection from his time at DC. On top of all that we review the Scott Pilgrim movie and make our picks for the upcoming week. Listen here!
Midtown Comics TV:
Midtown TV is taking a week or two off for some hardcore writing and filming and will be back with more awesome episodes very soon. Till then, why not get caught up on our latest videos? Did you see Pillow Talk? What about the Not at Comic-Con video? The Ron Marz video is pretty great too. Take a look.

Note: for TEXT-ONLY list, please click the Printer Friendly link/icon at the top right of the Weekly Release list