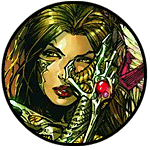 Artifacts signing a huge hit!
This past Saturday we had the honor of hosting writer Ron Marz as he signed Artifacts #1 for tons of fans. We still have the Midtown Comics Exclusive cover for Artifacts #1 signed by Ron Marz available if you weren't able to make it. Be sure to check out Midtown Comics TV's coverage of this awesome event here!


The New Midtown TV
Midtown Comics TV is back and better than ever with some new faces in the mix. Since you already know me from your weekly newsletters and twitter, I'd like to introduce you to our brand new comics and culture correspondent Zoë Gulliksen. Take a look at her first video featuring our good friend Ron Marz here.


Captain Action returns with more action!
Captain Action was not only my all-time favorite, bestest, and most beloved toy (okay, "action figure") as a kid, it remains so today, and I'm lovin' the new comic book series from Moonstone. Check out the magnificent Mike Allred cover for Captain Action Season Two #1 right here, and save 30% off cover price, courtesy of Midtown. Thanks for the action, Moonstone!
Your friend,
Gerry G., aka G-Man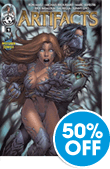 Website specials this week:
Apparently there's a series of tubes called the "internet" that was recently invented. So in order to stay ahead of the curve, we created a "website" where we offer "web surfers" great deals on comics. This week it's 50% off all incentive covers and Midtown exclusive covers released before August 11th, with the codeword below. Remember to check out our other super sales in our finance department (also below).
Believe it,
@ThorParker

This week's featured eBay item is a Marvel Bronze Age Comic Lot that features Giant Size X-Men #1! We're also featuring a super lot of Super 8! This lot has it all, a brand new super 8 camera, a projector, accessories and a few movies, including Superman The Movie, The Empire Strikes Back, Spider-Man and Iron Man Vs. Ultimo! We also have lots of great vintage magazines, action figures, statues, and more at huge discounts, all available from our eBay page!

THIS WEEK'S CODEWORD SALES! (Ends August 11th.)

50% off all incentive covers and Midtown exclusive covers (released before August 11th)! Click here to activate this week's codeword SPECIAL. Your discounts will automatically be activated in your cart. So just place the items you want into your basket and check out when you're finished!

MORE ONLINE SALES THIS WEEK!
· 10 – 50% off All apparel.
· 30% off Comic Boxes.

We got Gold Key yes we do! We got Gold Key how 'bout you!? In adding over 5,000 comics to our database today we put in over 1,000 Gold Key Comics! Add that to our already huge inventory and you got yourself a pretty nifty area of amazing books like Uncle Scrooge, Donald Duck, Chip "N Dale, and that sweet Dark Shadows comic with the awesome pull out poster! Nobody liked my valiant joke from last week, so to make myself feel better I also added some more classic comics like Harbinger, Eternal Warrior, Hard C.O.R.P.S. and some hard-to-find Nintendo comics like Game Boy, Super Mario Bros., and Legend of Zelda. I loved Valiant when I was younger, and Justice as well, hence the input of a good run of Young Justice back issues. And with a huge run of Guardians of the Galaxy going onto our site, this makes today another day that my boss doesn't hit me.
Continue to read comic books,
Alex Rae!



Ivan Brandon will be signing Weird War Tales #1 from DC Comics at our Grand Central store on Thursday, September 9th, from 6:30-7:30 P.M.



Midtown Comics Podcast:
In this episode Supergirl artist Jamal Igle talks to Thor and Dimitrios all about his experiences at Comic-Con, his likeness to Firestorm, and his love of Dave Stevens. Also in this very special episode, Dimitrios makes jokes and Thor laughs. Listen here!


Midtown Comics TV:
Midtown TV has some new faces! Meet them all on this episode. Plus Ron Marz stops by to sign some comics and tells us all about Artifacts #1 from Top Cow Productions. Take a look.

Note: for TEXT-ONLY list, please click the Printer Friendly link/icon at the top right of the Weekly Release list