Welcome back to a fantabulous week of comics!
Thursday is Wednesday:
Due to the Labor Day holiday, new comics will be released on Thursday, September 9th, so I'm markin' my calendar, 'cuz this one always leaves me confused and in a state of withdrawal on Wednesday (I'll catch up on a graphic novel)! All online orders will ship on Thursday.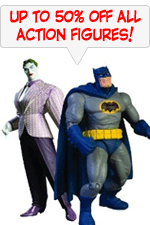 Take action and save big!
Save 10%-50% off ALL action figures! Poseable, plastic, painted, articulated figures have never been so…er…economical! Save big on everything, massive or miniscule, including those outrageous, oversize deluxe figures, and even the awesome 1/6 scale Astro Boy figure! Fill out your DC collection and save 30% off DC back issues H-N with the codeword below, and see below for more super sales starting this week. Online only.
Halloween's a-comin'!
It's never too early to start thinking about what your secret identity will be for Halloween, and we're gonna give you a nice assist with 30% off ALL Halloween costumes and accessories. Unleash your inner superhero, Federation Officer, Stormtrooper or what have you. Online only.

The Stars are out at Midtown!
This week sees the release of three hot new titles and we've got signings lined up for all of them! Ivan Brandon will be signing Weird War Tales #1 and Doc Savage #6 at our Grand Central store Thursday September 9th and Emmy Award winner Dean Haspiel will be signing his new Vertigo hardcover, CUBA: My Revolution at our Grand Central store on Wednesday September 15th! Make sure to pick up these great books and have these kings of men scribble on them for you!

Shadowland kicks into high gear!
Daredevil has gone crazy! He's out for blood and no one should stand in his way. Daredevil #510 hits the wall this week and continues to tie into the current Shadowland storyline. From what I hear, this issue promises some exciting surprises. I'm on the edge of my seat already! If only we didn't have to wait a whole extra day!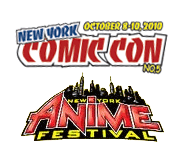 New York Comic Con tickets on sale at Midtown
We've got tickets available for this year's NYCC at both of our NYC locations! Don't be that guy who wastes half of the first day waiting in line for a ticket! Get them now!
Believe it,
Thor and Gerry G., aka G-Man

This week's featured Ebay item is the Batman Batarang Mini-Prop Replica from DC Direct. We can't guarantee that it'll come back to you when you throw it, but we can guarantee that it'll look awesome on your bookshelf! We also have lots of great vintage magazines, action figures, statues, and more at huge discounts, all available from our eBay page!
THIS WEEK'S CODEWORD SALES! (Ends September 8th.)

30% off DC Back Issues H-N! Click here to activate this week's codeword JLA. Your discounts will automatically be activated in your cart. So just place the items you want into your basket and check out when you're finished!

ALSO ON SALE THIS WEEK, ONLINE ONLY:

30% off all Halloween costumes and accessories

Up to 50% off all Action Figures
This week I'm on a huge Thing kick. He's better then the Hulk and he's one of my favorite Marvel characters of all time. I mean come on; he's the ever lovin' blue eyed Thing, fer cryin' out loud! At one point he was so popular that he had his own title, The Thing, and was in a bunch of other books, like Marvel Two-in-One, and the Fantastic Four. That's why in our super large upload of over 5,000 Thingtastic comics this week, I added all those great Thing books and about 500 Fantastic Four comics to the website! I also threw in a nice run of Amazing Spider-Man and Spider-Man mini's to keep all of you web heads happy! We'll round out this week's update of large runs with Ka-Zar, Ka-Zar The Savage, and Robin. Check them out!
This Just in! Both our Times Square store and the Grand Central store got in some great runs of Legion of Super heroes and New Adventures of Superboy! Get into the store and grab 'em before they're gone!
Stay mint,
Alex Rae!



Ivan Brandon will be signing Weird War Tales #1 and Doc Savage #6 from DC Comics at our Grand Central store on Thursday, September 9th, from 6:30-7:30 P.M.
Dean Haspiel will be signing CUBA: My Revolution from Vertigo at our Grand Central store on Wednesday, September 15th, from 6:30-7:30 P.M.
New York Comic-Con! October 8th-10th at the Jacob K. Javits Center NYC. Stop by the Midtown Comics booth for amazing creator signings and awesome sales!
Brooklyn Book Festival will take place the weekend of September 10-12 at Brooklyn Borough Hall and has two panels on comics: The International Graphic Novel: Drawing from Life and Comics and Form: Is the Medium Still the Message?
Small Press Expo is an indie comics and art show that will be held September 10 and 11 in Bethesda, MD.
Kids Comic Con Fundraiser! Midtown Pal and Kids Comic Con Founder Alex Simmons is taking the Color of Comics exhibition to the Senegalese American Bilingual School in Senegal Africa. Click the link for more info and try to help this great cause!

Midtown Comics Podcast:
We're still recovering from our weekend at the Baltimore Comic Con so we took the week off. But that doesn't mean you can't list to some of our greatest hits! Check out the full list of shows here and have a listen!
Midtown Comics TV:
Midtown TV is in the process of filming a shot by shot remake of the Italian Captain America movie from 1990. Until our masterpiece is finished take a look at some of our other videos!

Midtown's New Release List:
Not everyone realizes it, but our new release list is the most accurate and complete in the industry, BAR NONE. Our list is posted every Thursday afternoon, and includes ALL of the new releases for the following week, complete with links to purchase and reserve. Check it out!
Note: for TEXT-ONLY list, please click the Printer Friendly link/icon at the top right of the Weekly Release list