Midtown Comics: The Official Retail Sponsor of NYCC!
Join us at booth #2143 for a roller coaster ride of creator signings and events, starting with Garth Ennis on Friday, and ending with Paul Levitz on Sunday. We've partnered up with some of the greatest names in the industry to make sure your goodie bag is so heavy you'll need a trusty sidekick to help carry all the great swag.
We've got some great exclusive items, like our Uncanny X-Force #1 variant cover by J. Scott Campbell, and an exclusive Captain America t-shirt from Mad Engine. We'll raffle off the ONLY advance copy of Paul Levitz's new humongous hardcover book 75 Years of DC Comics from Taschen Publishing (release date is in November), as well as a full set of Tron caps from our partner at NYCC, New Era.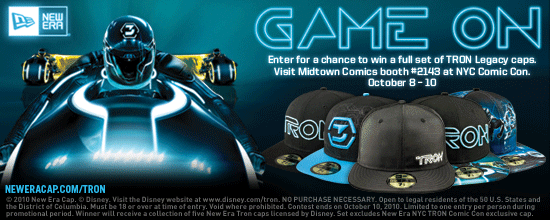 NYCC will be covered by Midtown Media: TV, Podcast, and live blogging from our booth! Wanna know when Andy Diggle is signing? Follow us on Twitter and you'll be informed! One last thing: save 25% on ALL graphic novels, trades, and hardcovers at our booth, and get valuable coupons for use in-store and online!

We'll give away 100 FREE tickets to fans wanting to attend the special McFarlane signing, and 75 free tickets for both the Blair Butler and Garth Ennis events. Midtown's booth will have a wide range of McFarlane's work available for purchase. One ticket per person, no purchase required. Limit two signatures per person.
Let the revelry begin, and don't stop the party 'til Tuesday (Monday is Columbus Day, so take a break after the con)!!