Midtown Bloggerinos! Raph here, with a new installment of one of my favorite posts from last year! I love science fiction, it's one of the major backbones of comics, and has helped unleashed the imagination of countless millions. Without people writing stories about faraway places or future technology, how could we have inspired inventors who create smart phones, tablets and neurokinetic 3-D holoprojective televisions? … Okay so the last one is made up, but imagine how cool it'd be?!?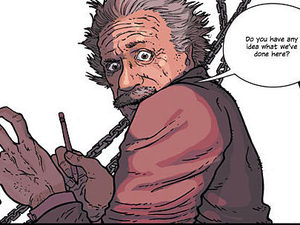 BASIC CONCEPT: Take all the geniuses behind the Manhattan Project, and give them all dangerous psychoses. On top of that, there's alien threats, unexpected alliances, and surprising enemies!
THOUGHTS: The series has been immensely fun. I'm a sucker for speculative fiction, and this series brings to mind another Hickman series, S.H.I.E.L.D. The difference being the insanity of such noted geniuses as Albert Einstein and Robert Oppenheimer. The chaos they cause, and the wonderful, if unusual, scientific projects they work on, make for a fun, thought-provoking read. I've praised Hickman numerous times before, and it's warranted. He's arguably my favorite writer in comics right now. Nick Pitarra (who also happened to work with Hickman on Red Wing) also provides very beautiful visuals. If you like seeing your favorite World War II era scientists go mad, and explore the depths of the universe in secret, check this book out!
2. Star Trek: The Next Generation/Doctor Who: Assimilation 2 (Squared)
BASIC CONCEPT: Two of the longest running science fiction franchises meet in a comic adventure that is sure to cause squeals of joy from both fan communities.
THOUGHTS: As a fan of both, I love this series.  David Tipton does a terrific job combining the two series, accurately picking up on the voices of both the crew of the Enterprise D, but the Doctor and the Ponds-Williamses as well. JK Woodward does a masterful job painting lifelike images of our favorites. The ships are beautiful, the enemies are scary and deadly, and the heroes are Fantastic! (Ninth Doctor reference). If you haven't read this yet, hop in and say GERONIMOOOOO!!! On a side note, artist JK Woodward lost a lot of his stuff in Superstorm Sandy, please help him out if you can by clicking here.
BASIC CONCEPT: Think The Source Code or Looper backwards: there's an organization that has the ability to go back in time and save someone you love, it comes at a very high price financially.
THOUGHTS: This is my favorite first issue of the year. It might be my favorite first issue in a while. Honestly, without hyperbole, I read a lot of comics week to week; this is one of the few that really jumped out at me and made me say, "WHOA!" The concept is awesome, the characterizations are great. We get just enough about the characters, and the science-fiction aspect is pretty cool. If you had the money, and you were killed tragically, wouldn't you want your family to pay a few million dollars to save you? It's a pretty cool miniseries, and I can't wait to continue reading this. Ed Brisson is a name to watch! Michael Walsh also does a great job with the art, and the two have made a book that could be the  new darling of Image's eye.
BASIC CONCEPT: In a multiverse of Earths, a runaway soldier lands onto an Earth designated as a "trash planet", where he finds a girl, and they go on a multiverse spanning adventure.
THOUGHTS: YOU ARE ILLEGAL ON THIS EARTH. I remember seeing that in a bunch of BOOM! Comics I was reading right before this book came out. Then I read Higher Earth, and I was thoroughly impressed. The interdimensional travel and madcap adventures of soldier on the run Rex and garbage dwelling Heidi make for a lot of fun reading.Sam Humphries other work includes co-writing the Ultimates series with Jonathan Hickman, who I said  was my favorite writer previously. Sam is fast becoming another favorite, having now taken over Ultimates. Sam also writes the hilarious Fanboys vs. Zombies, which is released by BOOM! as well. Here is a list of everything Sam has done on our website!
BASIC CONCEPT: The original ad copy for this series said it was "Star Wars meets Game of Thrones". It's hard to argue with that. While this isn't strictly sci-fi (Star Wars isn't either, let's face it), it is very much a space opera, there's shades of Shakespeare, PHEW! BKV at his genre-bending best.
THOUGHTS: Brian K. Vaughn has this knack for taking sci-fi and not focusing on the sci-fi. He turned Y: The Last Man into a great odyssey, Ex Machina into a great political suspense book… and now we have Saga. A space opera about two star-crossed lovers, from two warring planets: one seemingly steeped in magic, and one based on technology. Their harrowing journey across the stars to protect their newborn child. BKV's resume speaks for itself. I don't have to tell you that he's a terrific writer. Buy this book. Buy the single issues, buy the collection of volume 1. Fiona Staples also does a terrific job on this book, and her and BKV might go down in history as one of the better non big-2 teams like Buckingham and Willingham, BKV and Pia Guerra, or Kirkman and Adlard. This book is awesome.
That's it for now, enjoy these books! Tell me what other ones you like! I know I didn't get them all (sorry Saucer Country!), so throw in some of your favorites! Until next time–
BE HEROIC, READ A COMIC
– Raph