Bloggerinos! Raph here, with reviews of a comic, a new game and the new trailer that debuted for Captain America: Winter Soldier! Thoughts after the break.
VELVET #1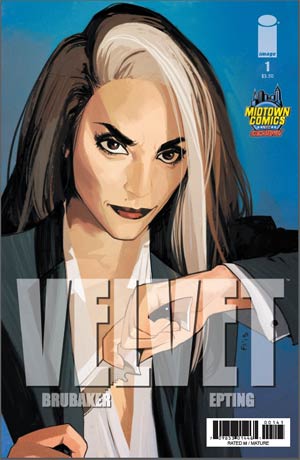 Velvet is the latest from the hard hitting noir team of Ed Brubaker and Steve Epting, whose last collaboration is the subject of my third topic. Velvet revolves around a fictional spy organization, reminiscent of James Bond and M.I. 6, the agents of A.R. 7 are the best in the best, the Batmen of the spy world: hidden in mystery, known only as legend… until one of their agents, X-14, is killed on a mission. This has never happened before, and the search is on for what's gone wrong. Stuck in the middle of this is Velvet Templeton, a secretary at A.R. 7… or so we think. The mystery is just starting to reveal itself in issue one, and it's pace is incredible. If you love Brubaker's previous works, and are a fan of spy fiction, Velvet is a must have. Be sure to take a look at our own Midtown Exclusive Cover as well!
SCRIBBLENAUTS UNMASKED!
Scribblenauts is one of the most entertaining games I've ever seen: you enter words into a magic notebook, and out pops whatever you can think of. From Godzilla to Grilled Cheese, I don't own the game, but watching friends play it always was an entertaining experience. So when the game makers announced a sequel, and one featuring the characters of the DC Universe, my interest was definitely piqued.
I've only played through about an hour or two worth of the game, but it's already highly entertaining. You play as Maxwell a young boy with a magic notebook, and you are flung into the world of DC Comics, along with your twin sister Lili. Starting off in Gotham City, Maxwell explores the DC Universe, summoning weapons, items and heroes as needed… and the variety is mind boggling.
In one instance, I had Kyle Rayner as Ion, Saint Walker, The Spectre, Electric Red Superman, Zauriel, original Azrael and Azrael-Batman on the screen at one time… AMAZING! It's definitely for fans of the DC Universe, regardless of era (everything defaults to New 52, but you can bring different versions of the characters out to play)
The game is available on Steam (PC Digital Download), Nintendo 3DS and the Wii U.
CAPTAIN AMERICA: THE WINTER SOLDIER TRAILER
The Captain America: Winter Soldier trailer debuted recently, and I have to say, it definitely got a few squeals of joy out of me.
The story is based pretty heavily on Brubaker and Epting's initial Captain America run, with a few changes to accommodate the Marvel Cinematic Universe. The plot revolves around two things: Cap being a man out of time, and the seeming return of his thought to be dead best friend Bucky. Robert Redford is supposed to play a senator who might have ties to Bucky's resurrection, and both SHIELD and Black Widow seem to play big parts in this Cold-War style thriller. I am really excited to see this movie, but I'll have to settle for the big dude with the hammer hitting people really hard with said hammer.
Until Next Time,
–        Raph